Strategy & Branding
Project for Public Spaces - Placemaking for Communities. The World's 50 Most Innovative Companies. CEOs for Cities. Green Globe - The Premier Global Certification for Sustainability. Simon Anholt Journal.
Packaging a Nation - Articles - Travel + Leisure. Quick: Where do Panama hats come from?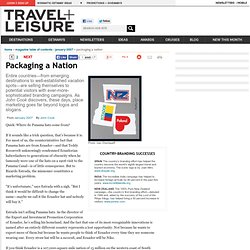 If it sounds like a trick question, that's because it is. For most of us, the counterintuitive fact that Panama hats are from Ecuador—and that Teddy Roosevelt unknowingly condemned Ecuadorian haberdashers to generations of obscurity when he famously wore one of the hats on a 1906 visit to the Panama Canal—is of little consequence. But to Ricardo Estrada, the misnomer constitutes a marketing problem. "It's unfortunate," says Estrada with a sigh. "But I think it would be difficult to change the name—maybe we call it the Ecuador hat and nobody will buy it.
"
GottaGettaBlog! 2003-2007: Your Personal S.W.O.T. Analysis Archives. Audio-Tech Business Book Summaries delivers each month TWO current business book tiltes condensed down to 45-minute audio CDs or MP3s plus PDF transcripts. Abilene Paradox. Video/Audio - The Hedgehog Concept. Retail Design Diva. Smart City Radio :: Episode :: Creative Tourism. This week on Smart City, we're talking about different ways of seeing a city.
First we'll find out how cities can provide unique, creative experiences for their visitors from Alex Pattakos , co-editor of a new book called " Creative Tourism, A Global Conversation " In it, he and others describe how cities can offer customized, authentic and meaningful experiences to their visitors that are tied to the uniqueness and ''spirit'' of a place. And we'll revisit my conversation with Fred Dust . Soundview Executive Book Summaries and HSM - World Innovation Forum Audio Clips. For more than twenty years, Joel Makower has been a writer and strategist on green business practices, and has been dubbed "The guru of green business practices" by the Associated Press.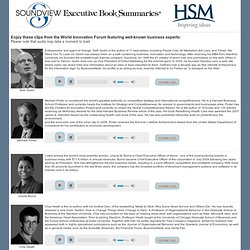 Joel is executive editor of GreenBiz.com and its sister sites, ClimateBiz.com, GreenerBuildings.com, GreenerDesign.com, and GreenerComputing.com — all published by Greener World Media, of which he is co-founder and chairman. Joel is also the principal author of the annual State of Green Business report and the Greener by Design conference, both produced by Greener World Media. COMEDIA : Thinking about creative cities.
---