Strategy & Branding
The World's 50 Most Innovative Companies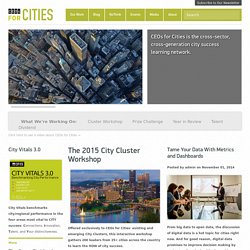 American's can earn the "Green Dividend" of $31 billion a year by driving just one mile per day less than they do now. More City Vitals benchmarks city/regional performance in the four areas most vital to CITY success: Connections, Innovation, Talent, and Your distinctiveness.
CEOs for Cities
Green Globe - The Premier Global Certification for Sustainability
Simon Anholt Journal
Quick: Where do Panama hats come from? If it sounds like a trick question, that's because it is. For most of us, the counterintuitive fact that Panama hats are from Ecuador—and that Teddy Roosevelt unknowingly condemned Ecuadorian haberdashers to generations of obscurity when he famously wore one of the hats on a 1906 visit to the Panama Canal—is of little consequence. But to Ricardo Estrada, the misnomer constitutes a marketing problem. "It's unfortunate," says Estrada with a sigh. "But I think it would be difficult to change the name—maybe we call it the Ecuador hat and nobody will buy it."
Packaging a Nation - Articles - Travel + Leisure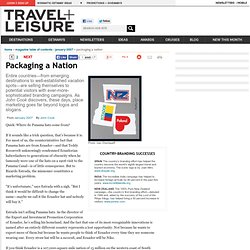 GottaGettaBlog! 2003-2007: Your Personal S.W.O.T. Analysis Archives
Audio-Tech Business Book Summaries delivers each month TWO current business book tiltes condensed down to 45-minute audio CDs or MP3s plus PDF transcripts.
Abilene Paradox
Video/Audio - The Hedgehog Concept
Retail Design Diva
This week on Smart City, we're talking about different ways of seeing a city. First we'll find out how cities can provide unique, creative experiences for their visitors from Alex Pattakos , co-editor of a new book called " Creative Tourism, A Global Conversation " In it, he and others describe how cities can offer customized, authentic and meaningful experiences to their visitors that are tied to the uniqueness and ''spirit'' of a place. And we'll revisit my conversation with Fred Dust .
Smart City Radio :: Episode :: Creative Tourism
For more than twenty years, Joel Makower has been a writer and strategist on green business practices, and has been dubbed "The guru of green business practices" by the Associated Press. Joel is executive editor of GreenBiz.com and its sister sites, ClimateBiz.com, GreenerBuildings.com, GreenerDesign.com, and GreenerComputing.com — all published by Greener World Media, of which he is co-founder and chairman. Joel is also the principal author of the annual State of Green Business report and the Greener by Design conference, both produced by Greener World Media.
Soundview Executive Book Summaries and HSM - World Innovation Forum Audio Clips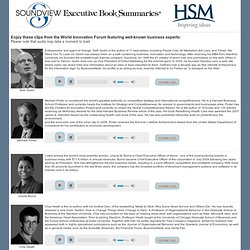 Comedia has now become less of a structured organisation and more a network of collaborators, who share thinking, ideas, projects and initiatives. This website provides direct links to all aspects of Comedia's work, a significant amount of which is now undertaken under the charleslandry.com banner. Comedia was founded in 1978 by Charles Landry and has comprised a group of people who developed projects concerned with city life, culture and creativity.
COMEDIA : Thinking about creative cities