Marketing Trends
Marshall Kirkpatrick has posted that Microsoft will be joining the Data Portability work group. Marshall and the Read/Write/Web team appear to be huge advocates of this work group.
2008 Is The Year of Data Portability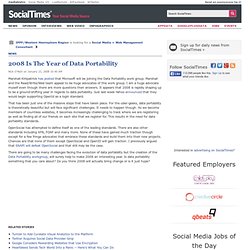 Will technology harm or help young people's brains? A highly nuanced debate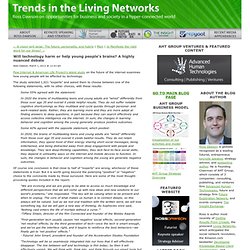 "We are evolving and we are going to be able to access so much knowledge and different perspectives that we will come up with new ideas and new solutions to our world's problems," she responded.
The inexorable rise of work markets
The role and prominence of online markets for work have soared dramatically over the last few years, but this is just the beginning.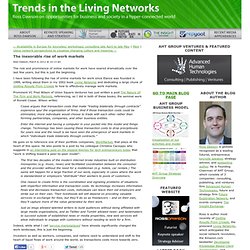 Explorer le futur en France et en français
Ceci est le premier billet de blog que j'écris en français.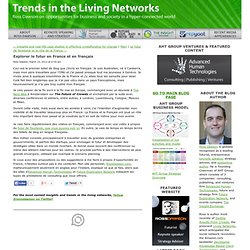 Le futur de Facebook et le rôle de la France
In my first book Developing Knowledge-Based Client Relationships: The Future of Professional Services the final chapter was titled Value-Based Pricing: Implementing New Revenue Models . Pricing by value rather than time is clearly a central aspect to building true knowledge-based relationships, since knowledge should be measured by the value of its application rather than time spent by professionals. The chapter in my book provides a fair overview of the key possibilities and factors in value-based pricing.
Value based pricing is at the heart of the future of professional services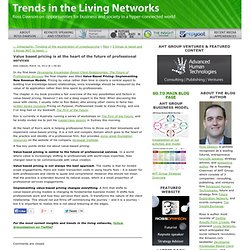 I caught up with some of the Yammer team this morning, including Chief Customer Officer David Obrand, while they are in town for the Yammer on Tour series. I was particularly interested in talking with them about Yammer's shift to activity streams. In the massive convergence of enterprise social platforms that we've seen over the last years, one of the major emerging spaces is activity streams.
Yammer and why activity streams are a key foundation for integrated applications and organizations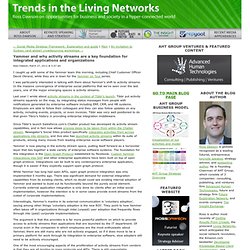 These are frantically busy days, which is squeezing my ability to blog and capture some of the fascinating stuff flying by. In coming months I think I'll try to do more 'mini-blogging', just capturing quick thoughts and impressions rather than writing up every interesting speaking engagement or media appearance I do. Yesterday I gave three presentations, and I'd love to write (at least) a full blog post about what we covered for each one.
Themes of the day: Consumerization of IT, Crowdsourcing for small business, Crowdsourcing in PR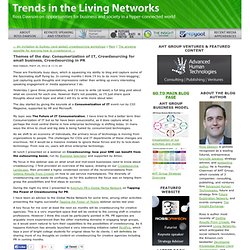 A year ago I shared a visualization of our AHT Group Business Model . Following that, I am now sharing our group 2012 Priorities . This comes from the principle of Open Business you can see in the 7 Enablers for our strategy.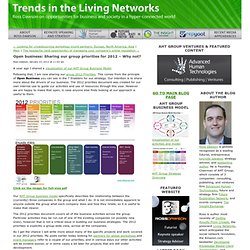 Open business: Sharing our group priorities for 2012 – Why not?
For the last 15 years of my life post-employment I have struggled when people ask me what I do.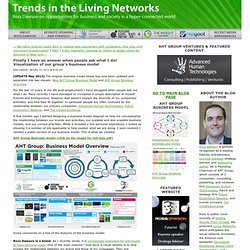 Finally I have an answer when people ask what I do! Visualization of our group's business model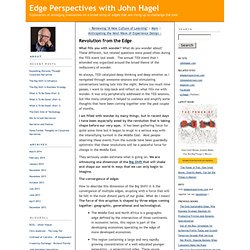 Revolution from the Edge
What fills you with wonder? What do you wonder about?
Anticipating the Next Wave of Experience Design
We live in a world defined by increasing time pressure and more and more things competing for our attention.
I love paradox , as anyone can tell from the name of the research center that I run with John Seely Brown in Silicon Valley – the Center for the Edge. Paradox is basically a puzzle, often juxtaposing two elements that at first seem like contradictions or at least defy explanation. Isn't a center for the edge a contradiction in terms?
Resolving the Trust Paradox
The evolution of design to amplify flow
If we want to understand the importance of flows in our world, the new book Design in Nature released this week by Adrian Bejan and J. Peder Zane is a must-read. It will literally change how you view the world – everything from snowflakes to volcanos.
Pull Platforms for Performance
We live in a world of mounting performance pressure.
Return on Attention and Infomediaries
Attention is getting a lot of attention.
APML gains momentum – this could transform the personalization of advertising
Is the trend to openness accelerating? Social networks as an inflection point
Latest Research
The Digital Revolution and Higher Education
The Digital Revolution and Higher Education
Mind the Gap: Peer-to-peer Healthcare
Smartphone Adoption and Usage
Social networking sites and our lives
Who consumes local information on the go?
Do the parts of the information system fit together?
One in four Americans live with a disability that interferes with activities of daily living
Trend Data (Adults)
Trends to Watch - The Pew Center on the States
Hopkins researchers aim to uncover which mobile health applications work
Internet privacy a growing concern, Pew finds
Data Tools