Android
cloud hosting, google storage, amazon s3
/ - awt-android-compat - An attempt to facilitate AWT rendering on the Android platform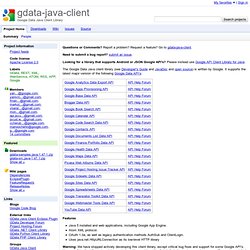 gdata-java-client - Google Data Java Client Library
Questions or Comments? Report a problem? Request a feature?
Crash reports for Android, WP7 & iOS apps | BugSense
acra - Application Crash Report for Android
tomquist/Android-Error-Reporter
AndroidBlogger: How to improve your application - the ultimate crash reporter : ACRA
I've already introduce some way to create a crash reporter ( here and here ). But now, I've found what I think is the ultimate crash reporter for Android ! Remember : My solution was, when a crash occured, to collect the callstack, some potentially interesting other var, some custom data for the application, and to form a email with all these informations, give them to gmail, so the user could send this email with some data on the current crash ! That was a nice first step, but a lot of people just didn't wanted to send the mail, fearing that it would be used for spams.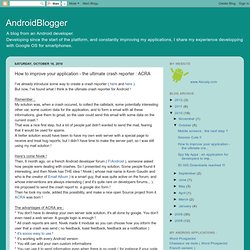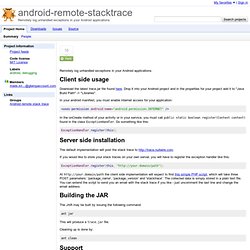 android-remote-stacktrace - Remotely log unhandled exceptions in your Android applications
Remotely log unhandled exceptions in your Android applications. Download the latest trace.jar file found here. Drop it into your Android project and in the properties for your project add it to "Java Build Path" -> "Libraries". In your android manifest, you must enable internet access for your application:
jberkel/sms-backup-plus at gh-pages
BasicSetup - acra - How to install ACRA 4.x in your Android application project. - Application Crash Report for Android
How do I obtain crash-data from my Android application
package com.example.androidhive; import java.io.File; import java.io.FileInputStream; import java.io.FileNotFoundException; import java.io.FileOutputStream;
Android Custom ListView with Image and Text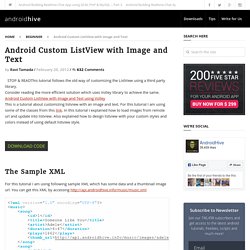 pre-creating the database for Wiley. .Beginning.android.application.development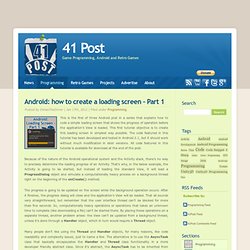 Posted by DimasTheDriver | Jan 17th, 2012 | Filed under Programming This is the first of three Android post in a series that explains how to code a simple loading screen that shows the progress of operation before the application's View is loaded. This first tutorial objective is to create this loading screen in simplest way possible. The code featured in this tutorial has been developed and tested in Android 2.1, but it should work without much modification in later versions. All code featured in this tutorial is available for download at the end of the post. Because of the nature of the Android operational system and the Activity stack, there's no way to precisely determine the loading progress of an Activity.
Android: how to create a loading screen - Part 1 | 41 Post
Basic4android (Basic for Android) - Android programming with Gui designer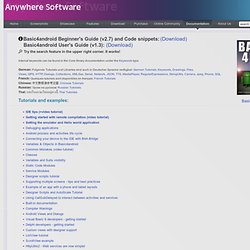 Basic4android Beginner's Guide (v2.6) and Code snippets: (Download) Basic4android User's Guide (v1.3): (Download) Try the search feature in the upper right corner. It works! Internal keywords can be found in the Core library documentation under the Keywords type.German: Folgende Tutorials und Libraries sind auch in Deutscher Sprache verfügbar: German Tutorials, Keywords, Drawings, Files,Views, GPS, HTTP, Dialogs, Collections, XMLSax, Serial, Network, JSON, TTS, MediaPlayer, RegularExpressions, StringUtils, Camera, Jpeg, Phone, SQL.French: Quelques tutoriels sont disponibles en français: French TutorialsChinese: 中文教程请参考这里: Chinese TutorialsRussian: Уроки на русском: Russian TutorialsThai: บทเรียนภาษาไทยอยู่ตรงนี้: Thai Tutorials Tutorials and examples: Libraries: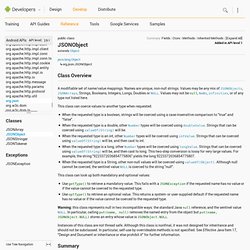 Class Overview This class can coerce values to another type when requested. This class can look up both mandatory and optional values: Use getType() to retrieve a mandatory value.
JSONObject | Android Developers
cw-android/Rotation/RotationAsync/src/com/commonsware/android/rotation/async/RotationAsync.java at master · commonsguy/cw-android
Tesselation - Triangulation
I've been studying my site and app traffic for a while now, and I've come to a very sure conclusion. Open-sourcing an app does nothing to decrease app sales or ad traffic, but increases web traffic significantly. Therefore I've decided to open source everything I've ever done, BSD licensed so you can use it at work. Seriously, all the sources. Every one. To start with, I've created repositories for the roughly 70 Android applications I've released.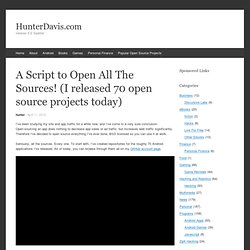 A Script to Open All The Sources! (I released 70 open source projects today) « HunterDavis.com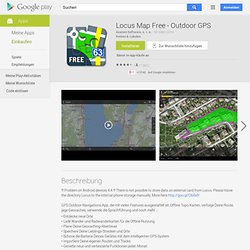 Locus Free - Aplicativos para Android no Google Play
Oferta especial de Navidad: Pague una y llévese otra gratis LA APLICACIÓN DE NAVEGACIÓN SIN CONEXIÓN CON MÁS DESCARGAS DEL MUNDONUEVO: Innovador Head-up Display (HUD) que proyecta la información del navegador en el parabrisas del coche Sygic es una aplicación de navegación GPS giro a giro que puede probar totalmente gratis. Con Sygic podrá guardar mapas de alta calidad de TomTom y otros proveedores en su teléfono Android, en la tableta o en la tarjeta de memoria SD y navegar sin necesidad de conectarse a Internet. La licencia vitalicia incluye actualizaciones de mapas gratis varias veces al año.
android - How to place marker in Google Map after parsing lattitude and longitude from json
View topic - GestureDetector and GestureDetector.OnGestureListener
android - Example: Communication between Activity and Service using Messaging
DEVELOPERS - Notify now has an API that is available for use to any 3rd party application. View the API here. This application will display a popup notification window when certain phone/app events occur. This app is extremely customizable with many options to suit your needs and style. Updates and new features are frequent.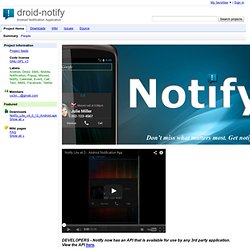 droid-notify - Android Notification Application
Android-Service-Tutorial-1.mp4
unnamed pearl
Android How-to's
A commonly used feature in most applications, irrespective of whether they are mobile applications or not, is the ability to save some application/user specific settings.
Android Preferences Tutorial » iRomin
Hi. Welcome to the Motorola developer discussion boards. Here you can interact with other developers and get peer support for issues related directly to development for Motorola devices. For broader Android development questions you might want to check out these other great resources: This community is a place where owner with unlocked bootloaders can share tips and tricks. This means that most of our rules prohibiting hacking do not apply in this community -- but please remember that all other forum rules still apply.
Barometric Fun with your XOOM - MOTODEV Community
04 Understanding Android Content Providers
Content Providers In android data sources are encapsulated through a concept called "content providers". This encapsulation is responsible for both retrieving data and also storing data. This abstraction is only required if you want to share data externally or between applications.