Decor
turquoise key hook wall key hanger mason jar vase by OldNewAgain
Last week I scored a bunch of pillows 2 for 6$ and I thought it would be fun to have some pretty pillows. These were so easy to make that I made an entire pillow case while talking to my MIL about the father's day lunch plans (it was only a 10 minute conversation) nice right? Any ways, ever since I made these six I've been envisioning many more pillow cases in my future, you know say for all the holidays, parties, seasons. The next WILL be Harry Potter themed eeek I'm so excited I just need to find a second to make them. Any ways. Here's how I my tutorial for quick envelop pillow cases.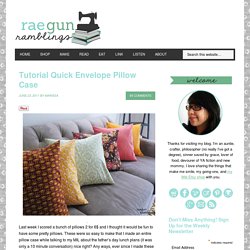 shelf-main_300.jpg (JPEG Image, 300 × 357 pixels)
A Gripping Yarn - Beyond Beyond | Beyond Beyond ™ – UK Wedding Blog // International Wedding Blog //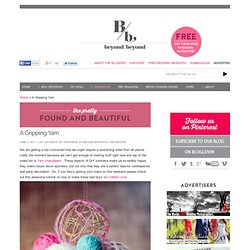 We are getting a tad concerned that we might require a restraining order from all places crafty the moment because we can't get enough of making stuff right now and top of the make list is Yarn chandaliers. These objects of DIY lushness make us incredibly happy, they make house decor epicness, but not only that they are a perfect idea for centrepieces and party decoration. So, if you fancy getting your make on this weekend please check out this awesome tutorial on how to make these bad boys on Crafted Love. The photographic glory goes to: Sarah Yates About the author I'm the big kahuna with the whole shebang.
This week we're sharing some of the blog's greatest hits! These are some of our most loved posts by you, our amazing readers. Don't throw away those old light bulbs just yet!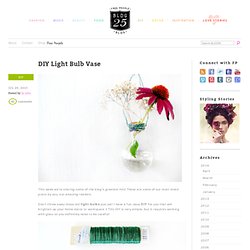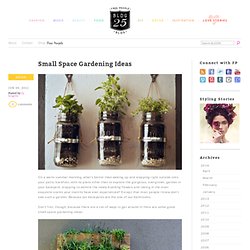 Small Space Gardening Ideas
On a warm summer morning, what's better than waking up and stepping right outside onto your patio, barefoot, with no plans other than to explore the gorgeous, overgrown, garden in your backyard, stopping to admire the newly budding flowers and taking in the most exquisite scents your nostrils have ever experienced? Except that most people I know don't own such a garden. Because our backyards are the size of our bathrooms. Don't fret, though, because there are a ton of ways to get around it! Here are some great small space gardening ideas: Pallet gardens are amazing – and take up no space at all!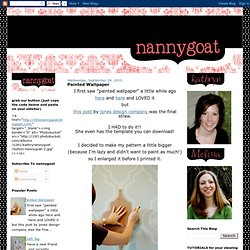 I first saw "painted wallpaper" a little while ago but I HAD to do it!!She even has the template you can download! I decided to make my pattern a little bigger
Painted Wallpaper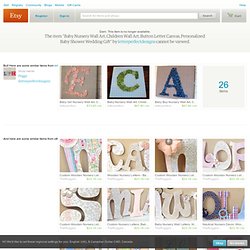 Custom Button Letter Wall Art Orange by letterperfectdesigns
<div id="javascript-nag" class="notice"><p> Take full advantage of our site features by enabling JavaScript. <a href="http://www.etsy.com/ca/help/article/372">Learn more</a>. </p></div>
full_DSCF5964_1287758268.jpg (JPEG Image, 737 × 738 pixels)
023.JPG (JPEG Image, 240 × 320 pixels)
We all know with craft blogs that original ideas are often hard to come by, we find ideas we love and make them our own but we didn't come up with the idea ourselves. I feel like I've finally done something original here and I'm excited about it. I'll show you the finished product and then explain. Behold my Make-up Magnet Board. I have a friend who is beautiful and stylish and has always loved make-up but recently took a course that intensified her love. Her renewed interest has worn off on me and it made me remember eye shadows I'd hidden away that were gathering dust.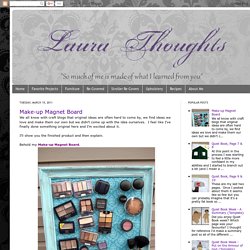 10.jpg (JPEG Image, 600 × 891 pixels) - Scaled (86
mason-jar-monday6.jpg (JPEG Image, 286 × 400 pixels)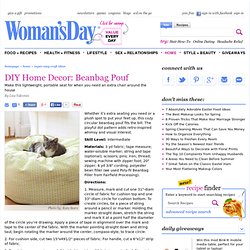 Whether it's extra seating you need or a plush spot to put your feet up, this cozy circular beanbag pouf fits the bill. The playful dot pattern adds retro-inspired whimsy and visual interest. Skill Level: Intermediate Materials: 3 yd fabric; tape measure; water-soluble marker; string and tape (optional); scissors; pins; iron; thread; sewing machine with zipper foot; 20" zipper; 6 yd 3/8" cording; polyester bean filler (we used Poly-fil Beanbag Filler from Fairfield Processing).
Not-Knot-Turks-Head.jpg (JPEG Image, 500 × 499 pixels)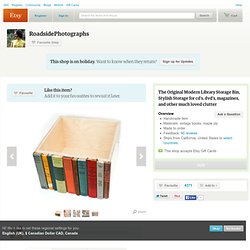 The Original Modern Library Storage Bin by RoadsidePhotographs
*****Hi! Please visit http://www.ableandbaker.etsy.com to view Individual Listings for Modern Library Storage Bins.Thank you!*****The Modern Library Storage Bin: Reinventing the Classics.
25-cool-ideas-to-display-family-photos-on-your-walls20.jpg (JPEG Image, 466 × 700 pixels)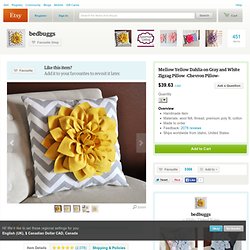 Mellow Yellow Dahlia on Gray and White Zigzag Pillow by bedbuggs
ALL ITEMS ARE MADE TO ORDER PLEASE SEE SHOP FOR CURRENT CREATION TIME!!!Large Mellow Yellow Dahlia on Gray and White Zig Zag Pillow. 14 x14" larger sizes can be made please contact seller before purchase! This Pillow is adorable!
Gossip Bench Redo