Pkm
Outils Froids. Personal knowledge management. Personal knowledge management (PKM) is a collection of processes that a person uses to gather, classify, store, search, retrieve, and share knowledge in his or her daily activities (Grundspenkis 2007) and the way in which these processes support work activities (Wright 2005).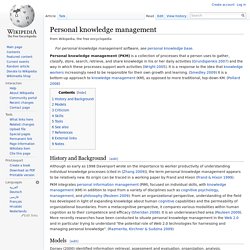 It is a response to the idea that knowledge workers increasingly need to be responsible for their own growth and learning. (Smedley 2009) It is a bottom-up approach to knowledge management (KM), as opposed to more traditional, top-down KM. (Pollard 2008) History and Background[edit] Although as early as 1998 Davenport wrote on the importance to worker productivity of understanding individual knowledge processes (cited in (Zhang 2009)), the term personal knowledge management appears to be relatively new. PKM - Personal Knowledge Management. Rédiger un blog « expert » une activité qui enrichit sa propre expertise.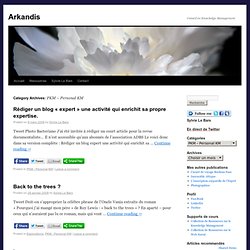 Tweet Photo Bacteriano J'ai été invitée à rédiger un court article pour la revue documentaliste… Il n'est accessible qu'aux abonnés de l'association ADBS Le voici donc dans sa version complète : Rédiger un blog expert une activité qui enrichit sa … Continue reading Back to the trees ? Tweet Doit-on s'approprier la célèbre phrase de l'Oncle Vania extraite du roman « Pourquoi j'ai mangé mon père » de Roy Lewis : « back to the trees » ? En aparté – pour ceux qui n'auraient pas lu ce roman, mais qui vont … Continue reading.
---