Blogs
NoFilmSchool. Learning DSLR Video | Learn How To Shoot HD Video With A DSLR. Philip Bloom's blog. News. AJA is the second hardware company after Blackmagic design to announce and bring a new camera to the market.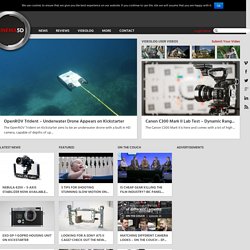 It is yet to be seen if this product will arrive in time and how it will preform in the hand of professional DPs, but for now only my opinion is sure: This is one of the best looking cameras out there…. In the introductory video below, beside summarising the camera functionality strengths, AJA also included some footage that was shot with the camera (minute... HOME. Camera tutorials and workshops by DSLR Tips. Hurlbut Visuals.
Marvelsfilm's Blog. Vincent Laforet's Blog.
---