Graffiti 2.0
Graffiti Research Lab on KPN Tower, Rotterdam. In 2007 The Graffiti Research Lab took control of the KPN Building, one of the permanent media facades, turning the area into the People´s Revolutionary Green Laser Light District, a place to display your uncurated animations and graphics.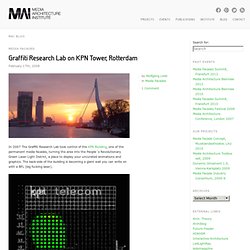 The back-side of the building is becoming a giant wall you can write on with a BFL (big fucking laser). via: urbanscreens.org, graffitiresearchlab.com This project has been shown at the Media Facades Exhbition Berlin 2008 and was published in the Exhibition Companion (download the Catalogue Pdf – 7 Mb). Graffiti Analysis 2.0: Digital Blackbook. Graffiti Markup Language | About. Overview: Graffiti Markup Language (.gml) is a universal, XML-based, open file format designed to store graffiti motion data (x coordinates, y coordinates and time).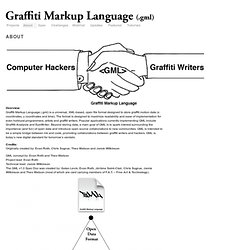 The format is designed to maximize readability and ease of implementation for even hobbyist programmers, artists and graffiti writers. Popular applications currently implementing GML include Graffiti Analysis and EyeWriter. Beyond storing data, a main goal of GML is to spark interest surrounding the importance (and fun) of open data and introduce open source collaborations to new communities. GML is intended to be a simple bridge between ink and code, promoting collaborations between graffiti writers and hackers. GML is today's new digital standard for tomorrow's vandals.
Graffiti Research Lab Archive. Digital Black Book (Graffiti Analysis 2.0): Nuart 2009. Tagged in Motion. Artotale Documentary. Graffiti Markup Language.
---