Messageinfusion
Michael Schultz
Strategic media relations for disruptive innovations and emerging technology.
Appalachian Mountain Club – Outdoor Recreation, Education, Conservation in the Northeast. Welcome To The American Alpine Club. Sample Work : Message Infusion. Recent Coverage Visit the archive of previous coverage » PODCAST (15:42) — Network World's Jason Meserve looks at a different spin on outsourcing application development with Mike Morris, senior vice president of software development for Topcoder, a company that hosts application development tournaments as a m December feature story provides an in-depth TopCoder company profile, CareerBuilders.com syndicated article on Digication, PART TWO: University of Washington computer whiz Michael Skinner scored an upset victory as one of just two Americans among a field of 120 students in an international contest aimed at finding out who can write the most effective computer programs,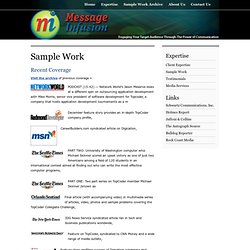 Boston area outpatient cosmetic surgery, liposuction and vein elimination. Lowell Summer Music Series. Article One - World's Largest Patent Research Community. Wave Systems Corp. TopCoder - Programming Contests, Software Development, and Employment Services. Welcome to TopCoder Studio. Mike Schultz (Infuser) Testimonials : Message Infusion. "I'm immensely impressed by Mike's skill in developing the message, audience and growing media coverage for a mutual technology client's business.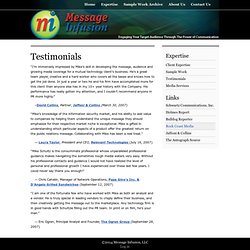 He's a great team player, creative and a hard worker who covers all the bases and knows how to get the job done. In just a year or two he and his firm have accomplished more for this client than anyone else has in my 10+ year history with the Company. His performance has really gotten my attention, and I couldn't recommend anyone in PR more highly." Eric Ogren's Most Recent Posts. Jenny Downing (CC-BY-2.0) Know how you are going to make the intelligence gleaned from threat feeds actionable before you ever agree to let them into your building.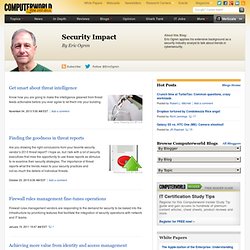 RRZEicons (CC-BY-SA-3.0) Are you drawing the right conclusions from your favorite security vendor's 2013 threat report? I hope so, but I talk with a lot of security executives that miss the opportunity to use these reports as stimulus to re-examine their security strategies. Digication e-Portfolios: Home. Lotvision. Web applications to Grow By | StoryManager, Inc. JCI - Your Partner In Building Long-Term Shareholder Value. Papa Gino's: Pizza Franchise Opportunities. Relevant Technologies: Information Security Research and Advisory Services.
Pearltrees videos
---