Media
Les billets les plus lus - Les journalistes ne font pas leur boulot s'ils ne sont pas sur les réseaux sociaux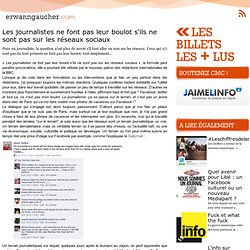 « Les journalistes ne font pas leur boulot s'ils ne sont pas sur les réseaux sociaux », la formule peut paraître provocatrice, elle a pourtant été utilisée par le nouveau patron des rédactions internationales de la BBC. Lorsque je dis cela dans les formations ou les interventions que je fais un peu partout dans les rédactions, j'ai (presque) toujours les mêmes réactions. Quelques confères restent dubitatifs sur l'utilité pour eux, dans leur travail quotidien, de passer un peu de temps à travailler sur les réseaux. D'autres se montrent plus franchement et ouvertement hostiles à l'idée, affirmant haut et fort que " Facebook, twitter et tout ça, ce n'est pas mon boulot. Le journalisme, ça se passe sur le terrain, et c'est pas un jeune blanc-bec de Paris qui va me faire mettre mes photos de vacances sur Facebook ! " Le dialogue qui s'engage est alors toujours passionnant.
Morgane Tual
Dans le cadre d'une session de formation dispensée à deux rédaction B to B, spécialisées dans l'assurance et la grande distribution et nettement plus motivées et, pour certains de ses membres au moins, informées que ce que mes préjugés rassis m'avaient perfidement glissé dans l'oreillette, j'ai cru utile de leur faire faire un tour d'horizon des nouveaux métiers et des nouvelles pratiques du journalisme en ligne. Vaste sujet. A traiter en une heure et un power point. Fidèle à ma réputation, j'ai opté pour la solution de facilité, l'abécédaire tronqué – il commence à B, se termine à P… Et en plus, il en fait un post de blog?!?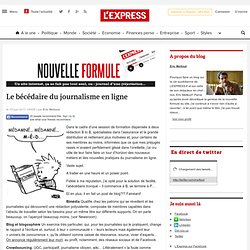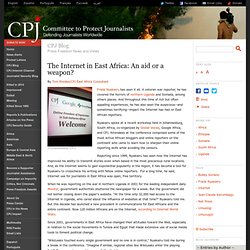 Frank Nyakairu has seen it all. A veteran war reporter, he has covered the horrors of northern Uganda and Somalia, among others places. And throughout this time of rich but often appalling experiences, he has also seen the auspicious--and sometimes terrifying--impact the Internet has had on East African reporters. Nyakairu spoke at a recent workshop held in Johannesburg, South Africa, co-organized by Global Voices , Google Africa, and CPJ.
The Internet in East Africa: An aid or a weapon?
Summify - Transmedia Lab | Accueil
Essentially everything that is currently disrupting journalism today did not exist in 2000: high-speed Internet connections, blogs, podcasts, RSS feeds, Google News, Gmail, YouTube, Facebook, Twitter, iTunes, apps, flat screens, HD, 3D, WiFi, geotagging, metadata, iPods, mobile internet, smartphones, iPhones, BlackBerry phones, tablets, Andriods, iPad, e-books, streaming videos, etc… Journalists in new media are facing a transformational crisis. It's as significant as the invention of the telegraph in the nineteenth century, and is as groundbreaking as the invention of the printing press for the Catholic Church during the fifteenth century. I say "It has been less than 10 years," because the heart of the information revolution did not form in the mid-1990s with the advent of the Internet (which was too quickly branded as the new distribution medium comparable to Minitel ).
A manifesto for "augmented journalism"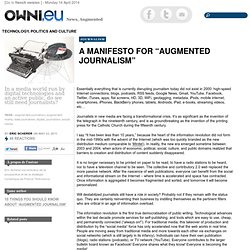 Media Cloud
Airtime
Tumblr for Journalists (and everyone else)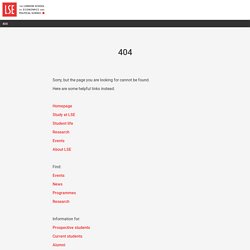 Polis Journalism Conference, Friday April 5th 2013 | Investigative journalist Nick Davies will be the keynote speaker at this year's Polis Journalism Conference on 'Trust in Journalism' . As both an accomplished journalist and writer, Davies, who has written extensively for the Observer and the Guardian, was a key figure in exposing the News of the World phone-hacking scandal in July of 2011. His related articles for the Guardian about phone-hacking practices at the News of the World resulted in police investigations and inquiries that saw repercussions for the entire UK press industry. These investigations won Davies 8 awards including Journalist of the Year from the Foreign Press Association in London. Davies' most recent project is an in-depth look at the Murdoch empire and subsequent phone-hacking scandal, a book to be published in 2014.
Polis - POLIS - Department of Media and Communications