Media
Les billets les plus lus - Les journalistes ne font pas leur boulot s'ils ne sont pas sur les réseaux sociaux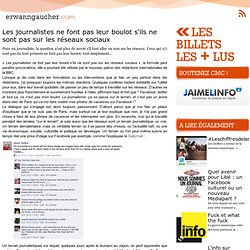 « Les journalistes ne font pas leur boulot s'ils ne sont pas sur les réseaux sociaux », la formule peut paraître provocatrice, elle a pourtant été utilisée par le nouveau patron des rédactions internationales de la BBC. Lorsque je dis cela dans les formations ou les interventions que je fais un peu partout dans les rédactions, j'ai (presque) toujours les mêmes réactions. Quelques confères restent dubitatifs sur l'utilité pour eux, dans leur travail quotidien, de passer un peu de temps à travailler sur les réseaux. D'autres se montrent plus franchement et ouvertement hostiles à l'idée, affirmant haut et fort que " Facebook, twitter et tout ça, ce n'est pas mon boulot. Le journalisme, ça se passe sur le terrain, et c'est pas un jeune blanc-bec de Paris qui va me faire mettre mes photos de vacances sur Facebook ! " Le dialogue qui s'engage est alors toujours passionnant.
Philippe K. Dick avait vu juste. A peu de choses près.
Morgane Tual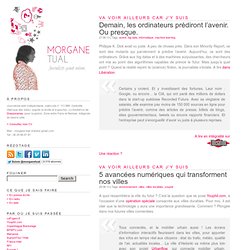 Dans le cadre d'une session de formation dispensée à deux rédaction B to B, spécialisées dans l'assurance et la grande distribution et nettement plus motivées et, pour certains de ses membres au moins, informées que ce que mes préjugés rassis m'avaient perfidement glissé dans l'oreillette, j'ai cru utile de leur faire faire un tour d'horizon des nouveaux métiers et des nouvelles pratiques du journalisme en ligne. Vaste sujet. A traiter en une heure et un power point. Fidèle à ma réputation, j'ai opté pour la solution de facilité, l'abécédaire tronqué – il commence à B, se termine à P… Et en plus, il en fait un post de blog?!?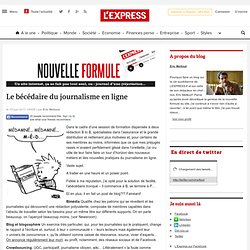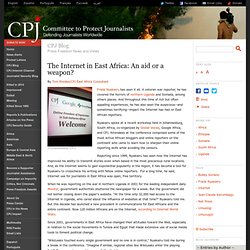 Frank Nyakairu has seen it all. A veteran war reporter, he has covered the horrors of northern Uganda and Somalia, among others places. And throughout this time of rich but often appalling experiences, he has also seen the auspicious--and sometimes terrifying--impact the Internet has had on East African reporters. Nyakairu spoke at a recent workshop held in Johannesburg, South Africa, co-organized by Global Voices, Google Africa, and CPJ.
The Internet in East Africa: An aid or a weapon?
Essentially everything that is currently disrupting journalism today did not exist in 2000: high-speed Internet connections, blogs, podcasts, RSS feeds, Google News, Gmail, YouTube, Facebook, Twitter, iTunes, apps, flat screens, HD, 3D, WiFi, geotagging, metadata, iPods, mobile internet, smartphones, iPhones, BlackBerry phones, tablets, Andriods, iPad, e-books, streaming videos, etc… Journalists in new media are facing a transformational crisis. It's as significant as the invention of the telegraph in the nineteenth century, and is as groundbreaking as the invention of the printing press for the Catholic Church during the fifteenth century. I say "It has been less than 10 years," because the heart of the information revolution did not form in the mid-1990s with the advent of the Internet (which was too quickly branded as the new distribution medium comparable to Minitel).
A manifesto for "augmented journalism"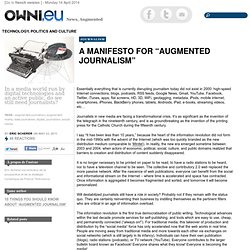 Media Cloud
Winter Weather: Use resources on the Toolbox's Weather page when writing about winter storms. Photojournalism: This four-minute video is a must-watch for photojournalists, particularly those who want to shoot and report internationally: Seven Photojournalism Tips from Reuters' Damir Sagolj Also, this Before and After Photo Slider JQuery Plug-in shows you how to make the popular slider tool that works well for overhead shots from Google Earth (before/after a tornado). Another popular new tool is Gramblr, which lets you upload pics to Instagram from your desktop. Sports: Twitter for Sports has a great list of articles, tips, tricks and best practices from Twitter media. Denver School Shootings: Use resources and tip sheets on the Public Safety and School Violence pages to cover the shootings. Also: Poynter has a great list of breaking news resources for covering shootings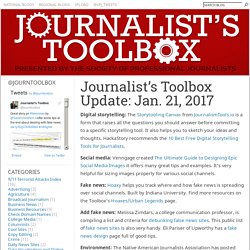 Page not found Error 404 You've arrived at this page because things haven't quite gone according to plan.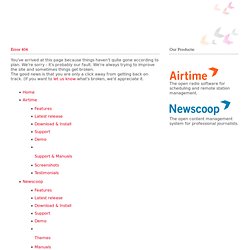 Airtime
Networked Journalism: What Works Three years ago, J-Lab funded nine pilot projects that invited eight newspapers and one public radio station to partner with news start-ups in their communities. Results are in! View them here. Engaging Audiences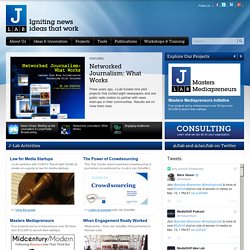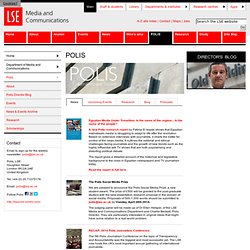 Polis StockWell Communications Research Prize| Polis is pleased to announce a new student research prize in conjunction with StockWell Communications|, a leading London-based strategic communications firm. The Polis/StockWell Communications Research Prize|, worth £1,000, will be awarded for the best research proposal on the topic of 'Corporate Reputation, Media and Society'. The research prize is be open to any LSE postgraduate student, who must submit a 500-1000 word proposal on the topic. The successful candidate will also have the opportunity to do a paid internship with StockWell during which they will develop their proposal into a final research paper to be published by both Polis and StockWell. Anthony Silverman, partner at StockWell Communications, will host a Q&A discussion for anyone interested in the prize from 12:30 - 13:30 on Tuesday November 19th, in the Graham Wallace Room (5th Floor, Old Building).
Polis - POLIS - Department of Media and Communications