Mobile phones
Acer
AppleiPhone
bea-fon
Welcome to Bea-fon! Everyone wants to keep in touch with friends and family and to be able to make a simple telephone call...including you and me! People over 50 like us have an increasing need for mobile communications with features to suit them and have less and less need for complicated 'over-featured' devices with HSDPA, WiFi,WAP, MMS, EDGE, WMA, DivX, HTML, TouchFLO Megapixels and so on. For simple communication we need simple devices.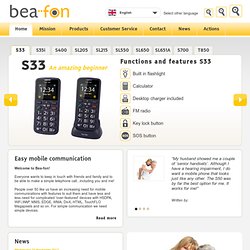 BlackBerry
GoogleAndroid
LG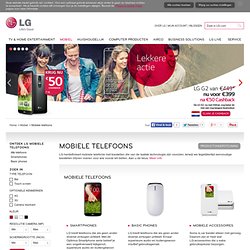 LG herdefinieert mobiele telefonie met toestellen die van de laatste technologie zijn voorzien, terwijl we tegelijkertijd eenvoudige toestellen blijven voeren voor wie vooral wil bellen. Aan u de keus. Meer info Een mobiele telefoon of GSM telefoon is voor de meeste gebruikers een communicatie- en entertainmentcentrale. Daarom staan de technologische ontwikkelingen bij LG nooit stil.
HTC
Nous encourageons les utilisateurs à être réceptifs à nos campagnes promotionnelles et à utiliser www.motorola.com/fr , donc nous mettons tous les moyens pour vous offrir la meilleure expérience possible. Pour ce faire, nous utilisons des " cookies " qui récoltent des données anonymes, que vous pouvez tout de même contrôler. Personnalisez vos paramètres de préférence ici et prenez connaissance de la charte de confidentialité pour en savoir plus sur nos méthodes de collecte d'informations.
Nokia Nederland
SoloMobi
Sonim