Photography
The Girl Who Loves to Levitate (14 photos) Natsumi Hayashi is a sweet-looking Japanese girl who, one day, decided to take self-portraits..of herself levitating.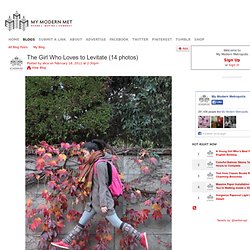 She can be spotted in and around Tokyo, equipped with her SLR and her self-timer. When she feels the moment strike, she presses the shutter button down and then, quite literally, "jumps" into place. What I love most about her shots is that they don't feel forced. d89e3136.jpg from exhibit-e.com. Abandoned Technology Scattered Across The Globe. What would we do without technology?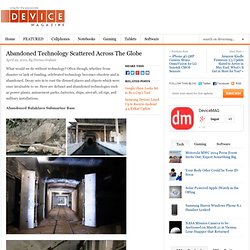 Often though, whether from disaster or lack of funding, celebrated technology becomes obsolete and is abandoned. Decay sets in to rust the disused places and objects which were once invaluable to us. Here are defunct and abandoned technologies such as power plants, amusement parks, factories, ships, aircraft, oil rigs, and military installations. Abandoned Balaklava Submarine Base (image credits: English Russia) 4058_20e950107194be4b810e555919b6147d_2.jpg from nature-pictures.org.
S_v22_0RTXV9FO.jpg from theatlantic.com. Bolivia salt desert after the rain by Guy Nesher. Fullmoonhike.swf from leecasalena.com. TYPOE_CONFETTI-DEATH_1_900px.jpg from streetanatomy.com. 500x_snow.jpg from gawkerassets.com. 2009_06_17_4260.jpg from extremeinstability.com. Pb248534.jpg from photoblink.com. Wild China: 25 Spectacular Species You Should See | Green Buzz. China is certainly one of the most beautiful places on earth.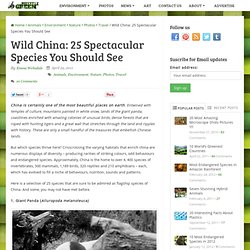 Entwined with temples of culture, mountains painted in white snow, lands of the giant panda, coastlines enriched with amazing colonies of unusual birds, dense forests that are roped with hunting tigers and a great wall that stretches through the land and ripples with history. These are only a small handful of the treasures that embellish Chinese lands. But which species thrive here? Crisscrossing the varying habitats that enrich china are numerous displays of diversity – producing rarities of striking colours, odd behaviours and endangered species.
Wudalianchi-National-Park02.jpg from kikirikipics.com. 1525-Blue-Jay-Way-05.jpg from homedsgn.com. e6542bcccf_75247609_o2.jpg from jxs.cz. Mech_01.jpg from noaa.gov. Last Suppers: James Reynolds Photographs of Death Row Inmates Final Meals -... Launch Slideshow The death penalty was reinstated 34 years ago this week.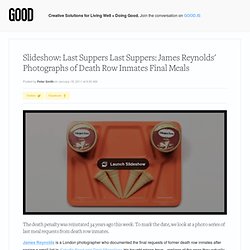 To mark the date, we look at a photo series of last meal requests from death row inmates. James Reynolds is a London photographer who documented the final requests of former death row inmates after seeing a small list in Schott's Food and Drink Miscellany. He bought prison trays—replicas of the ones they actually use in maximum security prisons—off the internet and began staging these "Last Suppers.
" Mai474big.jpg from nikdaum.com. Camels-cross-the-desert-k-003.jpg from guim.co.uk. Coke-evolution.jpg from pete.com. 160.jpg from earthshots.org. Me_789_amazing_red_sky_wide.jpg from vivapixel.com. 189421_10150131516999617_103137454616_6293395_2341856_n.jpg?__SQUARESPACE_CAC...
106 of the most beloved Street Art Photos - Year 2010 | STREET ART UTOPIA. More info.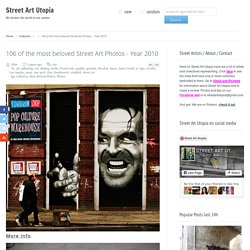 More info. More Banksy on streetartutopia.com. More info. More 3D on streetartutopia.com. Tom Robinson Travel Photography: Im going to be a dad! Free-scenery-wallpaper-1280x800-1004082.jpg from wallpaperstop.com. Wildlife1.jpg from gipsypalace.com. Albino Animals.
Birdwatchers are rushing to Avebury, near Marlborough, Wiltshire to hopefully catch a glimpse of a rare albino jackdaw.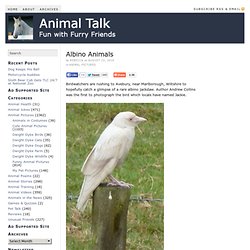 Author Andrew Collins was the first to photograph the bird which locals have named Jackie. Other fabulous albino animals include: Atmospheric. 20110615TLEKotsiopoulos.jpg from nasa.gov. Sayings-23.jpg from dumpaday.com. A dying man's last wish: To see his dog. From KCRG… Yurt used to live with a homeless Cedar Rapids man, 57-year-old Kevin McClain, in his car.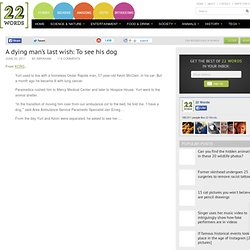 But a month ago he became ill with lung cancer.Paramedics rushed him to Mercy Medical Center and later to Hospice House. Yurt went to the animal shelter.
---