Blogs by crafty girls
29 May 2010 These elegant fabric flowers are very simple to make . . . and only take a few basic supplies. The finished product is delightfully lovely, and at times can look like a real flower!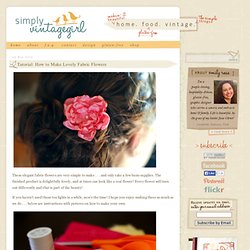 ohhhh, here it is folks! here's the monster of a post that's kept me up late the last few nights while i endure my braxton hicks.....the make it for mom mother's day roundup that i guest blogged over on " made " for celebrating mom! pop on over to made and check it out! To me, motherhood comes in many forms. being someone who thought she may never be able to have children of her own i learned through my own personal struggle that motherhood is in our lives in places we may not always want to look, such as adoption, in-vitro, surrogacy, etc., but it's there, patiently waiting. Being a mom doesn't mean you have to give birth, it means unconditional love. Whether that child has your DNA or not, each and every little angel deserves that special kind of love and giving birth isn't the only way to develop and nurture that precious bond.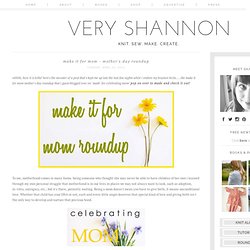 make it for mom - mother's day roundup
elsie marley
Prudent Baby: PROJECTS BY CRAFT
Aunt Peaches
delia creates
Lil Blue Boo
Bored and Crafty
// Between the lines //
lia's crafty journey: tutorial: multi reversible cape
It's not an original idea. I've seen this in a japanese book somewhere, I remembered it was simple and easy and since I had to do a Christmas gift swap last week, I thought of making this for my partner. It was a big hit and everybody wants one now :).