Visualization
LIA - Software Art. Interactive application for iPod >>> Interaction.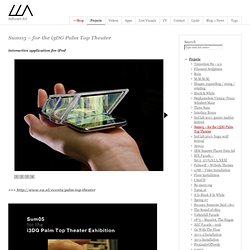 Palm Top Theater Exhibition. The International Film Festival Rotterdam has brought cinema to the large screen.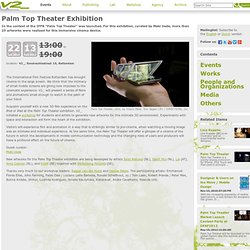 We think that the intimacy of small mobile screens are giving new impulses to the cinematic experience. V2_ will present a series of films and animations small enough to watch in the palm of your hand. Tools & code. Karsten Schmidt: enerugii wa antee shite inai I (Unstable Energy I) Mark Napier: Genesis (7 bit) FURTHER PROCESSING: Generative art, open systems 23.09.-11.11.2006, Kunstverein Medienturm, Graz Pablo Miranda Carranza (ES), Fabio Franchino (IT), Ben Fry (USA), Golan Levin (USA), Lia (AT), Mark Napier (USA), C.E.B.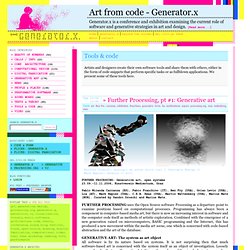 Reas (USA), Martin Wattenberg (USA), Marius Watz (NOR). Curated by Sandro Droschl and Marius Watz. FURTHER PROCESSING uses the Open Source software Processing as a departure point to examine positions based on computational processes. Infographic: What Tools Developers Actually Use. The folks at BestVendor.com interviewed 500 developers and compiled this profile of the tools that they actually use.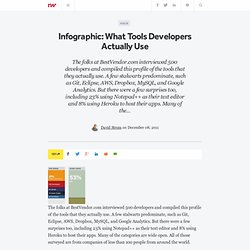 A few stalwarts predominate, such as Git, Eclipse, AWS, Dropbox, MySQL, and Google Analytics. But there were a few surprises too, including 23% using Notepad++ as their text editor and 8% using Heroku to host their apps. Many of the categories are wide open. All of those surveyed are from companies of less than 100 people from around the world. (Click to enlarge.) Les Data de visualizing.org. Stanford Visualization Group. HTML5 Toolz. Visualizations. Vis4.net. Data Visualization: 4 Swingin' Infographics | Graphic Swing.
Data Visualization: 4 Swingin' Infographics Data visualization has become an active area of research, teaching, and development.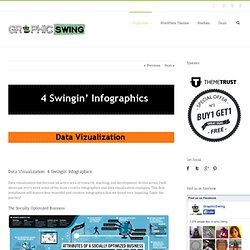 In this series, I will showcase every week some of the most creative infographics and data visualization examples. This first installment will feature four beautiful and creative infographics that we found very inspiring. Enjoy the journey! Grip Ltd. presents: 101 Thoughts on Advertising « Big Orange Slide. What are they on about now?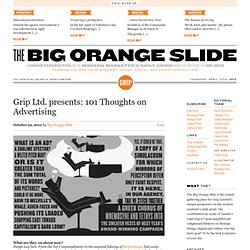 People love lists. From the Ten Commandments to the inspired hilarity of McSweeneys, lists unite random elements into something that feels cohesive, organized, and harmonious – words that don't often characterize the day-to-day of the ad industry. And what a day-to-day it is. We are consumed by our trade. We talk about it, blog about it, criticize and poeticize it. Get the Data | DataVizChallenge.org. About the Data Andrew and Louis, two engineers frustrated by the opacity of the federal budget, took publicly available government data going back to 1985 and built a database to store and organize it.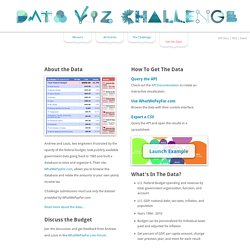 Their site, WhatWePayFor.com , allows you to browse this database and relate the amounts to your own yearly income tax. Read more about the data... Healthymagination. Nervous System – explorations in generative design and natural phenomena. Once a piece of jewelry has been designed and 3D-printed, whether it's from one of our collections or a custom-made design, there's still a lot left to do, like quality-checking, […] Read Article → Yesterday, Jesse and I took a hike in our local forest, the Middlesex Fells Reservation.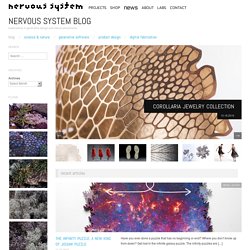 The Fells is the closest patch of wilderness to where we live and work. Founded […] Read Article → Tools. Radiolaria lets you manipulate a web of connected cells to create a huge variety of biologically-inspired patterns.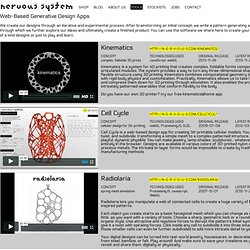 Each object you create starts as a basic hexagonal mesh which you can change as much, or as little, as you want with a variety of tools. Choose a sharp, geometric look or a rounded, more organic style. Use attractive and repulsive forces to disrupt the pattern's initial symmetry, or give it a twist with spiraling forces. Click inside any cell to subdivide it into three smaller cells -- those smaller cells can even be further subdivided to add more intricate detail to your design. What's Your Better Life Index? Your Better Life Index is designed to let you visualise and compare some of the key factors – like education, housing, environment, and so on – that contribute to well-being in OECD countries.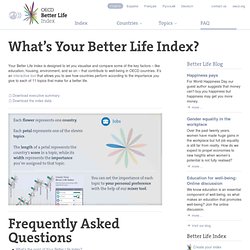 It's an interactive tool that allows you to see how countries perform according to the importance you give to each of 11 topics that make for a better life. What's the point of Your Better Life Index? There's been a lot of debate lately on measuring the well-being of societies – is wealth all that matters, or should we be looking at other things, like the balance between work and the rest of our lives? The Index aims to involve citizens in this debate, and to empower them to become more informed and engaged in the policy-making process that shapes all our lives.
Return to top. Making Music Visual: Interact with music history, taxonomy and anatomy. Nov 22, 2011 Music doesn't have to be invisible. The intangible nature of music drives people to add visual and now interactive layers on top of it. We'll examine how three projects visualize different aspects of musical data. Simple interactions turn static timelines into informative media experiences, maps into a means of dissecting the time and place of musical diversification and graphs into representations of the music itself.
Produced by the Adobe Experience Design team, 100 Years with the San Francisco Symphony is a detailed visualization of the institution's history all wrapped up in an attractive spiral-shaped timeline. Kdd2011-mr-clustering.pdf (Objet application/pdf) Patrick Garvin: Blog» Blog Archive » 4 reasons why Adobe Flash was not a waste of our time. November 15th, 2011 at 14:24 Last week, Adobe Systems announced it would stop making Flash technology for mobile devices and would instead focus on HTML5. Flash's end has been predicted for the last few years now, as it is not supported on the iPhone or the iPad.
Flash runs on other mobile devices, but Apple products are the Marcia Brady of their kind. If Apple rejects you, you're kinda sorta screwed. For many graphic artists who joined newsrooms before the big push for "interactive graphics," Flash was the first program we used to make web graphics with rollovers. Infographics - Information graphics. About ChartsBin.com. What is ChartsBin? ChartsBin is a web-based data visualization tool that will allow everyone to quickly and easily create rich interactive visualizations with their own data. You can then share your interactive visualizations with others by embedding them in websites, blogs or sharing via Facebook or Twitter.
Work · Imazon. This time, Google approached us to help them develop a new tool for Imazon, a non-profit research institution that performs advanced analysis on the changes of Amazon area natural resources. Imazon needed a new tool to help visualize and analyze data-intensive map layers and satellite aerial imagery. In the first phase of this project we developed a tool to visualize the outputs of deforestation detection algorithms. Ultimately, the tool will help Imazon scientists and others in their work to detect the deforestation as early as possible and fire the warnings to authorities to stop it.
What we made: Refine - Google Refine, a power tool for working with messy data (formerly Freebase Gridworks) Work · Spanish 2011 elections. News, Augmented » Articles de la categorie » Graphisme. 10101010. Joy of Processing. KrazyDad. Chris Harrison | Welcome. Publications by Jim Bumgardner. Jim Bumgardner / jbum.com. Blended Mona. Complex Diagrams. Driven by data :: information visualization.
Infographics news. The Infographics Showcase - Data Visualization - Infographic Design. D3 Tutorial - CS448B Data Visualization. Jeffrey Heer. Sigma Xi: The Scientific Research Society: Blogs & Web Sites. Welcome. Application Gallery - NYC BigApps. TechStars. NYC BigApps 3.0.
The central platform for crowdsourcing US Government challenges, contests, competitions and open innovation prizes | Challenge.gov. APIs | NYC BigApps 3.0. Cloudhead's Profile - GitHub. Node.js. Style Chart - Free Ajax Visualization Charting Service. Free, open-source framework | Adobe Flex. Flex Developer Center. Publications: Book Chapters :: Robert Kosara.
---