GoeMarket
Spatial Data Quality. During this episode, Clarence Hempfield and I discuss aspects of spatial data quality, including the three basic spatial data types (points, lines, and polygons), data quality issues that can affect them, business applications of spatial data for enterprise location intelligence, and how mobile devices are driving the consumerization of geographic information systems (GIS), requiring business and consumer awareness of the data privacy implications of increasingly location-aware mobile applications.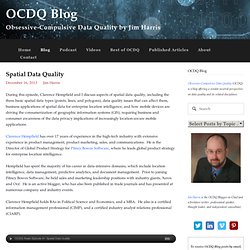 Clarence Hempfield has over 17 years of experience in the high-tech industry with extensive experience in product management, product marketing, sales, and communications. He is the Director of Global Product Strategy for Pitney Bowes Software, where he leads global product strategy for enterprise location intelligence. Hempfield has spent the majority of his career in data-intensive domains, which include location intelligence, data management, predictive analytics, and document management. Systemed/iD. Data vis. Instantly Deploy GIS Applications. Geomajas. Geomajas Geomajas is an enterprise-ready open source GIS framework for the web.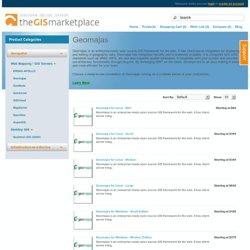 It has client-server integration for displaying and editing of geographic data.
TileMill. Announcing MapBox Streets: A Global Map with Street Level Detail. We're excited to release MapBox Streets, our first global block-level map powered by OpenStreetMap.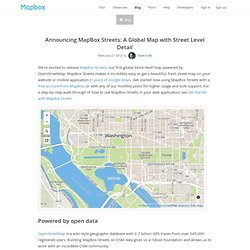 MapBox Streets makes it incredibly easy to get a beautiful, fresh street map on your website or mobile application in place of Google Maps. Get started now using MapBox Streets with a free account from MapBox, or with any of our monthly plans for higher usage and bulk support. Tour MapBox. Global coverage and fresh design MapBox Streets is a beautiful alternative to Google Maps powered by high-quality open data from OpenStreetMap, available now from MapBox.
Liberate your maps with global street level detail, rich features, and your own custom design. Apply custom styles MapBox streets comes in a variety of gorgeous preset color schemes, or you can take control and customize the color levels and features of your map. Mapnik -outils - Mapnik -- exemple -- Opening Up 140,000 Miles of Road Data in Africa. Working with FAO's Africover project and the UN's Data Exchange Platform for the Horn of Africa (DEPHA), we opened up over 140,000 miles of road data in seven African nations on OpenStreetMap.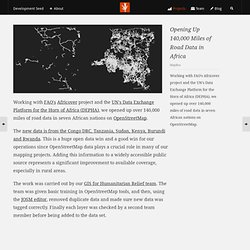 The new data is from the Congo DRC, Tanzania, Sudan, Kenya, Burundi, and Rwanda. This is a huge open data win and a good win for our operations since OpenStreetMap data plays a crucial role in many of our mapping projects. Adding this information to a widely accessible public source represents a significant improvement to available coverage, especially in rural areas. Interactive maps and visualizations. Health in Saudi Arabia. GE and Saudi Arabia's Ministry of Health conducted a survey in mid-2010 that examines the relationship between Saudi Arabian consumers and their health.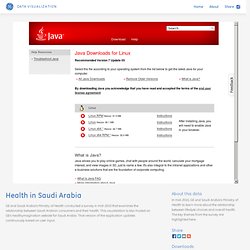 This visualization is also hosted on GE's healthymagination website for Saudi Arabia. That version of the application updates continuously based on user input. Kyris GeoBI. Le blog decigeo.
---