Currention
LAND MATRIX
What is the Land Matrix? The Land Matrix is an online public database that permits all users to contribute to and improve data on land deals, and for this data to be visualised. The visualisations offer both overviews of the data and complete access to the public database down to the level of an individual deal. The Land Matrix facilitates the collection and representation of data; encourages citizens, researchers, governments, and companies to provide data and improve the quality of and access to data; and provides a regular and accessible analysis of trends. You can explore data through multiple entry points, ranging from summaries that provide insight concerning the contents of the database, to direct access to the data for more in-depth exploration and analysis. Who are the Partners of the Land Matrix?
Message in-a-Box
Toolkits and Guides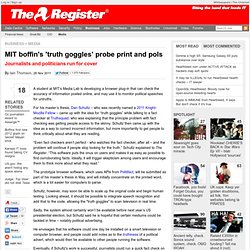 Imprimer la sonde «lunettes vérité» du MIT Boffin et pols • Le registre
A student at MIT's Media Lab is developing a browser plug-in that can check the accuracy of information posted online, and may use it to monitor political speeches for untruths. For his master's thesis, Dan Schultz – who was recently named a 2011 Knight-Mozilla Fellow – came up with the idea for "truth goggles" while talking to a fact checker at Truthsquad , who was explaining that the principle problem with fact checking was getting people access to the skinny. Schultz then came up with the idea as a way to correct incorrect information, but more importantly to get people to think critically about what they are reading. "Even fact checkers aren't perfect - who watches the fact checker, after all – and the problem will continue if people stop looking for the truth," Schultz explained to The Register . "This software puts the onus on users and makes it as easy as possible to find corroborating facts.
Tools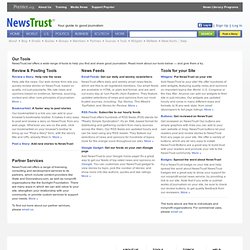 NewsTrust.net offers a wide range of tools to help you find and share good journalism. Read more about our tools below — and give them a try. Review & Posting Tools Review a Story : Help rate the news
Le Mans et Coulaines ont été pionnières, en 2009. Allonnes s'est lancée le mois dernier. Peu à peu, les mairies de l'agglomération ouvrent leur page sur Facebook, principal réseau social du web. « Ça permet de toucher un public qu'on n'arrive pas à capter avec les supports classiques, comme le magazine municipal » , estime Ludivine Lory, du service communication de la ville de Coulaines. Le site web de la mairie ne suffit-il pas ? « Il n'offre pas l'interactivité de Facebook : les gens peuvent nous répondre.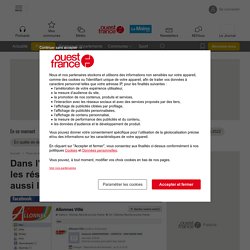 Les réseaux sociaux séduisent aussi les mairies - ouest-france.fr | Du bon usage des réseaux | Scoop.it
The Online Collaboration Authority, Web Conferencing, Live Presentation Tools: Kolabora. With Breaking News, Forums, Reviews And Expert Advice