Currention
LAND MATRIX
Land Matrix partnership launches second phase of its Global Observatory on large scale land acquisitions Dynamic public interface promotes greater transparency in land investments Bern/Hamburg/Montpellier/Rome (10 June 2013) The Land Matrix partnership today launches the second phase of the Global Observatory on large scale land acquisitions. The Land Matrix Global Observatory is a tool that promotes transparency in land transactions and supports open data and open source communities focused on land deals.
Message in-a-Box
Toolkits and Guides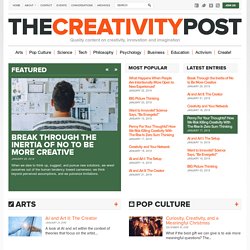 From Evaluation to Inspiration January 13, 2014 It's time to shift from a culture of evaluation to a culture of inspiration. Failure: The Good F-Word January 10, 2014 The value of failure is that it creates a dent in our usual routines and propels us to re-evaluate our strengths, as well as seek out new creative solutions. No one can escape life´s inevitable curve balls, but perhaps by meeting them with the right mindset—with an awareness of our underlying strength and adaptability—we can learn to embrace adversities, and harness their capacity to lead to greater well-being and resilience. What's Sparking Me Now January 08, 2014 I am everyday surprised, humbled, and giddy excited about bike commuting and its impact on creativity, people, and cities across the world – specifically on local community connectivity, release and mindfulness, manufacturing, and fashion.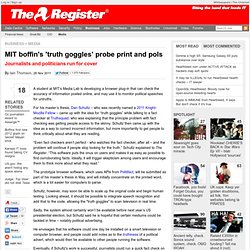 Imprimer la sonde «lunettes vérité» du MIT Boffin et pols • Le registre
High performance access to file storage A student at MIT's Media Lab is developing a browser plug-in that can check the accuracy of information posted online, and may use it to monitor political speeches for untruths. For his master's thesis, Dan Schultz – who was recently named a 2011 Knight-Mozilla Fellow – came up with the idea for "truth goggles" while talking to a fact checker at Truthsquad, who was explaining that the principle problem with fact checking was getting people access to the skinny. Schultz then came up with the idea as a way to correct incorrect information, but more importantly to get people to think critically about what they are reading. "Even fact checkers aren't perfect - who watches the fact checker, after all – and the problem will continue if people stop looking for the truth," Schultz explained to The Register. "This software puts the onus on users and makes it as easy as possible to find corroborating facts.
Tools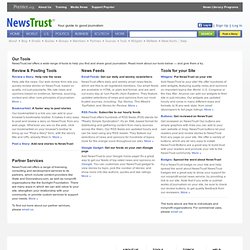 NewsTrust.net offers a wide range of tools to help you find and share good journalism. Read more about our tools below — and give them a try. Review & Posting Tools Review a Story: Help rate the news
Le Mans et Coulaines ont été pionnières, en 2009. Allonnes s'est lancée le mois dernier. Peu à peu, les mairies de l'agglomération ouvrent leur page sur Facebook, principal réseau social du web.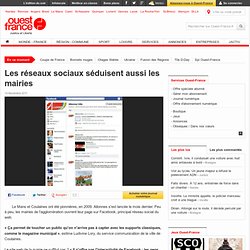 Les réseaux sociaux séduisent aussi les mairies - ouest-france.fr | Du bon usage des réseaux | Scoop.it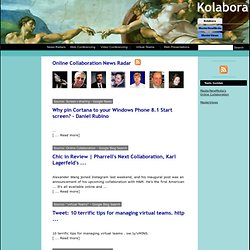 Source: Slack Cross-Device Real-Time Messaging, Archiving and Search for Team Collaboration: Slack Robin Good's insight:Slack is a real-time private team messaging platform that integrates file-sharing, notifications, searchable archives and information tagging.You can easily create channels based on topics, tasks or teams that allow you to keep messages and information among team members tidy.Slack is both browser-based as well as being available on all smartphones (iOS and Android).Slack wants to be a full be replacement for internal team emails, making it much easier and faster to deal and access internal communications and files.Fially Slack fully integrates with a wide number of cloud services including Dropbox, Google Drive, Asana and many other useful ones.A free version allows unlimited users, 5GB of storage, 10,000 messages and up to 5 external app integrations.The $9/mo plan moves up the limits to unlimited messages, 10GB storage, and unlimited external app integrations.
The Online Collaboration Authority, Web Conferencing, Live Presentation Tools: Kolabora. With Breaking News, Forums, Reviews And Expert Advice
Last updated: 14:19 Source: Vimeo Curate and Publish Searchable Databases with freeDive Robin Good: freeDive allows anyone to use Google spreadsheets to build searchable databases that can be personalized, curated and published online.Key features include: Results are presented in an interactive, sortable table Wizard walks you through creating a search widgetCustomize the interface with your filtersEmbed code to publish anywhere Open-sourceFree to use.Try it out now: http://multimedia.journalism.berkeley.edu/tools/freedive/wizard Example: http://multimedia.journalism.berkeley.edu/tools/freedive/example Find out more: http://multimedia.journalism.berkeley.edu/tools/freedive/ FAQ: http://multimedia.journalism.berkeley.edu/tools/freedive/faq Contact info: http://multimedia.journalism.berkeley.edu/contact/ Built by Len De Groot and Scot HackerSee it on Scoop.it, via Content Curation World ...