graphics
Get flash to fully experience Pearltrees
Want to learn how everything works in Photoshop? We'll help you make your photos better, draw vector graphics, and design a web site. Learn the Basics of Photoshop in Under 25 Minutes - To get started with Photoshop, you need to know what everything does. Here's a look at practically every tool in Photoshop in less than 25 minutes. Basics of Photoshop: Color Correction, Touch Ups, and Enhancements - Now that you know the tools Photoshop has to offer, we can take a look at using them to correct and alter color, retouch blemishes and other unwanted parts of your photos, and enhance portraits to make the subject look especially good.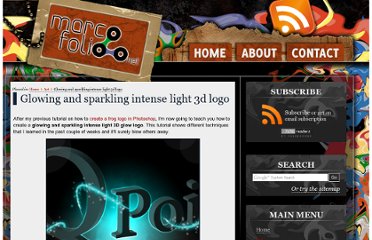 After my previous tutorial on how to create a frog logo in Photoshop , I'm now going to teach you how to create a glowing and sparkling intense light 3D glow logo . This tutorial shows different techniques that I learned in the past couple of weeks and it'll surely blow others away. Most of this tutorial is done in Photoshop, the 3D letters are created in Illustrator. If you don't have Illustrator, you can also try making 3D letters in Photoshop .
Published in Design , Photoshop Tutorials Photoshop and Illustrator are two of the most indispensable tools for web and graphic designers. For those of us who are always looking to learn more and improve skills, there are plenty of great tutorials out there for each of these programs.