Hannah & Eve Educational
Natural Bubble Soap Solution Tools needed for this project Container like Plastic jar 1 cup water 2 Tbs light karo syrup or 2 Tbs glycerin 4 tablespoons dishwashing liquid Directions: Mix together and have fun!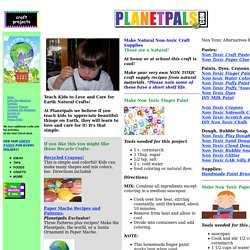 Hello Kitty Packs - Royal Baloo | Royal Baloo
The Free School Pack is done just in time for school! These School printables are to be used with children from 2 to 7. These printables were made to go with the book: There Was an Old Lady Who Swallowed Some Books! by Lucille Colandro Graphics: School Supplies , Granny Loves School & Granny Loves School Line Art by Scrapping Doodles purchased from Scrapping Doodles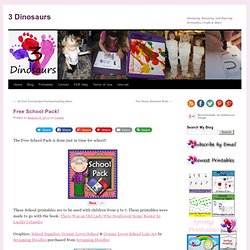 Free School Pack! | 3 Dinosaurs
Tot School | Royal Baloo
Royal is 3 years 10 months Logi-Bear is 23 months Zoomin' Moving Alphabet Letter A Number 1 Color Red Sight Word the We recently purchased the All About Reading Pre-Reading level for Royal and wanted to start it right away. The curriculum goes through the alphabet in ABC order, so I decided to start over with our Zoomin' Moving Alphabet.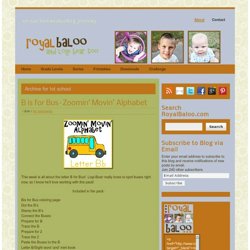 Homeschooling for free
Our Aussie Homeschool: Printables
Calendar Notebook Binder Printables - Homeschool Creations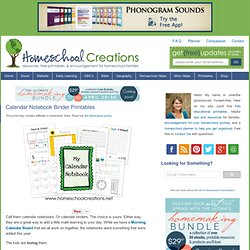 Call them calendar notebooks. Or calendar binders. The choice is yours. Either way, they are a great way to add a little math learning to your day. While we have a Morning Calendar Board that we all work on together, the notebooks were something that were added this year.
We're still having fun with our Math Journals on a near daily basis around here. We've gotten into a simple, effective, and fun routine with them, and it's often how we start out day. The page to the left if one both boys do, all though honestly it's very below Morgan and he doesn't need to do it. He hasn't complained about it though so I've not told him to drop it, and since I've not come up with a flashier daily page for him we carry on.. I did not create the page to the left, all though I think it's awesome. Mrs.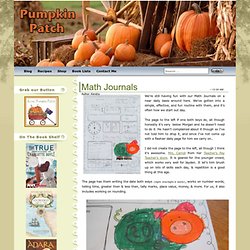 Aussie Pumpkin Patch: Math Journals
Our Aussie Homeschool: Calendar Notebook
I've always loved the idea of the calendar notebook over at Mama Jenn's. Skeeterbug quickly outgrew our calendar wall, and our younger two weren't ready for it yet. There were certain things I wanted him to practice so I finally got around to creating our own calendar notebook at the end of last year. This year I added a bit to it and it seems to be working well. I bound it with binder dividers inside to make it easier to find each section. Skeeterbug starts each school day by completing his calendar notebook.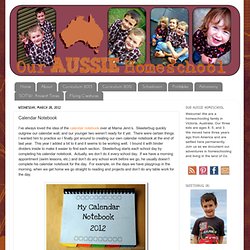 A Little Learning For Two: Ice Eggs
This activity was a blast! When I saw the forecast last night for warm weather today I got busy filling our freezer with 'ice eggs' for the girls to play with (ok, and me too :-D). This activity is a combination of the Ice Bowling and Alphabet Ice blocks we played last year which were both a huge hit. * balloons (round shaped probably work best) * small toys/glass stones * water (tap) * freezer optional : spoons, magnifying glasses, food colouring/tempura paint.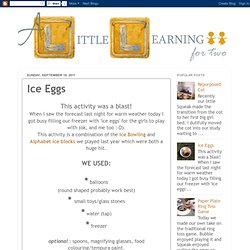 Shannon Makes Stuff: Little Caterpillars...
I promise after you see these little guys you'll wish you had bugs crawling around your home! They are so much fun and add just the right amount of touch of color to my fridge! And my boys LOVE them. (NOTE: My son brought one of these home from school last year that his teacher gave him. So this is the ultimate idea theft. I wish I could take credit for the idea, but I can't!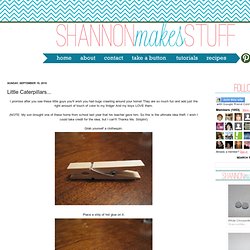 Pencil stamps in Ideas for kids' crafts
So I had tons of extra page protectors laying around and decided to have a mess free art project! You have no clue how happy those 3 words make me! I cut out flower shapes for each child.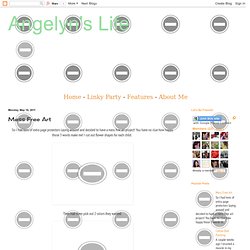 Angelyn's Life: Mess Free Art
Italy
Children can observe their surroundings in many ways. They can take a quick glance, they can look for obvious visual cues, or they can look carefully at the details. While every situation does not call for careful scrutiny, it is important that children are able to notice small details in visual messages.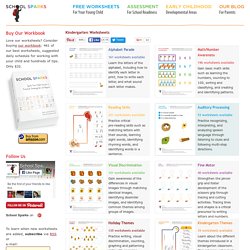 Kindergarten Worksheets and Preschool Worksheets - School Sparks
Free Printable Children's Books.
Make these free printable children's books to encourage your kids to read. There are a variety of themes to choose from -- the majority of the books target younger readers (preschool, kindergarten and early grade school) although a few of the books are a bit more challenging. The "custom stories" and holidays themed stories are especially popular! The printable books come with suggestions for complimentary activities and/or worksheets to reinforce the stories.
Itsy Bitsy Books
Story Props
I Went Walking Color / B&W I'm the Best Color / B&W Cows in the Kitchen Places: Color / Color(2pages) / B&W Animals: Color / B&W
How to make Science Discovery Bottles | Familylicious Reviews and Giveaways
These are just a few different kinds of Sensory bottle ideas feel free to make your own variations. Only use Gatorade or G2 bottles for the sensory bottles they are a heavier plastic so they hold up better and keep a unison look so everything looks good. Make sure to ALWAYS seal your bottles securely Alphabet Bottle Fill a small plastic bottle with corn syrup (I used hairgel below because I was out of corn syrup, colorful letter confetti and some marbles. Use hot glue to make sure the cap stays on.
Jolanthe at Homeschool Creations has another FREE printable for your preschoolers . This pack features learning activities that coordinate with the book Gingerbread Baby by Jan Brett . You'll find fun activities that tie in with the story–and thus a more comprehensive learning experience–including vocabulary words, word tracer cards, number identification, patterning activities, and more!
FREE Gingerbread Baby Printables Pack — Faithful Provisions
Teachers Notebook
Our Little Monkeys: Preschool Printables
ABC Bible Verse Flashcard Printables ~ Teaching God's Word
Homeschool Creations — Resources, free printables, and encouragement for homeschool families
Chinese Language School Melbourne - Language Champs
Age 2-3 Years
Cinderella "Tot" Book (Lapbooking for Tots) « One Little, Two Little
Dinosaurs & Trains: Tot Book
Essential Baby > Plates with Kids drawings baked onto them
Glass Paints & Painting
Free Kids Crafts For Children of all Ages
activities
Crafts for kids to make...
myfirstgruffalopairsgame
My Printables
Little Passports - Product Info (educational children, educational online games, kids travel, educational games, social studies)
Training Happy Hearts: Montessori in a Bag – Looking Back on Our Side of Our First Activity Bag Exchange
My Little Princess World: All girly Boarding Waiting toddler pack!
ColoringBookFun.com - Free Coloring Pages - Printable Pages - Free Holiday Color Pages to Download and Print
Reward Points System and Home "Store"
Free Printables | Over The Big Moon
3 Dinosaurs - 3 Dinosaurs
2 Teaching Mommies
Farm-Pack-PDF
Little Family Fun: File Folder Games: Things of Wheels Matching
Crafts for Preschoolers and Kindergartners