Megzz003
Meg
single working mom, stained glass and precious metal clay hobbyist, avid reader, dog lover, net surfer and stumbler, poker player, loves comedy, Buddhism
With the hectic pace and demands of modern life, many people feel stressed and over-worked. It often feels like there is just not enough time in the day to get everything done. Our stress and tiredness make us unhappy, impatient and frustrated. It can even affect our health. We are often so busy we feel there is no time to stop and meditate! But meditation actually gives you more time by making your mind calmer and more focused.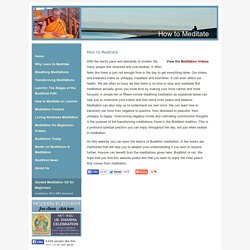 pema website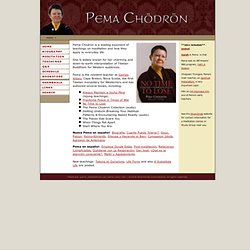 Pema Chodron is a leading exponent of teachings on meditation and how they apply to everyday life. She is widely known for her charming and down-to-earth interpretation of Tibetan Buddhism for Western audiences. Pema is the resident teacher at Gampo Abbey, Cape Breton, Nova Scotia, the first Tibetan monastery for Westerners and has authored several books, including: Always Maintain a Joyful Mind (lojong teachings) Practicing Peace in Times of War No Time to Lose The Pema Chodron Collection (audio) Getting Unstuck:Breaking Your Habitual Patterns & Encountering Naked Reality (audio) The Places that Scare You When Things Fall Apart Start Where You Are Nueva Pema en español: Biografia, Cuanto Puedo Tolerar?, Gozo, Pasion, Remordimiento, Shenpa y Haciendo el Bien, Compasion Idiota, Agresion de Antemano
breathing our feelings
The retreat is exploring the Discourse on the Full Awareness of Breathing (also known as the Anapanasati Sutta). The first eight have the two broad categories of body and feelings. The discourse is explored in more detail in The Path of Emancipation. 1. 'Breathing in a long breath, I know I am breathing in a long breath.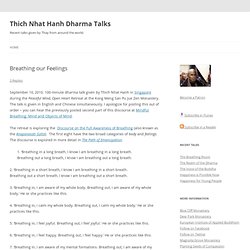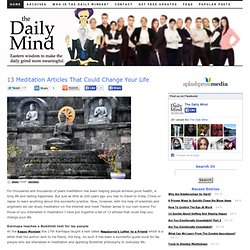 meditation articles
photo credit: mariskar For thousands and thousands of years meditation has been helping people achieve good health, a long life and lasting happiness. But just as little as 200 years ago you had to travel to India, China or Japan to learn anything about this wonderful practice. Now, however, with the help of scientists and engineers we can study meditation on the internet and meet Tibetan lamas in our own towns!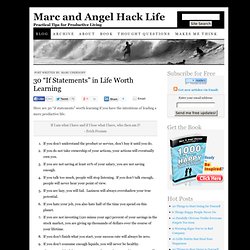 post written by: Marc Chernoff Email Here are 30 "if statements" worth learning if you have the intentions of leading a more productive life.
30 "If Statements" in Life Worth Learning
What is Meditation? Answers from Osho email deeshan Children's books of magical stories for kids of all ages. Click to read the first story Uncle Mago JCDesign