Woah!
Brilliant Examples of Moleskine Art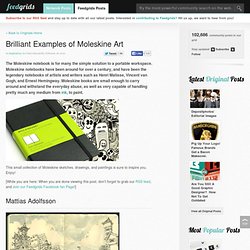 The Moleskine notebook is for many the simple solution to a portable workspace. Moleskine notebooks have been around for over a century, and have been the legendary notebooks of artists and writers such as Henri Matisse, Vincent van Gogh, and Ernest Hemingway. Moleskine books are small enough to carry around and withstand the everyday abuse, as well as very capable of handling pretty much any medium from ink, to paint. This small collection of Moleskine sketches, drawings, and paintings is sure to inspire you.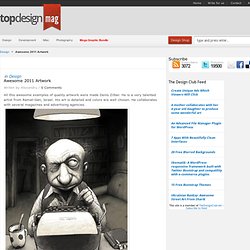 Design Shop in Design Awesome 2011 Artwork Writen by Alexandru / 0 Comments All this awesome examples of quality artwork were made Denis Zilber. He is a very talented artist from Ramat-Gan, Israel.
Awesome 2011 Artwork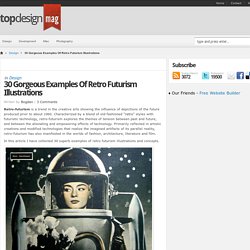 Retro-futurism is a trend in the creative arts showing the influence of depictions of the future produced prior to about 1960. Characterized by a blend of old-fashioned "retro" styles with futuristic technology, retro-futurism explores the themes of tension between past and future, and between the alienating and empowering effects of technology. Primarily reflected in artistic creations and modified technologies that realize the imagined artifacts of its parallel reality, retro-futurism has also manifested in the worlds of fashion, architecture, literature and film. In this article I have collected 30 superb examples of retro futurism illustrations and concepts. (Retrofuturism kitchen) Credits: Eric Joyner
30 Gorgeous Examples Of Retro Futurism Illustrations