Cupcakes
Making Pumpkin Pie Cupcakes
Posted September 30th, 2011 by girlversusdough For me, that means a whole new abundance of flavors is just waiting to be used for baking. From cloves to pumpkin to nutmeg, I can't wait to celebrate the flavors of the season with yummy treats from my oven. But what's a boy or girl to do when he or she wants all of those fall flavors in one delicious dessert? Answer: Bake these Pumpkin Pie Cupcakes .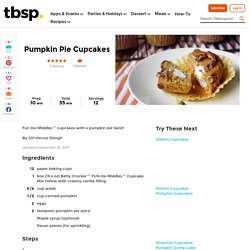 The Ultimate Guide to Chocolate Chip Cookies Part 3 The Ultimate Guide to Chocolate Chip Cookies Part 3 features experiments with dietary restrictions and various ingredient substitutions, such as gluten-free and sugar-free.CLICK HERE FOR PARTS ONE and TWO!! Have you ever wondered what ingredients you could substitute in a chocolate chip cookie recipe for dietary needs? How to make cookies healthier, whole wheat, vegan, gluten-free, egg-free, or butter-free? Today I'm SO thrilled to be sharing with you my Ultimate Guide to Chocolate Chip Cookies part THREE!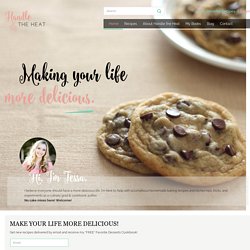 Oreo Cupcakes - With a Built-In Cup for Milk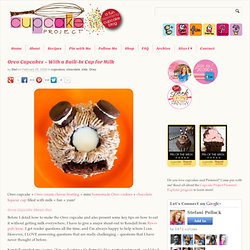 Oreo cupcake + Oreo cream cheese frosting + mini homemade Oreo cookies + chocolate liqueur cup filled with milk = fun + yum! Oreo Cupcake Shout-Out Before I detail how to make the Oreo cupcake and also present some key tips on how to eat it without getting milk everywhere, I have to give a major shout-out to Kendall from Res-o-puh-leese. I get reader questions all the time, and I'm always happy to help where I can.
It is freezing here in Ohio and I mean a bone chilling, teeth chattering, freezing…a whopping 12 degrees. The bad part is that it's not even snowing, my theory is simple…if it's going to be this cold, at least gimme a snow day, but unfortunately I have not gotten a single one this year! In the midst of this Ohio deep freeze, I was craving a little piece of summer and just happened to have some gorgeous oranges on my counter. I adapted a very simple recipe from the Joy of Baking, tweaking it just a bit to tantalize your taste buds with a lovely burst of orange. I then piped on some cream cheese frosting and enjoyed a little bit of summer! Bake these little beauties in bright cupcake liners, top them with sparkling sugar and I am betting that you will make the special people in your life very happy!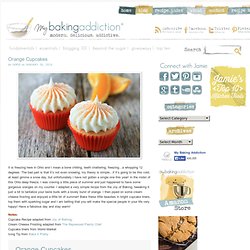 Orange Cupcakes with Cream Cheese Frosting