Visual
Google Swiffy. Examples. Enjoy these sample visualizations built with Protovis.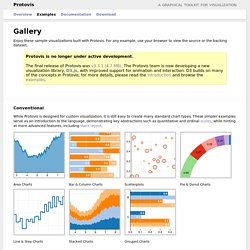 For any example, use your browser to view the source or the backing dataset. Protovis is no longer under active development.The final release of Protovis was v3.3.1 (4.7 MB). The Protovis team is now developing a new visualization library, D3.js, with improved support for animation and interaction. D3 builds on many of the concepts in Protovis; for more details, please read the introduction and browse the examples. Conventional. SuperCollider. This article is about the programming language.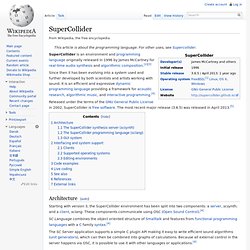 For other uses, see Supercollider. SuperCollider is an environment and programming language originally released in 1996 by James McCartney for real-time audio synthesis and algorithmic composition.[2][3] Since then it has been evolving into a system used and further developed by both scientists and artists working with sound. It is an efficient and expressive dynamic programming language providing a framework for acoustic research, algorithmic music, and interactive programming.[4] Released under the terms of the GNU General Public License in 2002, SuperCollider is free software. Max. CoffeeScript. Music can be fun - Edan Kwan. Csounds.com. Data Visualization.
---