Tacos, Enchilada dishes:)
Beef and Bean Taco Casserole. Taco Pie All your favorite taco fixings in a yummy, cheesy casserole. allrecipes.com.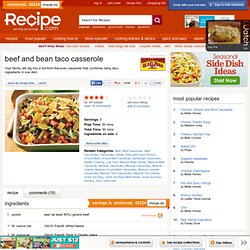 7 Layer Mexican Bean Dip. Today we are featuring our "7 Layer Mexican Bean Dip" which was served at our last get together.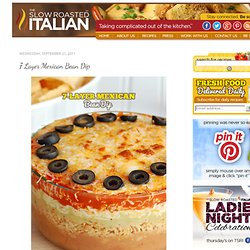 We hosted a Mexican food dinner, with taco, chips, this bean dip and pico de gallo. All of these recipes I am excited to share with you!!! Tortillas de Harina / Flour tortillas. Tortillas de Harina Flour Tortillas (wheat)(this are NOT to be confused with CORN tortillas.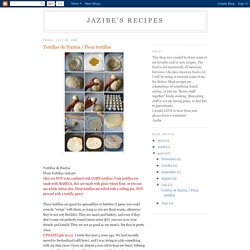 Corn tortillas are made with MASECA, this are made with plain wheat flour, or you can use whole wheat also. Flour tortillas are rolled with a rolling pin, NOT pressed with a tortilla press) These tortillas are great for quesadillas or burritos (I guess you could even do "wraps" with them, as long as you use them warm, otherwise they're not very flexible). They are moist and buttery, and even if they don't come out perfectly round (mine never do!) , you can wow your friends and family!
Slim Six-Layer Dip Recipe : Food Network Kitchens : Recipes. Bean and Cheese Taquitos. Do You Know the Muffin Pan?: Muffin Pan Tacos. Christmas Challenge - Day 3 My mom sent my boyfriend and I home with TWO bags of turkey and a coffee carafe filled with turkey soup.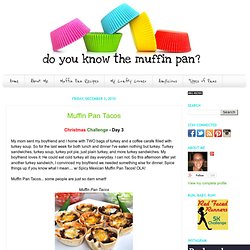 So for the last week for both lunch and dinner I've eaten nothing but turkey. Turkey sandwiches, turkey soup, turkey pot pie, just plain turkey, and more turkey sandwiches. My boyfriend loves it. Greek Quesadillas. Though we love spending time in our kitchen, most weeknights we're not up for much of a challenge.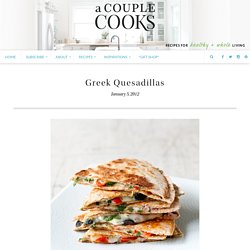 We generally save our cooking adventures for the weekend (though sometimes we find some unexpected mid-week inspiration!). Here's some mid-week inspiration for a dish that's incredibly easy to put together, but seems inspiring none the less. (And, you can capitalize on local winter greens, if they're readily available in your area!) Quesadillas are a common go-to meal for us, but we'd never tried them with Mediterranean flavors. Turns out the quesadilla lends itself well to ethnic interpretations (much like our experiments with Mexican and Greek pizza). Baked Black Bean Taquitos. Okay, so one of my New Years resolutions is to continue on my journey of photography and recently I had the opportunity of a lifetime.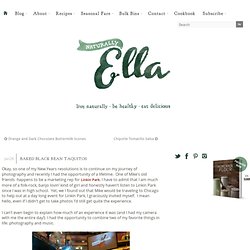 One of Mike's old friends happens to be a marketing rep for Linkin Park. I have to admit that I am much more of a folk-rock, banjo lovin' kind of girl and honestly haven't listen to Linkin Park since I was in high school. Yet, we I found out that Mike would be traveling to Chicago to help out at a day long event for Linkin Park, I graciously invited myself. Taco "Cupcakes" A while back I made some lasagna cupcakes - individual lasagnas made with won ton wrappers instead of pasta noodles.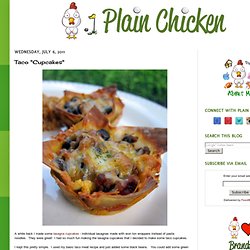 They were great! I had so much fun making the lasagna cupcakes that I decided to make some taco cupcakes.
---