Pasta:)
I went by the old apartment this afternoon. By myself, one last time. I said good-bye to the park in the front, and the big trees in the back. I think I'd have a harder time leaving, but we still have friends on the block, and I suspect it'll be no big deal to swing by and hang out on the steps on nice days. Up the street, the mountain of cardboard boxes is gone. That, and getting dinner on the table the first night in, felt great.
Stuffed Shells Recipe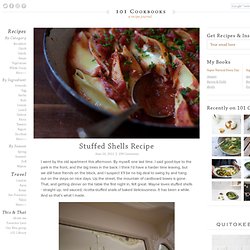 Like that? Try This: Linguine with Gorgonza Cream Sauce & Green Beans Recipe | The Realistic Nutritionist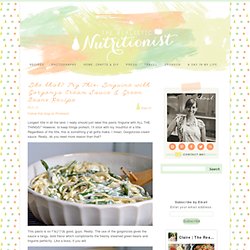 Longest title in all the land. I really should just label this pasta "linguine with ALL THE THINGS!" However, to keep things profesh, I'll stick with my mouthful of a title. Regardless of the title, this is something y'all gotta make. I mean, Gorgonzola cream sauce. Really, do you need more reason than that?
Losing a copy of an old recipe can be heartbreaking--especially if said recipe predates the dawn of the age of the Internets. At Bon Appetit , we understand this. So, we have a team of eager interns ready to scour our archives for the long-lost recipes requested by you, dear readers.
This Spring Pasta from 1979 Is Our Most Requested Recipe: BA Daily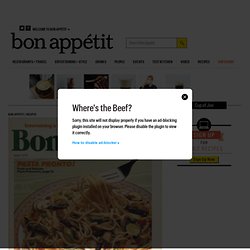 Cannelloni with Ricotta and Spinach « Silvia's Cucina
Last-Minute Lasagna Recipe
Spaghetti With Garlic, Olive Oil, and Chili Flakes
Translated: spaghetti with garlic, oil, and chili pepper flakes. This is the kind of meal that makes you stop and think that the simplest foods are often the most wonderful. With only a few ingredients that are staples in most pantries, you can create a beautiful, flavorful, heartwarming meal from scratch. Spaghetti aglio, olio, e peperoncino is a traditional Italian pasta dish. It's well loved by many because it's so easy and inexpensive to make.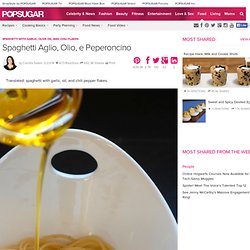 Another week in February and another recipe you can make to love your heart…and what you eat! Because really and truly, you should love what you eat. Perhaps you will love one of these recipes, too: Today's recipe isn't the absolute lowest in calories or fat, but it's a perfect example of a much scaled down version of one of America's favorite guilty pleasures: Fettuccine Alfredo. Loving your heart doesn't mean having to sacrifice taste…or your favorite foods. Making a lighter version at home, however, can save you nearly a day's worth of fat, two day's worth of saturated fat, and whole lot of calories.
Love Your Heart: Light Fettuccine Alfredo | Prevention RD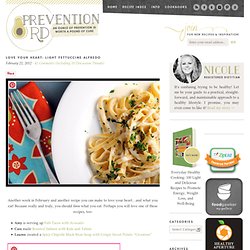 Pumpkin Goat Cheese Ravioli | Once Upon a Cutting Board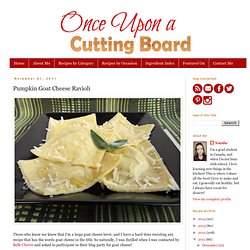 Those who know me know that I'm a huge goat cheese lover, and I have a hard time resisting any recipe that has the words goat cheese in the title. So naturally, I was thrilled when I was contacted by Belle Chevre and asked to participate in their blog party for goat cheese! Belle Chevre is a small, female-run business in Alabama that has been hand-crafting internationally acclaimed goat cheese for 20 years. They are very passionate about their products (which include flavours I've never even heard of, like coffee goat cheese!) but unfortunately they're being kicked off their land in 2013, so they started the Kickstarter Project to help fund a new creamery.
We are carb lovers at our house, so when I saw the Braided Spaghetti Bread recipe in the Rhodes Home Baked Family Favorites with frozen dough cookbook I knew we would love it. This is a really simple recipe; it just takes a little planning for thawing the dough. It will take 2-3 hours for the bread loaf to thaw to room temperature or 1-2 hours for the rolls to thaw to room temperature. You will need: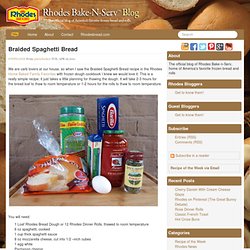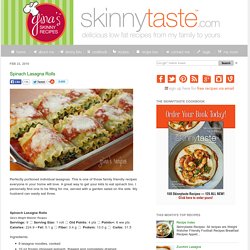 Perfectly portioned individual lasagnas. This is one of those family friendly recipes everyone in your home will love. A great way to get your kids to eat spinach too. I personally find one to be filling for me, served with a garden salad on the side.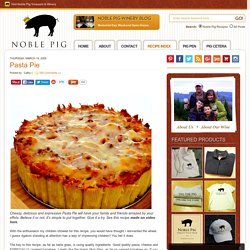 With the enthusiasm my children showed for this recipe, you would have thought I reinvented the wheel. I guess rigatoni standing at attention has a way of impressing children? It is kind of cool. Leave it to Martha to come up with another bang-buster of an idea to get my house in a tizzy.
And just like that, summer feels like it is almost over. Beach vacations are winding down, kids are heading back to school. (Watch for a bunch of back-to-school content, coming up next week!)
Recipe: Tomato, Broccoli & Mozzarella Pasta Casserole | Apartment Therapy The Kitchn