How to's:)
If you have admired those seed bead twisty bracelets and necklaces, but didn't know how to get the twisted effect, then today is your day.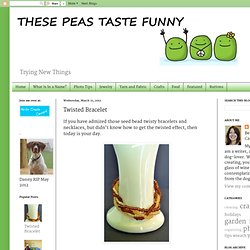 Twisted Bracelet
Jewelry Making| How to make jewelry| Beaded Jewelry Making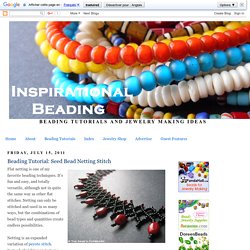 Beading Tutorial: Seed Bead Netting Stitch
Flat netting is one of my favorite beading techniques. It's fun and easy, and totally versatile, although not in quite the same way as other flat stitches.
Beading Tutorials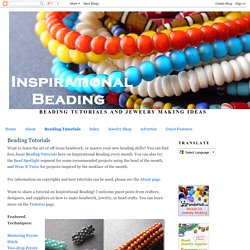 Want to learn the art of off-loom beadwork, or master your new beading skills? You can find free, basic Beading Tutorials here on Inspirational Beading every month.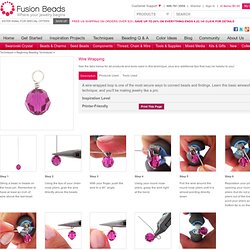 Step 1 String a bead or beads on the head pin. Remember to have at least an inch of wire above the last bead. Step 2
Fusion Beads, bead, beading, sterling, seed beads, charm, swarovski, lampwork, glass, jewelry, pearls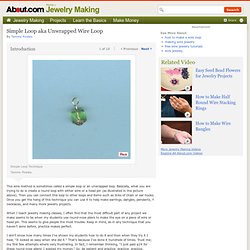 Simple Loop aka Unwrapped Wire Loop
This wire method is sometimes called a simple loop or an unwrapped loop. Basically, what you are trying to do is create a round loop with either wire or a head pin (as illustrated in the picture above).
Learn beading for beginners beading basics... How to Make Simple, or Plain, Wire Loops. Then, learn how to make hoop earrings!
Beading for Beginners, Beading Techniques for Making Beaded Jewelry!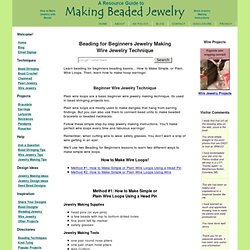 headpin loop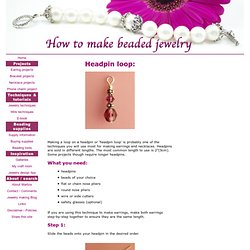 Making a loop on a headpin or 'headpin loop' is probably one of the techniques you will use most for making earrings and necklaces. Headpins are sold in different lengths.
Beginner Bead Stringing Resources and Free Projects
Free Project: Woodsy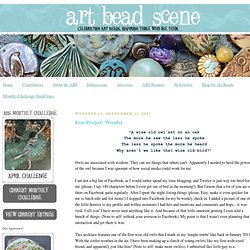 "A wise old owl sat on an oak
Non faccio molti bracciali. E dire che sono stati la mia grande passione, negli anni del liceo ne portavo tanti e li ho sempre amati. Ma farli per altri è decisamente più difficile che farli per se stessi.
Bracciale Terra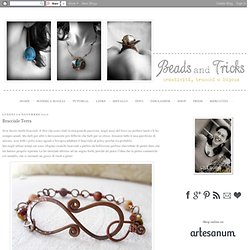 If you're patient and willing to invest a little bit of time in this D.I.Y., we promise, it will pay off. We're sharing steps for crafting colorful jewelry beads using the Ugandan method of rolling paper scraps (we used a 2012 On Top of Things Desktop Calendar). Why search for the perfect accessory, when you can make it yourself? Paper Beads What you'll need: A used page from a Desktop Calendar, thin drinking straws (the size of coffee stirrers), tape, a long ruler (preferably one that measures at least 24 inches), pencil or pen, scissors, glue and some sort of string or ribbon if you are making a bracelet or necklace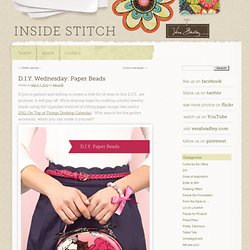 D.I.Y. Wednesday: Paper Beads | Inside Stitch: The Official Vera Bradley Blog
Basic Jewelry Instructions - Jan's Jewelry Supplies
Making Simple Loops It is easy to make simple loops with head pins or eye pins.