Books
The I Ching on the Net. The I Ching or "Book of Changes" is an ancient Chinese divination manual and book of wisdom.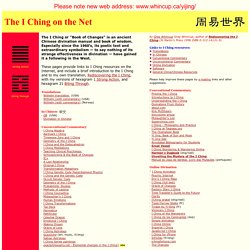 Especially since the 1960's, its poetic text and extraordinary symbolism — to say nothing of its strange effectiveness in divination — have gained it a following in the West. These pages provide links to I Ching resources on the Internet, and include a brief introduction to the I Ching and to my own translation, Rediscovering the I Ching, with my versions of hexagram 1 Strong Action, and hexagram 21 Biting Through.
Translations · Wilhelm translation (USA) · Wilhelm (with commentary) (USA) · Wilhelm (with commentary) (Norway) In Chinese · GB (USA) · Divination in Chinese. Amazon.co.uk Explore similar items. Amazon UK - SHOP NOW! WHSmith.co.uk.
---