Webdesign
https://dl.dropbox.com/u/16869/presentations/2012-08-08 GA How to Build a Mobile App
Blurb depuis Instagram | Caught in my web
VladanF - DARK SIDE OF WEBDESIGN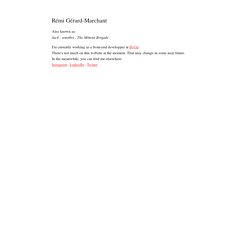 Rémi Gérard-Marchant - profile | remitbri
Currently working at be-pôles, a graphic identity studio in Paris .
Adrien LAURENT - Graphic-Web Designer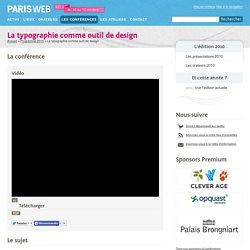 La typographie comme outil de design
Graphiste, journaliste et photographe, David Rault devient directeur artistique au sein d'une agence de conception de sites Internet en 1995. Il voyage et travaille régulièrement entre Paris, New York et Tokyo jusqu'au début des années 2000, lorsqu'il devient enseignant en typographie à l'École supérieure d'art et de design (ESAD) d'Amiens, où il restera quatre ans. Parallèlement, il rédige des cours de typographie pour des écoles privées parisiennes, écrit régulièrement articles et critiques pour le journal Libération ou Amazon.fr, réalise le graphisme de dizaines de sites Internet pour le compte de la société Symbioz Design dont il est également le directeur, et il est invité à deux reprises au Festival international de la bande dessinée d'Angoulême pour participer à des conférences (dont une table ronde avec l'auteur Scott McCloud en 2000).
Charlotte Ferlin | Portfolio
Filemon - From print to Web
IDLYS [webdesign] - Qu'est-ce qu'on vous sert aujourd'hui ?
Noël Dupont | interactive art direction & graphic design
Sophie Masure | art director | Paris
After a full year without going to any conferences or workshops (I moved to NYC, worked full time job in a startup… article about that will arrive soon), I finally got out of my cave to attend WebVisions NYC 2013 .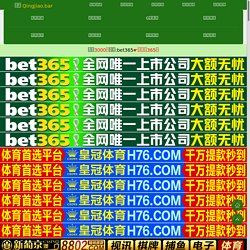 La Boîte à Monocle
GRAPHISTE FREELANCE WEBDESIGNER FREELANCE FLASH DIRECTEUR ARTISTIQUE INDEPENDANT PARIS : ELODIE HANOUNA / OLEDIE : FLASHEUR DIRECTION ARTISTIQUE ANIMATION FLASH DESIGN DA WEB ILLUSTRATEUR FREE LANCE