China Blogs
Some second and third tier cities in China report house buying has come to a standstill, while high-end property markets in first tier cities report a huge influx of buyers from China. Financial analyst Sara Hsulooks in the Diplomat at both opposing trends and how the middle class might get hit. Sara Hsu: Residential real estate investment accounts for the majority of China's real estate market.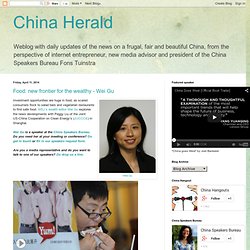 China Herald
The China Blog - Daily commentary about China by TIME correspondents. - TIME.com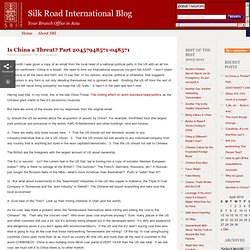 Last month I was given a copy of an email from the local head of a national political party in the US with an all too common sentiment—China is a threat! We need to limit our international exposure via govt fiat ASAP. I won't share the source or all the back and forth, but I'll say this: In my opinion, anyone, political or otherwise, that suggests isolationism in any form is not only deluding themselves but is ignorant as well. Shutting the US off from the rest of the world will never bring prosperity nor keep the US "safe." It hasn't in the past and won't now.
Silk Road International Blog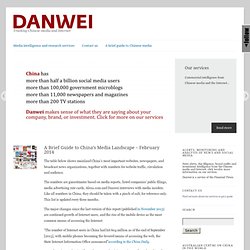 The table below shows mainland China's most important websites, newspapers, and broadcast news organizations, together with numbers for website traffic, circulation and audience. The numbers are guesstimates based on media reports, listed companies' public filings, media advertising rate cards, Alexa.com and Danwei interviews with media insiders. Like all numbers in China, they should be taken with a pinch of salt, for reference only. This list is updated every three months.
Whenever clients ask about filing a trademark in China via the Madrid System, my answer is simple: filing a national application directly with the Chinese Trademark Office (CTMO) is better. Co-blogger Steve Dickinson takes an even stronger position. In his opinion, filing a China trademark via the Madrid System is a waste of time, and he categorically refuses to do it. The Chinese trademark system is complicated: at once idiosyncratic and highly regimented, and overseen by capricious examiners. But the one-size-fits-all Madrid application elides all of this and makes registering a trademark in China seem easy.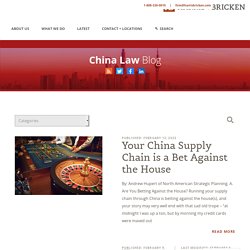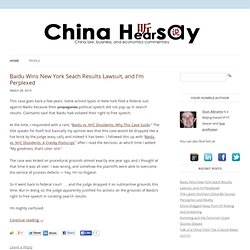 March 28, 2014 This case goes back a few years. Some activist types in New York filed a federal suit against Baidu because their propaganda political speech did not pop up in search results. Claimants said that Baidu had violated their right to free speech. At the time, I responded with a rant, "Baidu vs.
Straight answers for negotiating and doing business in China. Strategic coaching and training solutions that work. We work with decision-makers, purchasers and sales teams to reduce risk and boost margins in China business deals. We show companies how to maximize the return on their China investments – while protecting intellectual property rights and capital investments. Western Best Practices are a recipe for disaster in the Chinese market. But companies trying to "act Chinese" without deep planning get taken to the cleaners.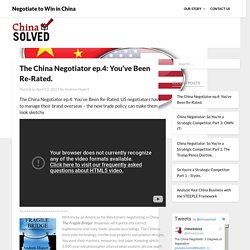 ChinaSolved
Home | China Business Blog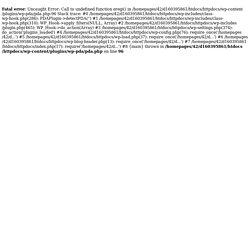 China Business Services provides strategic and operational support that enables organisations to navigate China's complex challenges and rapidly changing business environment. We are an independent, research-driven consultancy that uses specialist resources to deliver integrated business solutions. Our local resources are respected experts in their respective functions, sectors and locations.