Livres, pdf, partitions, editions numériques
45 Free eBooks for Developers and Designers. Over the past year or so we have published several articles featuring a selection of the best free ebooks for web designers, with each post proving very popular and highly resourceful.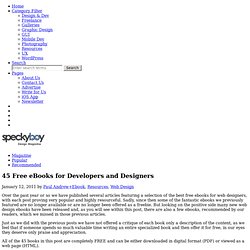 Sadly, since then some of the fantastic ebooks we previously featured are no longer available or are no longer been offered as a freebie. But looking on the positive side many new web design ebooks have been released and, as you will see within this post, there are also a few ebooks, recommended by our readers, which we missed in those previous articles. Just as we did with the previous posts we have not offered a critique of each book only a description of the content, as we feel that if someone spends so much valuable time writing an entire specialized book and then offer it for free, in our eyes they deserve only praise and appreciation. All of the 45 books in this post are completely FREE and can be either downloaded in digital format (PDF) or viewed as a web page (HTML).
Logiciel de publication numérique - Digital4Press - Digital Publishing Solution. Framabook » Le pari du livre libre. Accueil - Cantorion, partitions gratuites et des annonces de concerts. LibriVox. Free Audio Books - Download an audio book in mp3 or iPod format today! Créez votre propre livre, Créez un livre en ligne, Livres personnalisés. L'Exquise Nouvelle, le 29 octobre en librairie. eBooksurf : librairie 100% livres numériques.
Domaine Public. Calaméo - Publiez et partagez vos documents. Publie.net - le contemporain numérique. Ebooks libres et gratuits. Project Gutenberg - free ebooks.
---