Livres, pdf, partitions, editions numériques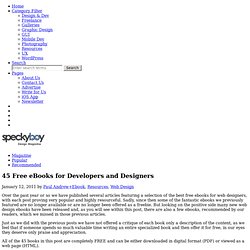 Over the past year or so we have published several articles featuring a selection of the best free ebooks for web designers, with each post proving very popular and highly resourceful. Sadly, since then some of the fantastic ebooks we previously featured are no longer available or are no longer been offered as a freebie. But looking on the positive side many new web design ebooks have been released and, as you will see within this post, there are also a few ebooks, recommended by our readers, which we missed in those previous articles. Just as we did with the previous posts we have not offered a critique of each book only a description of the content, as we feel that if someone spends so much valuable time writing an entire specialized book and then offer it for free, in our eyes they deserve only praise and appreciation. All of the 45 books in this post are completely FREE and can be either downloaded in digital format (PDF) or viewed as a web page (HTML).
Logiciel de publication numérique - Digital4Press - Digital Publishing Solution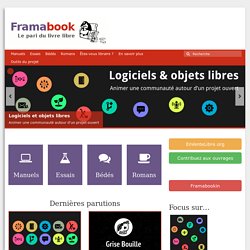 Vous êtes sur le point de télécharger une ressource libre issue de la vingtaine de projets du réseau Framasoft. Cette ressource est gratuite (et le sera tant que nous existerons) parce que Framasoft est une association d'intérêt général à but non lucratif dont l'objectif est justement la diffusion du logiciel libre et sa culture au plus large public. Mais tout ceci est rendu possible parce que Framasoft est soutenue par les dons (défiscalisables) de ses utilisateurs. Merci de prendre quelques minutes en nous aidant à pérenniser et développer notre action.
Accueil - Cantorion, partitions gratuites et des annonces de concerts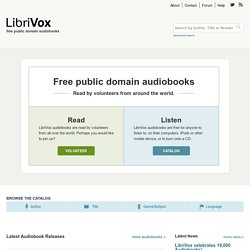 Listen LibriVox provides free audiobooks from the public domain . There are several options for listening. The first step is to get the mp3 or ogg files into your own computer: Read Would you like to record chapters of books in the public domain?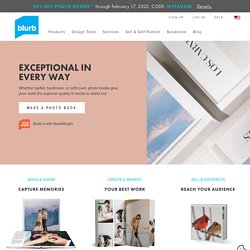 If that sounds a little "all over the place" when it comes to types of books you can make at Blurb, it is. By design. Because if you can think it, dream it, draw it, write it, or photograph it, we can help you turn whatever "it" is into a beautiful print and ebook. We'll never tell you what kind of book to make. Our job is to help you bring whatever book you choose to make into the world and then help you tell the world all about it. Just imagine: Amazing photo books, ebooks, and other print books, made by you, with Blurb.
L'Exquise Nouvelle, le 29 octobre en librairie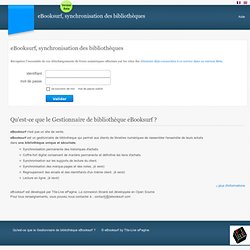 eBooksurf n'est pas un site de vente. eBooksurf est un gestionnaire de bibliothèque qui permet aux clients de librairies numériques de rassembler l'ensemble de leurs achatsdans une bibliothèque unique et sécurisée. Synchronisation permanente des historiques d'achats.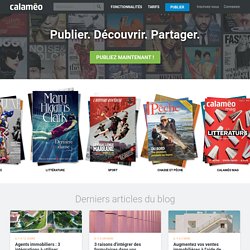 Publiez vos documents partout ! La première plateforme gratuite de publication à supporter l'iPad, l'iPhone et l'iPod Touch. Partager avec le monde ! Connectez vous avec votre compte Facebook et partagez les publications que vous aimez avec vos amis.
New Kindle Fire Review Before you buy: Read our Webmaster's review of the new Kindle Fire. Some of Our Latest Books Welcome Project Gutenberg offers over 45,000 free ebooks: choose among free epub books, free kindle books, download them or read them online. We carry high quality ebooks: All our ebooks were previously published by bona fide publishers.