GIF/SON/BRICABRAC
Tych Panel – The ultimate diptych, triptych & ntych automation tool for Photoshop (by Reimund Trost) Troubleshooting If you are having trouble installing Tych Panel with Adobe Extension Manager you can install manually using the following method.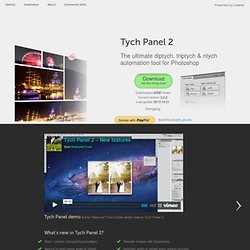 (Optional) To enable the Bridge integration, copy the file scripts/Tych Panel.jsx to the Bridge Startup scripts directory. Mac OS X: ~/Library/Application Support/Adobe/Bridge [version]/Startup Scripts/ Windows: ~\AppData\Roaming\Adobe\Bridge [version]\Startup Scripts\ Run Photoshop and show the panel by going to Window/Extensions/Tych Panel.
PhoneGap. GIF. Click2Map, la solution géoweb professionnelle, création de cartes interactives Google Maps. AM-DeadLink - Software to detect dead links in browser bookmarks and HTML files. Download FavIcons. SONS. MD5: 5f6a6e80d050c382ab836d88441c7003 > String: Julius| md5conversion.com.
---