GIF/SON/BRICABRAC
Tych Panel – The ultimate diptych, triptych & ntych automation tool for Photoshop (by Reimund Trost)
Troubleshooting If you are having trouble installing Tych Panel with Adobe Extension Manager you can install manually using the following method. Rename tychpanel.zxp to tychpanel.zip. Uncompress tychpanel.zip.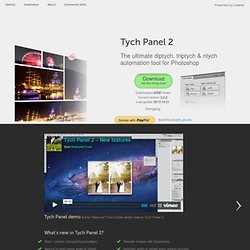 Create and publish your maps online free of charge The Click2Map Editor is a free online map creation solution. A few clicks suffice to add points of interest to any geographic area of your choosing and benefit from the power of a professional application: import data, geocode multiple addresses perform batch updates, display directions, customize your own database... Simply download our maps to display them on your local computer, share them or publish them on you website, for free.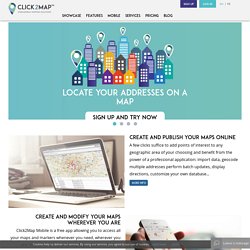 AM-DeadLink - Software to detect dead links in browser bookmarks and HTML files. Download FavIcons.
MD5: 5f6a6e80d050c382ab836d88441c7003 > String: Julius| md5conversion.com