Blogs of the mormon variety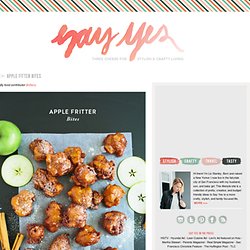 Clementine Vanilla Bean Quick BreadBy food contributor Brittany With clementines in season I find myself eating them all day long. So it was natural for me to try and find a more creative way to eat them, and who doesn't love a fresh loaf of sweet bread? This bread is super light and not overpowering, making it great for breakfast or brunch.
say YES! to hoboken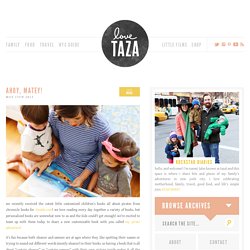 today we have teamed up with our partner, naturebox, to giveaway a 6-month snack subscriptions to two lucky readers! (details at the end of this post.) so far on this family trip, we have clocked in something like 15+ hours of travel time in the car (not including the plane, just talking time buckled up on the good old fashioned highway…) that's a lot of time on the road for a family that doesn't even own a car back home in manhattan. for the most part, it's been alright. in my opinion, in order to have a successful road trip of any kind, you need three things. one:: good company, two:: good music, and three:: lots and lots of good snacks! while i'm usually stocking up on junk food and soda for the car, i am proud to say i've been working hard on ditching these kinds of food habits for better ones over the past several months. we brought along a bunch of fresh veggies and fruit and several snack bags from naturebox for the drive this trip and so far they have been a huge hit!
steoffrey language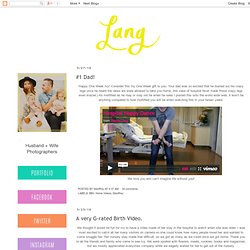 happy birthday to the best sister, aunt, and girlfriend ivy and i could ever ask for! shanna is a cutie pie (see below pictures). i like shanna because she tells the best stories, she can do the splits, she buys me pretty nail polish, she works hard, and she has cute dimples. what's not to love!? oh yeah, and she's mega-crafty!
(My little cherub with angel wings) I had such a wonderful time at the Sweet Tooth Fairy meeting you! Thank you so much for buying my 2011 calendar. I was honored to see people enjoying it and wanting to display it in their homes.This is the letter I wrote inside the calendars, and I wanted to share it with you this wonderful Sunday before Christmas:
nienie
Seriously, So Wise | Mormon Women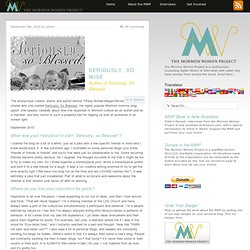 At A Glance The anonymous creator, brains and author behind Tiffany/Amber/Megan/Nicole shares why she started Seriously, So Blessed, the highly popular Mormon mommy blog spoof. She speaks candidly about how she responds to Mormon culture as an author and as a member, and why humor is such a powerful tool for helping us look at ourselves in an honest light.
I can't believe I won. I mean, i can, but i can't. What a secret to keep, and i'm a bad self-secret keeper. I can keep others, sure. But i have no secrets of my own because, i'm the most transparent person in the world. and i like to talk. a lot. obviously. So keeping this GOOD of a secret was sooooooooooo hard you have no idea.
The Brass Petal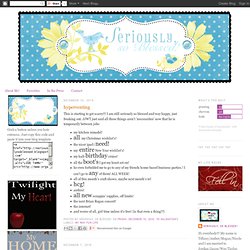 Seriously, so blessed!
You guys, I do NOT say this lightly but am seriously ready to swear and cry and just take off my boots in dispair! Just don't understand why life keep's throwing rotten lemons at me. Even typing this gives me a serious bummer but this is my journal, and you do exist to validate me, so here goes everything. deep breathe~ing... JJWT just
C. Jane, Enjoy It
In the cavernous, flourscently-lit gymnasium Mormons call their Cultural Halls I set out to complete my first task of my new church calling: to decorate for the women's Christmas dinner. The night before I was phoning my mother, a decorating genius, with a natural-born stylistic flare that inspires and humbles me. It's the one thing I know I will never surpass her in, even if generation refinement were a thing of absolute evolution. As far as my posterity, I'm sure we'll again never see such a brilliant designer of ambiance. "What do I do make it look somehow lovely?"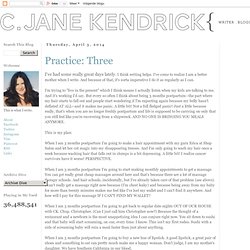 this is a post about basics. what do you consider your basics? this is an existential question, i think, because nobody's basics are the same anymore. for instance. i don't do blazers or ballet flats, and i don't want to make blanket statements or anything but i've never met a button up that liked me all that well, so i steer clear. my basics start with a good, slouchy white tee. i'm still trucking with the forever 21 tees i bought a few years ago, upsized for slouch (i took a large), but everlane'sryan tee is spot on as well, no upsizing necessary, as are these two tees here and here. and denim. last summer i discovered the current/elliott stiletto. it is the only jean i don't have to have hemmed up seven inches. (they cost an arm and a leg but i have had insane luck finding them on eBay and have never paid more than $50 for a pair.)
Nat The Fat Rat