Athiest
If you're finishing your degree in secular studies and are trying to decide where in the country you want to plant your godless stakes, here are some places to avoid. By Greta Christina | 8 June 2011AlterNet Let's be clear. It's not like it's easy to be an atheist anywhere in the U.S. Atheists are the most distrusted and disliked of all minority groups — more than blacks, Hispanics, Jews, Muslims, immigrants, and gays and lesbians — and polls show that Americans are less likely to vote for an atheist than they are for a person in any other minority or marginalized category.
10 Scariest States to Be An Atheist - Network for Church Monitoring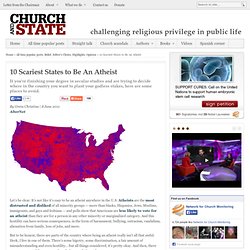 The Holy Bible: King James Version (9780529064639): Thomas Nelson
What atheists are really concerned about
Two political science professors claim a strong majority of US biology teachers either don't advocate the theory of evolution, or flat out promote either creationism or intelligent design. The research came from Michael Berkman and Eric Plutzer of Penn State.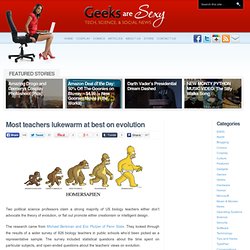 Most teachers lukewarm at best on evolution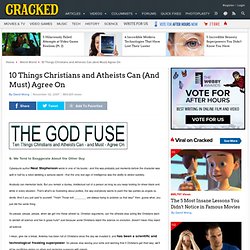 10 Things Christians and Atheists Can (And Must) Agree On
Okay, so maybe Japan is a bad example. But it doesn't matter.
Research Finds that Atheists are Most Hated and Distrusted Minority
Intolerance is a bitter beast. There are many groups in America that are subject to discrimination and prejudice, but none are more hated than atheists.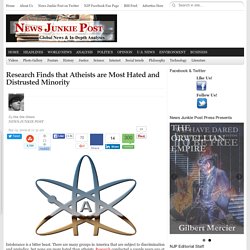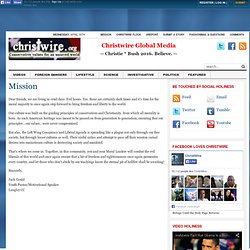 Mission | ChristWire
Dear friends, we are living in cruel days. Evil hours. Yes, these are certainly dark times and it's time for the moral majority to once again step forward to bring freedom and liberty to the world.
eSkeptic » Wednesday, September 1st, 2010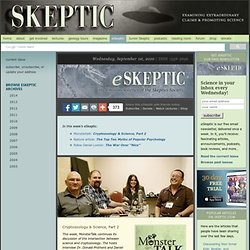 Top Ten Mythsof Popular Psychology
Ebon Musings: The Theist's Guide to Converting Atheists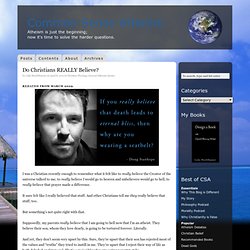 Redated from March 2009.
Do Christians REALLY Believe?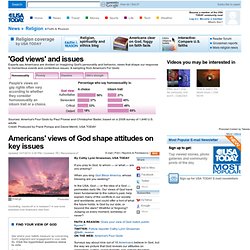 By Cathy Lynn Grossman, USA TODAY If you pray to God, to whom — or what — are you praying? When you sing God Bless America, whose blessing are you seeking? In the USA, God — or the idea of a God — permeates daily life.
Americans' views of God shape attitudes on key issues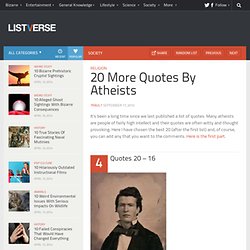 Religion It's been a long time since we last published a list of quotes.
20 More Quotes By Atheists
Atheist Propaganda: Questions biblical creationists can't answer without making me laugh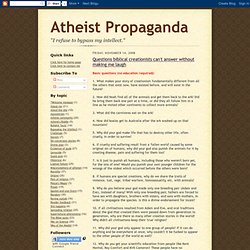 Basic questions (no education required): 1.
Holy Taco's Flowchart to Help You Determine What Religion You Should Follow
Atheist Nexus
Ask just about anyone.
Gay Marriage: The Arguments and the Motives
Nonsense
An unscrupulous charlatan or a deluded fool who preys on the vulnerable. The imaginary super power of twats.
Teenage Atheist: Unintelligent Design: Recurrent Laryngeal Nerve
iGod | Artificial Intelligence Chat with God
Exposing the Dirty Truth That Bush's New Memoir Tries to Cover Up | Books
November 9, 2010 | Like this article? Join our email list: Stay up to date with the latest headlines via email. In George W. Bush's book Decision Points, the former president tells a story of his presidency based on his own say-so.
- RichardDawkins.net
American Atheists | Christmas
Welcome to the United Atheist Front
Patriotic billboard campaign: One nation, indivisible
Just like Porky Pig, a coalition of non-theist groups in North Carolina has reminded Americans that "under God" wasn't always in the Pledge of Allegiance. Back in 1939, a Porky Pig cartoon, "Old Glory", featured America's favorite side of bacon reciting a pre-McCarthy Pledge of Allegiance. Of note, and now resulting in a resurgence of popularity for the porcine pledger, is the absence of "under God" from his recitation. In contrast to the assertions of many Christian revisionists, it simply wasn't there until the Cold War.
Waking up in America - Marshall Evans - RichardDawkins.net
State of the Nation
exodus youth » Youth Workers
Atheist Statistics | Agnostic
ID Creationist Bingo - Skeptico
Textbook disclaimer stickers