Quarter 4 Ecosystems Links
Year in Review Resource Table
Might I suggest adding a TED colum? by docein Mar 29
Plate Tectonics -- Evidence of plate movement | Cosmology and Astronomy
deep ocean science
Climate Science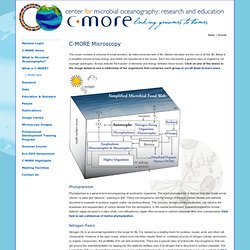 The ocean contains a universe of small wonders, an interconnected web of life.
C-MORE | Education & Outreach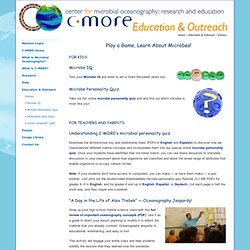 C-MORE Kids' Korner | Home Page
Understanding C-MORE's microbial personality quiz Download the dichotomous key and relationship trees (PDFs in English and Español) to discover how we characterized different marine microbes and incorporated them into our special online microbe personality quiz.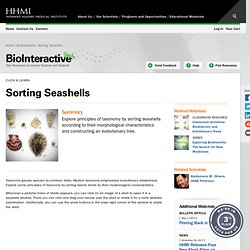 Biodiversity and Evolutionary Trees 3.2
Taxonomy groups species by common traits. Modern taxonomy emphasizes evolutionary relatedness. Explore some principles of taxonomy by sorting twenty shells by their morphological characteristics. Whenever a pictorial index of shells appears, you can click on an image of a shell to open it in a separate window.
Shimon Steinberg: Natural pest control ... using bugs!
Greg Stone: Saving the ocean one island at a time
Barton Seaver: Sustainable seafood? Let's get smart
HOME : Yann Arthus-Bertrand, Luc Besson
Brainpop on Ecosystems and Biomes
Quarter 4 Self Assessment