Yoga
The Yoga Sequence - TYS. Yoga Postures. Be kind to yourself when you practice yoga.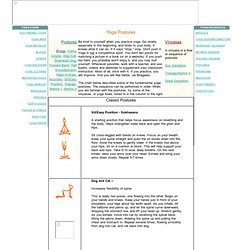 Go slowly, especially in the beginning, and listen to your body. It knows what it can do. If it says "stop," stop. Don't push it. Brain Games & Brain Training - Lumosity. Reflexology Research Presents. The Official Website for Acupressure. Charts for Acupuncture and Acupressure. Meridian Charts. Inspiration, Spirituality, Faith – Beliefnet.com - Beliefnet.com. Yoga Journal: Yoga Poses, Classes, Meditation, and Life - On and Off the Mat - Namaste. Yoga Info, News, Pictures, Forum, Shop, Travel and Community. Yoga | Yoga Exercises | Yoga Positions & Poses for Men, Women & More!
Free Online Animated Yoga, Free Animated Yoga Postures, Free Yoga Resource. Welcome to Santosha.com - For Yoga, Meditation and All Your Paths to Contentment. RealAge: Health Assessments & Tips, Health Information - Grow Younger.
---