Collective Urbanism
UNPLANNED: Research and Experiments at the Urban Scale 25 March 2010 – 2 July 2010 Opening Reception Thursday March 25, 2010 5PM – 8PM Pacific Design Center (PDC) Suite B208 | West Hollywood, CA | 90069
LA » UNPLANNED: Research and Experiments at the Urban Scale opens March 25th 5pm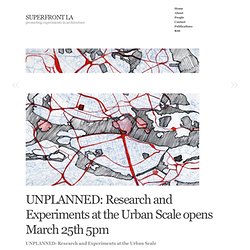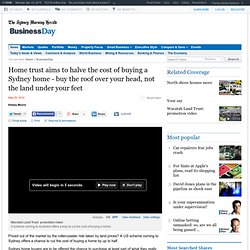 Waratah Land Trust: promotion video
Home trust aims to halve the cost of buying a Sydney home - buy the roof over your head, not the land under your feet
Streaming Video - Boom Preview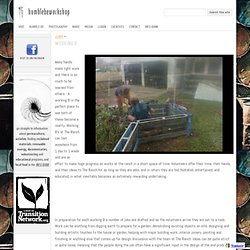 Working B - humblebeworkshop
Many hands make light wo rk and there is so much to be learned from others - A working B is the perfect place to see both of these become a reality. Working B's at The Ranch can last anywhere from 1 day to 1 week and are an effort to make huge progress on works at the ranch in a short space of time. Volunteers offer their time, their hands, and their ideas to The Ranch for as long as they are able, and i n return they are fed, hydrated, entertained, and educated, in what inevitably becomes an extremely rewarding und ertaking.
Open Countries = Países Abertos
Who? « Nomadic Allotments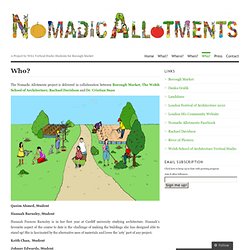 The Nomadic Allotments project is delivered in collaboration between Borough Market , The Welsh School of Architecture , Rachael Davidson and Dr.
What's On | Borough Market
The What Now? Collaborative
The Interventionist's Toolkit, Part 1
Essay: Mimi Zeiger P ark(ing) Day, San Francisco. [photo courtesy of SPUR ]
The Rabbit Hole Ideation Cafe - HOME
London Festival of Architecture
| ¿Por qué los arquitectos jóvenes de América Latina se aglutinan en colectivos? Lee aquí lo que tienen para contarnos…
UrbanReality
UrbanReality
knock for neighbors: food happenings in the home | flaneuserie
I talk a lot on this blog about food happenings, informal economies, and cultural tourism.
#whOWNSpace
New Media Applications for Urbanism
6 Trending Urbanist Themes for 2012
The Urbanist calendar published on Monday was, admittedly, a visual provocation, setting a stage for thought about important urban issues for 2012.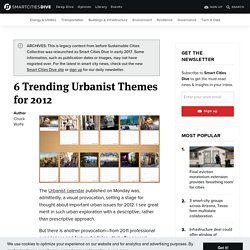 Image by Gordon Douglas, via Good
Pattern Cities » Archive » The Difference Between Tactical and DIY Urbanism
For the second strand of the Human Cities project, called "Reclaiming Public Space", the network has been enlarged to several cultural and associated partners such as Time Circus (BE), Prostoroz ( SLO ) and Esterni (IT) in order to reflect and focus on a broader range of creative interventions and appropriation initiatives of urban public space by its users. In Spring 2012, Brussels will host its second Human Cities festival where scientific and cultural actors will stress bottom-up initiatives set up by citizens, artists and associations that re-shape the forms and appropriation of public space.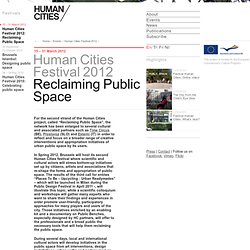 Human Cities: Events
Newcastle Productions A studio for illustrator and printmaker Trevor Dickinson, whose drawings of landmarks and urban landscapes have stolen all of our hearts since he started drawing Newcastle four years ago. Adorning tea-towels, coffee mugs, magnets and postcards, Trevor's loving and...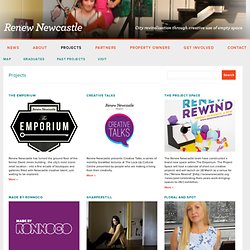 Projects · Renew Newcastle
Open Source urbanism? @ Exquisite Struggle
Via Baltimore Inner Space blog comes an interesting approach to participatory redevelopment.
Note: Throughout the brief history of this blog I strove to make the content as universal as possible.
Open Season @ Exquisite Struggle
We challenge you, the people of Baltimore, to redesign the Franklin Mulberry corridor. To help you get started, we have uploaded a few starter models to Google 3D Warehouse, as shown to the right.
3D Challenge
Discovering civic engagement through guerilla urbanism @ Exquisite Struggle
The current recession was unforeseen by all but the most thoughtful and careful investors, but many effects of the recession are predictable.
With a few trees, some sidewalk tables, and lots of community input, a Dallas street was transformed. Photo: Go Oak Cliff
New 'Tactical Urbanism' guide for aspiring guerrilla urbanists
The Street Plans Collaborative - Better Streets, Better Places. New York Miami
Ikea_disobedients_by_andrés_jaque.jpg (JPEG Image, 1200×825 pixels)
The People's Supermarket | The People's Supermarket
Berlin-Hànôi » Blog Archive » Freetown Christiania: status quo & future of the autonomous land in Denmark
Friedensreich Hundertwasser
15M and YES WE CAMP! Controversy as urbanism - Op-Ed
In Miami, Weed Whacking as Protest Art - Design
Human Cities: Festivals
Street Makeovers Put New Spin on the Block - Miller-McCune
Adaptable Suburbs
STORIES | Suburban scenarios « placeblog
The Hope for Suburbia. « At the Helm of the Public Realm
Can Karaoke Transform Public Space?
Five Things Governments Can Do to Encourage Civic Startups « Civic Innovations
Spontaneous Interventions (S.I.)
Activismo 2.0 y empoderamiento ciudadano en red (II)
Edible Brisbane: Public Fruit
Occupy as psychogeographic urbanism [draft 3]
Fun urbanism: Group video game in a Madrid plaza
humblebeworkshop
www.communitygarden.org.au | Australian City Farms & Community Gardens Network
DIY Urban Design, from Guerrilla Gardening to Yarn Bombing - Cities
:: Community Self Build Agency