Collective Urbanism
LA » UNPLANNED: Research and Experiments at the Urban Scale opens March 25th 5pm. UNPLANNED: Research and Experiments at the Urban Scale 25 March 2010 – 2 July 2010Opening Reception Thursday March 25, 2010 5PM – 8PM Pacific Design Center (PDC) Suite B208 | West Hollywood, CA | 90069 SUPERFRONT is proud to present UNPLANNED: Research and Experiments at the Urban Scale, the second SUPERFRONT LA exhibit of 2010.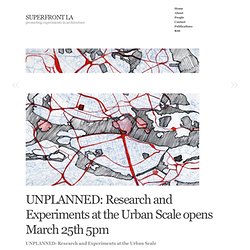 [Order the catalog in hardcover or softcover here. Preview the catalog introduction.] Just as the discipline of architecture faces a re-imagination of itself in this era of slow-motion global capitalism, the human population finds itself crossing the threshold to a predominantly urban existence. Home trust aims to halve the cost of buying a Sydney home - buy the roof over your head, not the land under your feet.
Waratah Land Trust: promotion video A scheme coming to Australia offers a way to cut the cost of buying a home. 25, 2010 Priced out of the market by the rollercoaster ride taken by land prices?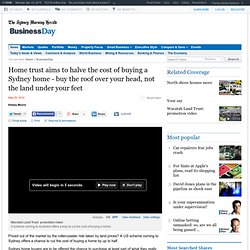 Streaming Video - Boom Preview. Working B - humblebeworkshop. In preparation for each working B a number of jobs are drafted and as the volunteers arrive they are set to a task.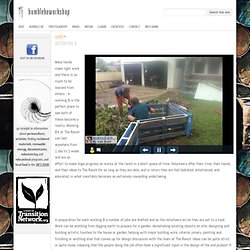 Work can be anything from digging earth to prepare for a garden, demolishing existing objects on site, designing and building artistic touches to the house or garden, helping with major building work, interior joinery, painting and finishing or anything else that comes up for design discussion with the team at The Ranch. Ideas can be quite strict or quite loose, meaning that the people doing the job often have a significant input in the design of the end product if they want to be involved in the creative process. Similarly, if all they are craving is a hard days work without having to think, that is definitely welcomed too! Open Countries = Países Abertos.
Who? « Nomadic Allotments. The Nomadic Allotments project is delivered in collaboration between Borough Market, The Welsh School of Architecture, Rachael Davidson and Dr.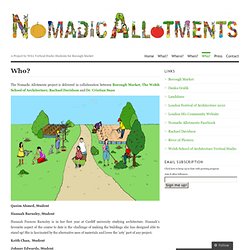 Cristian Suau Qasim Ahmed, Student Hannah Barnsley, Student. What's On | Borough Market. The What Now? Collaborative. The Interventionist's Toolkit, Part 1. Essay: Mimi Zeiger Park(ing) Day, San Francisco.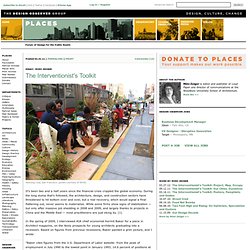 [photo courtesy of SPUR] It's been two and a half years since the financial crisis crippled the global economy. The Rabbit Hole Ideation Cafe - HOME. London Festival of Architecture. | ¿Por qué los arquitectos jóvenes de América Latina se aglutinan en colectivos? Lee aquí lo que tienen para contarnos… UrbanReality. CLARK THENHAUS Endemic Denver, USA Clark Thenhaus is founder of Endemic, a design and drawing studio.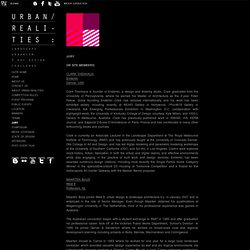 Clark graduated from the University of Pennsylvania, where he earned his Master of Architecture as the 3-year Fideli Fellow. UrbanReality. #whOWNSpace.
Sustainable Everyday Project. 6 Trending Urbanist Themes for 2012. The Urbanist calendar published on Monday was, admittedly, a visual provocation, setting a stage for thought about important urban issues for 2012.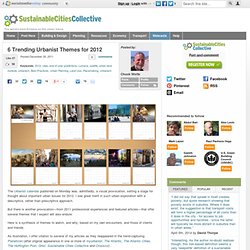 I see great merit in such urban exploration with a descriptive, rather than prescriptive approach. But there is another provocation—from 2011 professional experiences and featured articles—that offer several themes that I expect will also endure. Pattern Cities » Archive » The Difference Between Tactical and DIY Urbanism. Image by Gordon Douglas, via Good Bravo to Good for their nice profile of DIY urbanism initiatives–From Portland to Los Angeles to New York (all pattern cities), they provide many exciting examples.
While there is some obvious crossover between the DIY efforts included in the GOOD piece and our Tactical Urbanism report–which was published on this website a few weeks ago–the recent spate of articles on the subject is now beginning to illuminate two important differences. One, DIY efforts are enacted from the bottom-up, not the top down.
In other words, individuals or small groups of people work together to make an improvement or to communicate a message, typically at the scale of the urban block or building. Human Cities: Events. For the second strand of the Human Cities project, called "Reclaiming Public Space", the network has been enlarged to several cultural and associated partners such as Time Circus (BE), Prostoroz (SLO) and Esterni (IT) in order to reflect and focus on a broader range of creative interventions and appropriation initiatives of urban public space by its users.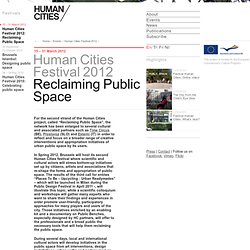 In Spring 2012, Brussels will host its second Human Cities festival where scientific and cultural actors will stress bottom-up initiatives set up by citizens, artists and associations that re-shape the forms and appropriation of public space. Projects · Renew Newcastle. The Emporium Renew Newcastle has turned the ground floor of the former David Jones building - the city's most iconic retail location - into a fine arcade of boutiques and galleries filled with Newcastle creative talent, just waiting to be explored.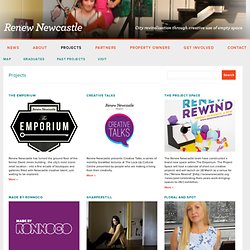 More » Open Source urbanism? @ Exquisite Struggle. Via Baltimore Inner Space blog comes an interesting approach to participatory redevelopment. I have quoted Paul Davidoff's assesment of participatory planning in an earlier post: "Lively political dispute aided by plural plans could do much to improve the level of rationality in the process of preparing the public plan. " This level of lively discourse is often exceedingly difficult in developer driven projects where significant monies have already been invested. In many cases the illusive veil of a public participation process may be used to control and appease the opposition. The manipulation of statistics derived from resident surveys works to a similar end. Open Season @ Exquisite Struggle.
Note:Throughout the brief history of this blog I strove to make the content as universal as possible. While I understand the gravitas that place-specific writing can imbue I had preferred to leave specific local issues to other bloggers. That time has ended. I feel I must comment on the rapidly changing situation in North Saint Louis. 3D Challenge. We challenge you, the people of Baltimore, to redesign the Franklin Mulberry corridor. To help you get started, we have uploaded a few starter models to Google 3D Warehouse, as shown to the right. These are just starting points, however.
You can modify the models any way you like, or use them to do Photoshop overlays as shown on the intro page. You can submit designs in a variety of formats, including straight Photoshop. Humorous ideas are okay, but we prefer ideas that have some bearing on the real world. Discovering civic engagement through guerilla urbanism @ Exquisite Struggle. The current recession was unforeseen by all but the most thoughtful and careful investors, but many effects of the recession are predictable. The average individual has drastically reduced spending in favor of savings as reflected in the downward spike of the Personal Consumption Expenditure metric and the converse increase in the Personal Savings rate to 4.2%; this rate marks an 11 year high.
The primary physical manifestations of these trends include a turn away from luxury retailers to discount superstores, the emergence of the ridiculous "recessionista" trend, and a significant decrease in vacation plans. More interestingly, some cultural pastimes recently relegated to nostalgia are once again becoming popular. New 'Tactical Urbanism' guide for aspiring guerrilla urbanists. With a few trees, some sidewalk tables, and lots of community input, a Dallas street was transformed.Photo: Go Oak Cliff Do you have the power to make your city a better place? It might be easier than you think. The Next Generation of New Urbanists (yes, these are young New Urbanists, because New Urbanism has been around long enough that it's getting a little … old) and the Street Plans Collaborative want to help. They've put together a "Tactical Urbanism" guide that you can download for use when you need some ideas about how to catalyze lasting change in your urban world.
Examples include guerrilla gardening, pop-up cafés, mobile vendors, and "Build a Better Block" projects. The Street Plans Collaborative - Better Streets, Better Places. New York Miami. Ikea_disobedients_by_andrés_jaque.jpg (JPEG Image, 1200×825 pixels) The People's Supermarket | The People's Supermarket. Christiania.org - Forside. Berlin-Hànôi » Blog Archive » Freetown Christiania: status quo & future of the autonomous land in Denmark. Friedensreich Hundertwasser. 15M and YES WE CAMP! Controversy as urbanism - Op-Ed. In Miami, Weed Whacking as Protest Art - Design. Human Cities: Festivals. Sustainable Everyday Project. DESIS Network. Street Makeovers Put New Spin on the Block - Miller-McCune. Adaptable Suburbs. STORIES | Suburban scenarios « placeblog.
Emergent Urbanism, or 'bottom-up planning' The Hope for Suburbia. « At the Helm of the Public Realm. Can Karaoke Transform Public Space? Five Things Governments Can Do to Encourage Civic Startups « Civic Innovations. Spontaneous Interventions (S.I.) The Protester - TIME's People Who Mattered in 2011. Activismo 2.0 y empoderamiento ciudadano en red (II) Edible Brisbane: Public Fruit. Occupy as psychogeographic urbanism [draft 3] Fun urbanism: Group video game in a Madrid plaza. Announcing the 2012 TED Prize Winner – The City 2.0. Humblebeworkshop. Www.communitygarden.org.au | Australian City Farms & Community Gardens Network. Park(ing) Day 2011 | PARK(ing) Day 2011 is Friday, September 16th.
DIY Urban Design, from Guerrilla Gardening to Yarn Bombing - Cities. Rebar Art & Design Studio | San Francisco | art, design and ecology. :: Community Self Build Agency.
---