Social justice
Rights Respecting Schools
Idle No More: Hints of a Global Super-Movement. What started as a murmur in early October from First Nations People in Canada in response to Bill C45 has become a movement that echoes the sentiments of people all over the world, a battle cry of love for the planet, "Idle No More.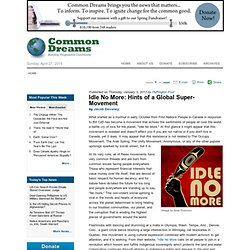 " At first glance it might appear that this movement is isolated and doesn't effect you if you are not native or if you don't live in Canada, yet it does. It may appear that this resistance is not related to The Occupy Movement, The Arab Spring, The Unify Movement, Anonymous, or any of the other popular uprisings sparked by social unrest, but it is. (Image by Andy Everson) Salt and Light Catholic Media Foundation. Petition for Development and Peace. The members of Development and Peace are proposing a new action: a petition to the House of Commons on Financial support for the Canadian Catholic Organization for Development and Peace.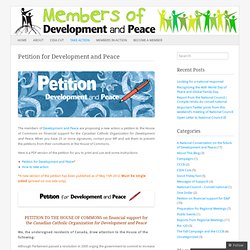 When you have 25 or more signatures, contact your MP and ask them to present the petitions from their constituents in the House of Commons. Here is a PDF version of the petition for you to print and use and some instructions: *A new version of the petition has been published as of May 15th 2012. Must be single sided (printed on one side only). Attacks on Organizations that Speak Up | Voices. D&P Members Blog. Fast for Development and Peace, protest deep CIDA cuts to D&P!! With change in mind: building partner capacity | Unwrapping Development. Considering the Conference - the UN Conference on Climate Change That Is! D&P pushing for sustainable, small-scale farming. The Canadian Catholic Organization for Development and Peace believes Canadians may be eating the planet to death, so they're going to Rio de Janeiro, Brazil, to nudge the world into a whole new food system.Next June the United Nations Development Program will host Rio+20, a conference aimed at evaluating progress since the landmark Rio Earth Summit of 1992.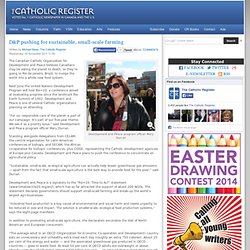 Development and Peace is one of several Catholic organizations planning on attending. "For us, responsible care of the planet is part of our campaign. It's part of our five-year theme. We see it as a priority issue," said Development and Peace program officer Mary Durran. International Development Jobs, Business, News & More. Caritas Internationalis. Development and Peace | Développement et Paix. Index. Citizens for Public Justice | Faith Justice Politics. Cidse. CCIC - CCCI. KAIROS Canada. Caritas Internationalis. Development and Peace | Développement et Paix. Compadres-elsalvador-canada.
---