Photography
Scanning Film Negatives with a DSLR. Well, lets just say I've gotten better at this over the last couple of years.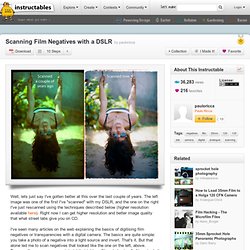 The left image was one of the first I've "scanned" with my DSLR, and the one on the right I've just rescanned using the techniques described below (higher resolution available here). Right now I can get higher resolution and better image quality that what street labs give you on CD. I've seen many articles on the web explaining the basics of digitising film negatives or transparencies with a digital camera. The basics are quite simple: you take a photo of a negative into a light source and invert. British Journal of Photography for iPad on the iTunes App Store. Once Magazine for iPad on the iTunes App Store. Photo Booth. April 16, 2014 Portfolio: Cathedrals of Ice This past February, thanks to an unusually cold winter, the sea caves along the Apostle Islands National Lakeshore, in northern Wisconsin, were accessible by foot for the first time in five years.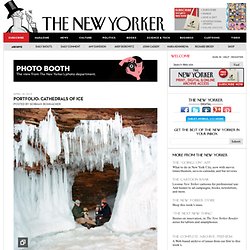 New York Times Photojournalism - Photography, Video and Visual Journalism Archives - Lens Blog. LightBox - From the photo editors of TIME. External disk not showing up in Locate. Well, after countless wasted hours, I've given up.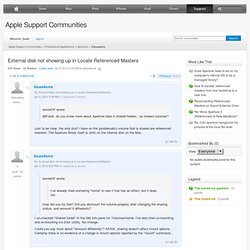 There's something terribly wrong either with Aperture or with OS X Lion or the combination. The random volume disconnects and volumes missing as choices from the Located Referenced Masters screen don't seem to have any logical basis--the only explanation is some sort of bug with volume identification. So... I took out a wicked big hammer and fixed the Aperture library directly.
I found the needed bread crumbs here: les-volume/ Using a utility for editing SQLite databases, I directly reset the volume UUID for all of the referenced masters in the library to match the one "working" test image I imported. Manually Change Aperture Referenced Files Volume « Kevin's Blog. If you have had issues with Apple's Aperture using referenced files then this post may be of some help.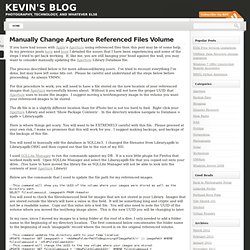 In my previous posts here and here I detailed the issues that I have been experiencing and some of the steps I tried to get back working. If, like me, you are still banging your head against the wall, you may want to consider manually updating the Aperture Library Database file. The process described below is for more advanced/daring users. Two easy steps for using a DMCA takedown notice to battle copyright infringement. Finding an unauthorized use of your photograph on the web is upsetting.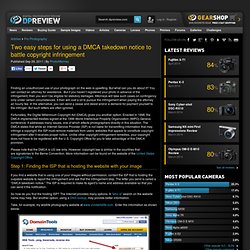 But what can you do about it? You can contact an attorney for assistance. But if you haven't registered your photo in advance of the infringement, then you won't be eligible for statutory damages. Attorneys will take such cases on contingency only under certain circumstances. It then will cost a lot to pursue the infringement when paying the attorney an hourly fee. The art of HDR photography - part 1. By dpreview staff on Dec 22, 2010 at 22:22 GMT Today we're publishing the first in a series of articles by Uwe Steinmueller of Digital Outback Photo on the art of HDR photography.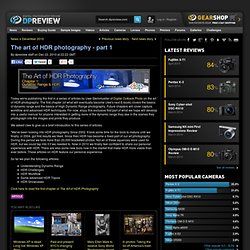 The first chapter (of what will eventually become Uwe's next E-book) covers the basics of dynamic range and the basics of High Dynamic Range photography. Future chapters will cover capture, workflow and advanced HDR techniques. For now, enjoy this exclusive first part of what we hope will develop into a useful manual for anyone interested in getting more of the dynamic range they see in the scenes they photograph into the images and prints they produce.
---