UX | Usability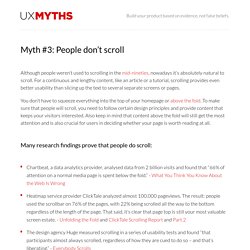 Although people weren't used to scrolling in the mid-nineties, nowadays it's absolutely natural to use the browser's scrollbar. For a continuous and lengthy content, like an article or a tutorial, scrolling provides even better usability than slicing up the text to several pages. You don't have to squeeze everything into the top of your homepage or above the fold. To make sure that people will scroll, you need to follow certain design principles and provide content that keeps your visitors interested. Also keep in mind that content above the fold will still get the most attention and is also crucial for users in deciding whether your page is worth reading at all.
3: People don't scroll
Administrative Science Quarterly, Vol. 40, No. 3 (Sep., 1995), pp. 474-494
Why First Impressions Are Difficult to Change: Study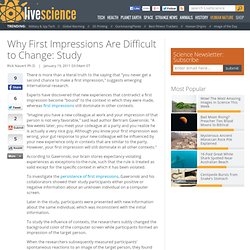 There is more than a literal truth to the saying that "you never get a second chance to make a first impression," suggests emerging international research. Experts have discovered that new experiences that contradict a first impression become "bound" to the context in which they were made, whereas first impressions still dominate in other contexts. "Imagine you have a new colleague at work and your impression of that person is not very favorable," said lead author Bertram Gawronski. "A few weeks later, you meet your colleague at a party and you realize he is actually a very nice guy.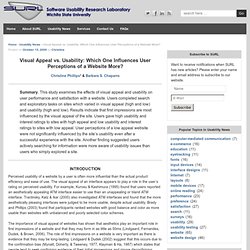 Christine Phillips* & Barbara S. Chaparro Summary. This study examines the effects of visual appeal and usability on user performance and satisfaction with a website. Users completed search and exploratory tasks on sites which varied in visual appeal (high and low) and usability (high and low). Results indicate that first impressions are most influenced by the visual appeal of the site.
Usability News 112 - Phillips
Volume 23, Issue 4, July 2011, Pages 363–371 Cognitive Ergonomics for Situated Human-Automation Collaboration Edited By Willem-Paul Brinkman, Mark A. Neerincx and Herre van Oostendorp Helsinki Institute for Information Technology HIIT, Aalto University and University of Helsinki, PO Box 19800, 00076 Aalto, Finland Received 22 March 2010
Interacting with Computers - Too good to be bad: Favorable product expectations boost subjective usability ratings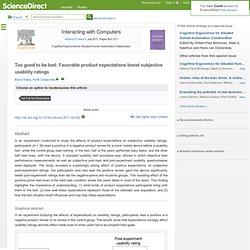 Persuasive Design of Destination Web Sites: An Analysis of First Impression
Eye-tracking studies: first impressions form quickly on the web - Missouri S&T News and Events
T & F Online
The role of visual complexity and prototypicality regarding first impression of websites: Working towards understanding aesthetic judgments
Advertisement User experience design for the Web (and its siblings, interaction design, UI design, et al) has traditionally been a deliverables-based practice. Wireframes, site maps, flow diagrams, content inventories, taxonomies, mockups and the ever-sacred specifications document (aka "The Spec") helped define the practice in its infancy. These deliverables crystallized the value that the UX discipline brought to an organization. Over time, though, this deliverables-heavy process has put UX designers in the deliverables business — measured and compensated for the depth and breadth of their deliverables instead of the quality and success of the experiences they design.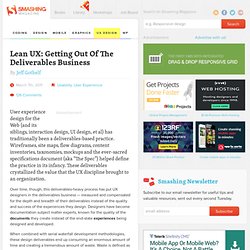 Advertisement Growing up, weekends were about worship in the Hinman household. Sunday mornings were reserved for a laborious worship ritual dictated by my parents. It required dressing up in uncomfortable clothes, going to church and pretending to listen to long-winded sermons about Jesus (while I drew doodles in the hymnals). Saturday, however, was reserved as my day of worship, and I was a proud and dedicated disciple of the church of Saturday Morning Cartoons.
A New Mobile UX Design Material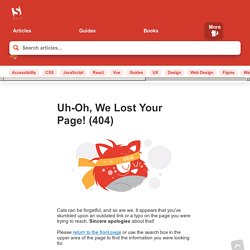 Five second tests can be used for a variety of different purposes. Below are some examples of what you can achieve with a five second test. Test your brand message Make sure users can recall your company slogan or understand what you do from your logo. Test first impressions Identify if your call to action is working by testing what users remember about your websites.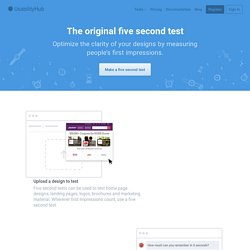 Un approfondimento su evo | Sketchin Journal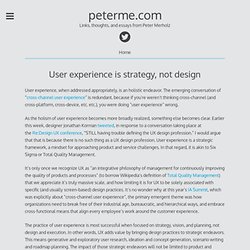 User experience, when addressed appropriately, is an holistic endeavor. The emerging conversation of "cross-channel user experience" is redundant, because if you're weren't thinking cross-channel (and cross-platform, cross-device, etc. etc.), you were doing "user experience" wrong. As the holism of user experience becomes more broadly realized, something else becomes clear.
User experience is strategy, not design : peterme.com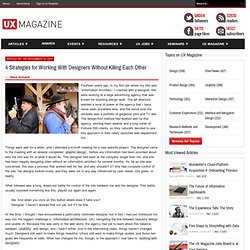 Fourteen years ago, in my first job where my title was "Information Architect," I clashed with a designer. We were working at a large advertising agency that was known for stunning design work. The art directors wielded a level of power at the agency that I have never seen anywhere else, and the result over the decades was a portfolio of gorgeous print and TV ads. The design-first method had worked well for this agency, winning them awards and a long roster of Fortune 500 clients, so they naturally decided to use this approach in their newly launched web department, too. Things went well for a while, until I attended a kickoff meeting for a new website project. The designer came to the meeting with an already completed graphic design, before any information had been provided about who the site was for or what it would do.
4 Strategies for Working With Designers Without Killing Each Other
Installing Plone on Windows Bika Lab Systems
Lacking of productivity applications will slow down our workflow and consume more time, even though we've already purchased a Mac. Using only built-in Mac applications, we can neither get the most out of our Mac nor boost our productivity. In this article, we've compiled several free applications for Mac OS X (including application launcher, easy note-taker application, data backup tool, data sharing utility, etc) that can significantly boost your productivity. Let us know which one is your favorite! Quicksilver Quicksilver is a super fast application launcher empowered with many time-saving actions.
20 Free Productivity Booster Apps for Mac