Digital Services
Computer Scientist Warns of Social Media Manipulation in U.S. Election. Because it's just six years old, Twitter has been around for only one U.S. presidential election, in 2008.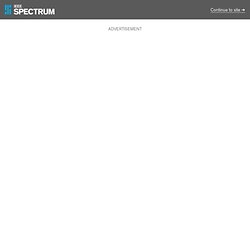 As the tide of Twitter users swells and the political stakes rise, candidates will increasingly use this social media platform to enhance our perception of their popularity and tarnish that of their opponents. There is ample opportunity to spread misinformation cheaply, argue Wellesley College computer scientists Panagiotis "Takis" Metaxas and Eni Mustafaraj, in the journal Science this week.
Metaxas, who says his students' willingness to believe information on the Internet brought him to examine the issue, says that the ability to manipulate social media and search results remains underappreciated by the media and the public. IEEE Spectrum: Has social media manipulation increased with the current election? Panagiotis Metaxas: In the past, I have done research on specific cases. Service Design Network.
Service Design Network. Even though Service Design is a fairly young discipline, already a lot of research has been done about the topic and has been put into words.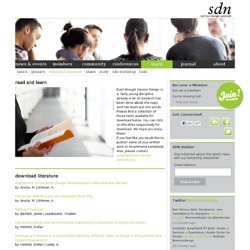 Please find a collection of those texts available for download below. You can click on the titles respectively for download. We hope you enjoy them! Criminal Records | Arrests, Convictions and More - InfoRegistry. Measuring the Information Society. Measuring the Information Society 2009 - The ICT Development Index The latest edition of Measuring the Information Society features the new ITU ICT Development Index.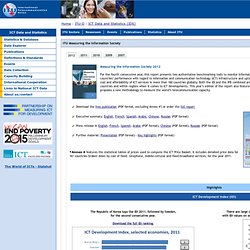 The Index captures the level of advancement of ICTs in more than 150 countries worldwide and compares progress made between 2002 and 2007. Weathering the Unexpected. Related Content Browse this Topic: Queue on Reddit Failures happen, and resilience drills help organizations prepare for them.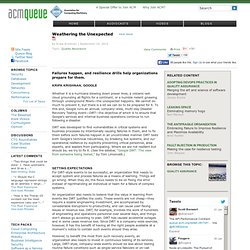 Kripa Krishnan, Google. Digital Copyright Exchange feasibility study. October 2012 As part of Phase One of the Digital Copyright Exchange Feasibility Study, organisations were invited to submit evidence on the claim that copyright licensing was not fit for purpose for the digital age.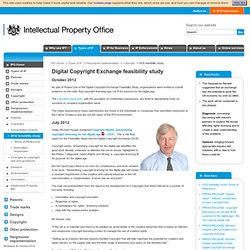 The submitted responses, with the exception of confidential submissions, are listed in alphabetical order by surname or company/organisation name. The views expressed in these submissions are those of the individuals or companies that submitted responses to the Call for Evidence and are not the views of the IPO/Government. July 2012 Today Richard Hooper published Copyright Works: streamlining copyright licensing for the digital age. Smart cities get their own operating system.
30 September 2011Last updated at 12:23 By Katia Moskvitch Technology reporter, BBC News Smart cities with devices chatting to each other may dot the planet in the near future Cities could soon be looking after their citizens all by themselves thanks to an operating system designed for the metropolis.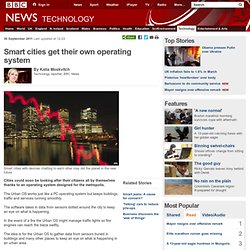 The Urban OS works just like a PC operating system but keeps buildings, traffic and services running smoothly. New York comme plateforme. Par Hubert Guillaud le 12/10/11 | 5 commentaires | 1,898 lectures | Impression Il n'est pas étonnant que ce soit sous le mandat de Mike Bloomberg que New York ait adopté une approche plus orientée donnée, estime Alex Howard pour O'Reilly Radar, car c'est sur cette déclaration de mission que Bloomberg a fondé son entreprise de données financières.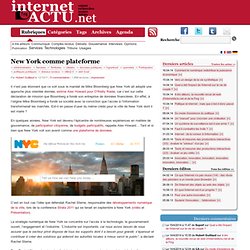 En effet, à l'origine Mike Bloomberg a fondé sa société avec la conviction que l'accès à l'information transformerait les marchés. Est-il en passe d'user du même crédo pour la ville de New York dont il est maire ? En quelques années, New York est devenu l'épicentre de nombreuses expériences en matière de gouvernance, de participation citoyenne, de budgets participatifs, rappelle Alex Howard… Tant et si bien que New York voit son avenir comme une plateforme de données.
Google's response to Siri is codenamed Majel, could be released by end of year. I wrote about Google's response to Apple's Siri voice assistant several months ago and over the last couple weeks I received further details about the secret project.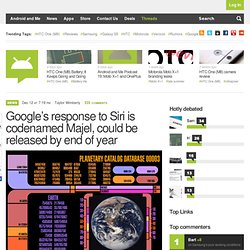 For starters it is codenamed Majel, which comes from Majel Barrett-Roddenberry, better known as the voice of the Federation Computer from Star Trek. Majel is an evolution of Google's Voice Actions that is currently available on most Android phones with the addition of natural language processing. Where Voice Actions required you to issue specific commands like "send text to…" or "navigate to…", Majel will allow you to perform actions in your natural language similar to how Siri functions. Speaking of actions, it sounds like only Google search queries will be included with the initial release, that could come as soon as this year.
Filttr. Read It Later: Save Your One Read Wonders. Design - Welcome. 2012: The Year for Digital Darwinism. By Brian Solis On January 20, 2012 It's a new year, a new blog, and a new set of predictions to set goals and expectations for 2012.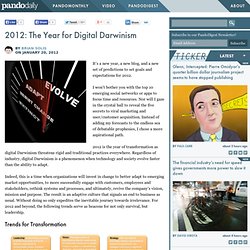 I won't bother you with the top 10 emerging social networks or apps to focus time and resources.
Pillars Of Gaming: Game Functionality And Systems Round-Up [Future Of Gaming] In our research for the Future Of Gaming report, the PSFK consulting team noticed that in an effort to make their games more compelling and accessible to a wider audience, developers are using a combination of natural user interfaces, digital technologies and networked sensors to create new game play experiences.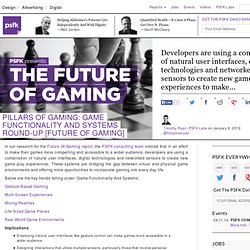 These systems are bridging the gap between virtual and physical game environments and offering more opportunities to incorporate gaming into every day life. Below are the key trends falling under 'Game Functionality And Systems'. Gesture-Based Gaming Multi-Screen Experiences Mixing Realities.
---