Life code the next frontier
Nov 03, 2011 Trinity College Dublin has appointed the first Academic Director of the Trinity Biomedical Sciences Institute, Professor Luke O'Neill. Professor of Biochemistry at the School of Biochemistry and Immunology, Luke O'Neill is a leading immunologist who has made a significant contribution to international research. As Director of the Trinity Biomedical Sciences Institute, Professor O'Neill will oversee Trinity's multi-disciplinary biomedical and bioscience research effort. Speaking about his new position Professor O'Neill said: "I am delighted to take on this important role for Trinity College Dublin.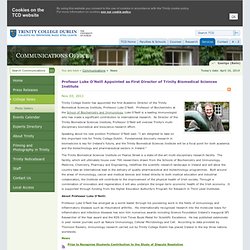 News Item - Communications Office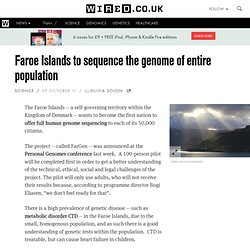 Faroe Islands to sequence the genome of entire population
The Faroe Islands -- a self-governing territory within the Kingdom of Denmark -- wants to become the first nation to offer full human genome sequencing to each of its 50,000 citizens. The project -- called FarGen -- was announced at the Personal Genomes conference last week. A 100-person pilot will be completed first in order to get a better understanding of the technical, ethical, social and legal challenges of the project. The pilot will only use adults, who will not receive their results because, according to programme director Bogi Eliasen, "we don't feel ready for that". There is a high prevalence of genetic disease -- such as metabolic disorder CTD -- in the Faroe Islands, due to the small, homogenous population, and as such there is a good understanding of genetic tests within the population. CTD is treatable, but can cause heart failure in children.
The day dawned crisp and bright for the one-day Med in Ireland - Medical Technology and Healthcare Expo 2011, Oct. 27, after punishing rains earlier in the week caused massive flooding in the city of Dublin. But the record-breaking downpour and resulting transportation challenges were not enough to dissuade 650 delegates, representing 31 countries, from attending the conference and exposition, held at Dublin's new Convention Centre. A biennial event, Med in Ireland is held by Enterprise Ireland - the government organization responsible for the development and growth of Irish enterprises in world markets-to connect indigenous Irish medical technology companies with potential partners in the med-tech and healthcare industries. According to the group, together the 2007 and 2009 events generated in excess of •'¬55 million in new business for participating companies.
Med in Ireland showcases country's robust med-tech industry | Medical devices | Healthcare Packaging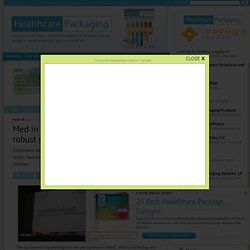 Aubrey de Grey: Why we age and how we can avoid it
Juan Enriquez wants to grow energy
Juan Enriquez on genomics and our future
Read full article Continue reading page |1|2|3|4 Automated genetic tinkering is just the start – this machine could be used to rewrite the language of life and create new species of humans IT IS a strange combination of clumsiness and beauty. Sitting on a cheap-looking worktop is a motley ensemble of flasks, trays and tubes squeezed onto a home-made frame. Arrays of empty pipette tips wait expectantly.
Evolution machine: Genetic engineering on fast forward - life - 27 June 2011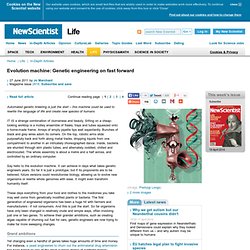 BrePco Biopharma has secured €5.66m in funding for research into the treatment of critically ill premature babies suffering from hypotension – a condition often associated with tragic outcomes. Set up two years ago by former Elan executives at the Rubicon Centre at Cork Institute of Technology, BrePco Biopharma is now based at the Fota Business Park. It has collaborated with a consortium of university research centres led by Cork University Maternity Hospital to get the funding from European Commission's Healthcare FP7 Programme. The collaboration brings together experts from 13 centres across Ireland, Europe and Canada, and will develop a standard of care and uniquely tailored products for treating low blood pressure in premature newborns. "This is a significant milestone for our company, as well as for the researchers in Cork University Maternity Hospital, with whom we have been working for the last two years," said co-founder and chairman of BrePco Biopharma, Paul Breen.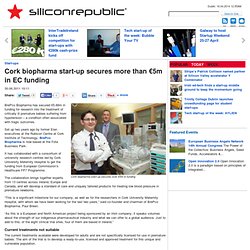 Cork biopharma start-up secures more than €5m in EC funding - Start Ups - Start-Ups
In a bid to harness the potential of embryonic stem cells, surgeons in California have implanted lab-grown retinal cells into the eyes of two patients going blind from macular degeneration. The procedures were carried out on Tuesday by Steven Schwartz, chief of the retina division at the Jules Stein Eye Institute at the University of California, Los Angeles. They were financed by Advanced Cell Technology, a biotech company with laboratories in Marlborough, Massachusetts, that recently won approval from the U.S. Food and Drug Administration to test the treatment in 24 patients suffering from either dry advanced macular degeneration, or a juvenile form of the disease known as Stargardt's. The two patients, whose names weren't released, are among the first volunteers ever to receive a treatment created using embryonic stem cells. Last year, another biotech company, Geron, began a small study using stem cells in a bid to repair spinal cord injury.
Two Patients Undergo Stem-Cell Blindness Treatment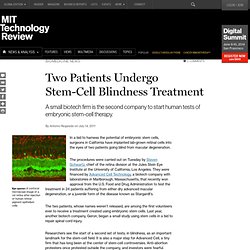 Stem-Cell Gamble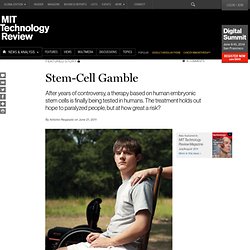 Full of hope: T.J. ­Atchison was the first patient to be treated with a new approach to mending spinal-­cord injuries. The treatment uses cells grown from embryonic stem cells. Hans Keirstead wakes up every morning at his home near Los Angeles and checks CNN.
Cell therapy fights leukaemia
Like explorers mapping a new planet, scientists probing the brain need every type of landmark they can get. Each mountain, river or forest helps scientists find their way through the intricacies of the human brain. Researchers at Washington University School of Medicine in St. Louis have developed a new technique that provides rapid access to brain landmarks formerly only available at autopsy.
Scientists have new help finding their way around brain's nooks and crannies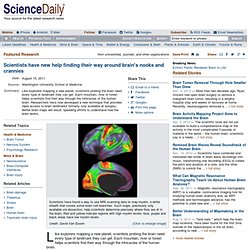 The fossilised remains of microbes that lived beside the sea in the earliest chapter of life on Earth have been discovered in a slab of rock in Western Australia. Researchers found the tiny fossils in rock formations that date to 3.4bn years ago, making them strong candidates to be the oldest microbes found. Some clung to grains of sand that had gathered on one of the first known stretches of beach.
Fossil microbes discovered in Australia could be Earth's oldest known life form | Science
i360medical in strategic deal with top US research institutes - Irish Innovation News – Siliconrepublic.com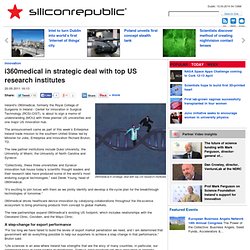 Ireland's i360medical, formerly the Royal College of Surgeons in Ireland - Center for Innovation in Surgical Technology (RCSI-CIST), is about to sign a memo of understanding (MOU) with three premier US universities and one major US innovation hub. The announcement came as part of this week's Enterprise Ireland trade mission to the southern United States led by Minister for Jobs, Enterprise and Innovation Richard Bruton, TD. The new partner institutions include Duke University, the University of Miami, the University of North Carolina and Synecor. "Collectively, these three universities and Synecor innovation hub house today's scientific thought leaders and their research labs have produced some of the world's most enduring surgical technologies," said Derek Young, head of i360medical. "It's exciting to join forces with them as we jointly identify and develop a life-cycle plan for the breakthrough technologies of tomorrow."