Psychology
Pda15022.pdf (application/pdf-objekt)
Stenen i ryggen blev droppen - Sverige - Sydsvenskan - Nyheter dygnet runt. TOMELILLA.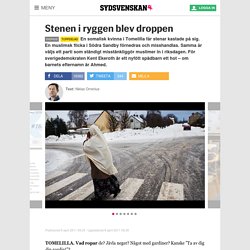 Vad ropar de? Jävla neger? Något med gardiner? Kanske "Ta av dig din gardin!"? The Decline Effect and the Scientific Method. On September 18, 2007, a few dozen neuroscientists, psychiatrists, and drug-company executives gathered in a hotel conference room in Brussels to hear some startling news.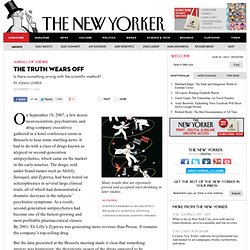 It had to do with a class of drugs known as atypical or second-generation antipsychotics, which came on the market in the early nineties. The drugs, sold under brand names such as Abilify, Seroquel, and Zyprexa, had been tested on schizophrenics in several large clinical trials, all of which had demonstrated a dramatic decrease in the subjects' psychiatric symptoms. As a result, second-generation antipsychotics had become one of the fastest-growing and most profitable pharmaceutical classes. Liminality. In anthropology, liminality (from the Latin word līmen, meaning "a threshold"[1]) is the quality of ambiguity or disorientation that occurs in the middle stage of rituals, when participants no longer hold their pre-ritual status but have not yet begun the transition to the status they will hold when the ritual is complete.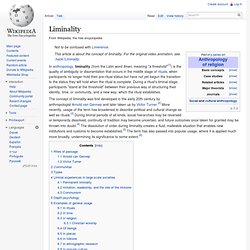 During a ritual's liminal stage, participants "stand at the threshold" between their previous way of structuring their identity, time, or community, and a new way, which the ritual establishes. Réel symbolique imaginaire. Un article de Wikipédia, l'encyclopédie libre.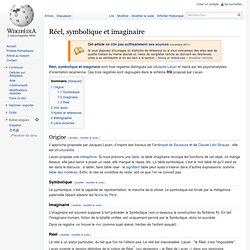 Réel, symbolique et imaginaire sont trois registres distingués par Jacques Lacan et repris par les psychanalystes d'orientation lacanienne. Ces trois registres sont regroupés dans le schéma RSI proposé par Lacan. Introducing Lacan (9781840466690): Darian Leader, Judy Groves.
---