Tools
Image Converter, PNG to JPG, JPG to GIF, GIF to JPG. Flip Title ( ǝlʇıʇ dılɟ) : write upside down - flip your words,flip your text,reverse your text,upside down text,flip title, write upside down, mirror text. Punched Out Font. This font is a set of cut-out layouts with which you can build 3D pixel style letters.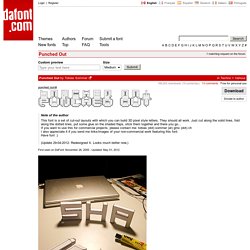 They should all work. Just cut along the solid lines, fold along the dotted lines, put some glue on the shaded flaps, stick them together and there you go... If you want to use this for commercial projects, please contact me: tobias (dot) sommer (at) gmx (dot) ch I also appreciate it if you send me links/images of your non-commercial work featuring this font. Have fun! :) Create. Google Logo Generator. Color Scheme Designer 3.
Yahoo! Smush.it™ Smush.it uses optimization techniques specific to image format to remove unnecessary bytes from image files.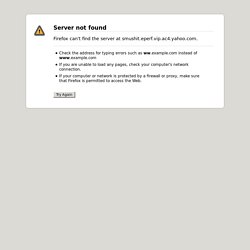 It is a "lossless" tool, which means it optimizes the images without changing their look or visual quality. After Smush.it runs on a web page it reports how many bytes would be saved by optimizing the page's images and provides a downloadable zip file with the minimized image files. Do not link to the smushed images on Smushit.com since they will only be available there temporarily.
Instead, download the zip file containing the smushed images for your web page and replace your image files with those files. Wordmark.it.
---