Torrent
TorrentFreak | Torrent News, Torrent Sites and the latest Scoops Two years ago the Internet's biggest ever protest killed the hugely controversial anti-piracy legislation SOPA. Speaking to studios this week, a prominent UK government intellectual property advisor admitted that the damage caused was so great that it's unlikely that there will be a fresh piracy-focused legislative push for another five years. A man who uploaded a single movie to The Pirate Bay kickstarting South Africa's first online piracy case has been sentenced today. After striking a plea bargain with the state over what was unusually framed as a criminal rather than civil offense, the 29-year-old was handed an unprecedented five-year suspended… Several large "pirate" movie streaming portals are using Google's servers to distribute copyrighted material. More than 18,000 videos are currently publicly available, and requests to Google to remove the files have reportedly gone unanswered.
MONOVA.ORG : Download Movies, TV, Music, Software, Games, Anime
isoHunt › the BitTorrent & P2P search engine
EZTV - TV Torrents Online
Hello guys!! After some well deserved vacations, here we are, back online. The site is now cloud based and there have been many changes to the code. As a result, you might see some weird glitches here and there. We'll do our best to have everything working smoothly as soon as possible so please bear with us. The guys from the site staff are already back, please take a moment to visit our forums and say hello.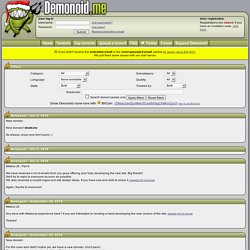 Demonoid.com
The Pirate Bay - 's Werelds grootste BitTorrent tracker
Système de recherche de Moteurs de Recherche de Torrents - Torrent Scan
Torrents , filmi , download