Article
The above chart is necessarily simplified; all it is meant to do is give sensible suggestions. There are myriad reasons to make different moves, especially in the blinds. These recommendations assume strong play against decent opponents.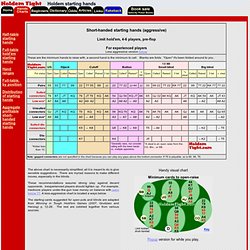 Holdem short-handed starting hands
Limpers | Vidéos, coaching, blogs et forums poker
Poker - | Poker, Technique, No Limit Holdem, stratégie, jeu, 6max, sh, short hande - Poker en ligne, Poker gratuit, Jouer au poker
Écrit par Nico Date de publication : 21 Novembre 2013 à 10:31 L'objectif de cette rubrique est de mettre en évidence les articles les plus pertinents (ou des résumés de ceux-ci) du célébre forum américain. Ceux-ci étant en anglais, une petite traduction s'imposait. Le lien de l'article original se trouve en fin de page. L'auteur indique comment jouer TAG (serré agressif) sur des tables short handed (6 joueurs max)et à des hauteurs medium stakes.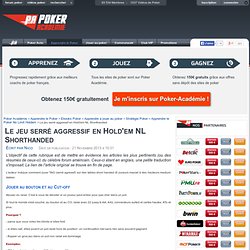 Les Mains de Départ selon Sklansky | Probabilités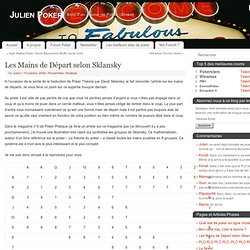 A l'occasion de la sortie de la traduction de Poker Théorie par David Sklansky, je fait remonter l'article sur les mains de départs. Je vous ferai un point sur ce superbe bouquin demain. Au poker il est utile de pas perdre de vue que vous ne perdrez jamais d'argent si vous n'êtes pas engagé dans un coup et qu'à moins de jouer dans un cercle mafieux, vous n'êtes jamais obligé de rentrer dans le coup. La plus part d'entre vous connaissent maintenant ce qu'est une bonne main de départ mais il est parfois pas toujours aisé de savoir ce qu'elle vaut vraiment en fonction de votre position ou bien même du nombre de joueurs déjà dans le coup.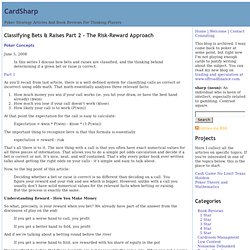 In this series I discuss how bets and raises are classified, and the thinking behind determining if a given bet or raise is correct. Part 1 As you'll recall from last article, there is a well defined system for classifying calls as correct or incorrect using odds math.
Classifying Bets & Raises Part 2 - The Risk-Reward Approach - CardSharp
Classifying Bets And Raises Part 3 - Aggression Is Overrated - CardSharp
part 1, part 2 The 10 most aggressive players in Vegas are broke - Bob Ciaffone in Improve Your Poker This is probably going to piss some people off, but Bob's exactly right. For the last 25 years, the poker literature has been pulling a bit of a con on unsuspecting players by claiming in almost unmitigated terms that aggression is good. Now, up to a point they're right.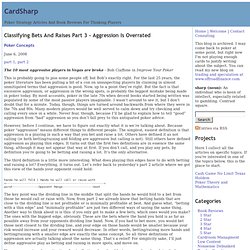 "My score was 143, which was better than 97.2% of people that took the test and it claimed I was a "High Stakes Pro," but 2 points shy of a "Poker Genius." At this point in time, I would say that is pretty accurate." --Taylor Caby, high stakes pro "Extremely good test.
Donkey Test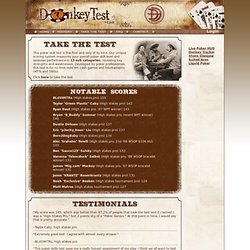 uNL Archives: Memorable Strategy Threads - Micro Stakes Pot Limit and No Limit - Micro Stakes Poker Forum
Voici quelques probabilités que vous devriez connaître, ou au moins avoir à portée de main lorsque vous jouez. C'est un bon moyen d'évaluer ses mains et leur potentiel, et ainsi de savoir si le coup vaut la peine d'être payé ou pas. Note : ces probabilités sont arrondies au centième prêt.Autre note : cliquer sur les liens vous mènera au calcul détaillé de ces probabilités sur notre forum poker. Remarquez à quel point les petites pocket pair sont systématiquement mises en danger par des cartes supérieures apportées au flop, et susceptibles d'apporter une overpair à vos adversaires : dans ces conditions, vous devriez peut être envisager de jouer des paires plus solides, mais à vous de voir
Probabilités du Poker Holdem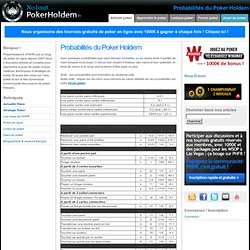 PLO starting hand
Poker Forum - Online Poker Forums: Strategy, Poker Games & Bonuses!