Via:packrati.us 12
Mobile QR Codes Hit The Wall Street Journal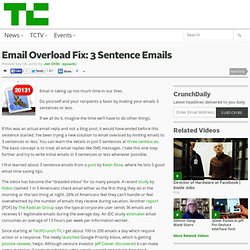 Email Overload Fix: 3 Sentence Emails
Email is taking up too much time in our lives. Do yourself and your recipients a favor by making your emails 3 sentences or less. If we all do it, imagine the time we'll have to do other things. If this was an actual email reply and not a blog post, it would have ended before this sentence started.
Dahlias make me smile. on Twitpic
Imaging Biomarkers | Biomarker Commons
My name is Carol Sormilic and I'm a vice president at IBM where I am responsible for the technology that drives our workplace. I'm moving my work and my life from the United States to the "other side of the world" where I'll be located in Shanghai, China. In this space I plan to chronicle my adventure. Disclaimer: The content here is my own and does not necessarily represent my employer's positions, strategies or opinions.
About « Dispatches from the other side of the world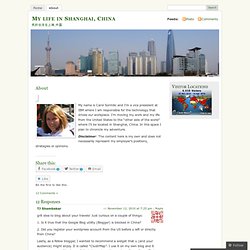 5 Staggeringly Simple Ways to Create Custom Facebook Landing Tabs | facebook | Social Media Consulting - Convince & Convert
Why Smart Marketing Is About Help, Not Hype The difference between helping and selling is just two letters. But those two letters are critically important to your company's success.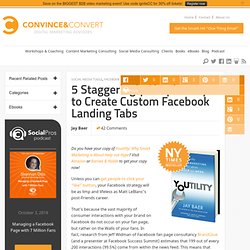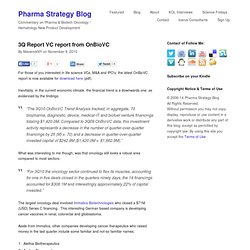 3Q Report VC report from OnBioVC
For those of you interested in life science VCs, M&A and IPO's, the latest OnBioVC report is now available for download here (pdf). Inevitably, in the current economic climate, the financial trend is a downwards one, as evidenced by the findings: "The 3Q10 OnBioVC Trend Analysis tracked, in aggregate, 70 biopharma, diagnostic, device, medical-IT and biofuel venture financings totaling $1,420.0M.
3Q Report VC report from OnBioVC
tp://www.bidmc.org/News/InResearch/2010/November/Nanoparticles.aspx
Biosciences Blog | Just another WordPress site
The Cancer Plus Daily
@erohealth same here on Twitpic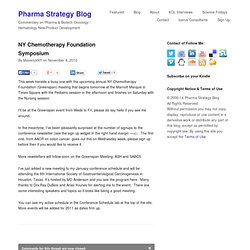 NY Chemotherapy Foundation Symposium
This week heralds a busy one with the upcoming annual NY Chemotherapy Foundation (Greenspan) meeting that begins tomorrow at the Marriott Marquis in Times Square with the Pediatric session in the afternoon and finishes on Saturday with the Nursing session. I'll be at the Greenspan event from Weds to Fri, please do say hello if you see me around. In the meantime, I've been pleasantly surprised at the number of signups to the conference newsletter (see the sign up widget in the right hand margin —>). The first one, from AACR on colon cancer, goes out this on Wednesday week, please sign up before then if you would like to receive it. More newsletters will follow soon on the Greenspan Meeting, ASH and SABCS. I've just added a new meeting to my January conference schedule and will be attending the 6th International Society of Gastroenterological Carcinogenesis in Houston, Texas.
NY Chemotherapy Foundation Symposium
RT @ericgarland: Scott Adams' fantastic suggestion to end political parties in America http://bit.ly/bCbrFF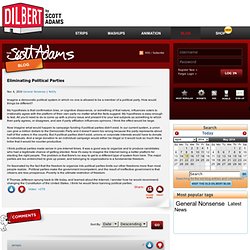 Imagine a democratic political system in which no one is allowed to be a member of a political party. How would things be different? My hypothesis is that confirmation bias, or cognitive dissonance, or something of that nature, influences voters to irrationally agree with the platform of their own party no matter what the facts suggest.
@rvidal no worries, can wait until during week. Can drag pdfs into Zotero or Papers, do refs from there. Get this http://bit.ly/aI8ZkX
Gingerbread Cinnamon Rolls Recipe
Hyde Park
From PharmaGossip, we have a full accounting of the recent settlements between the US Department of Justice and Big Pharma companies -- for some sort of fraudulent or otherwise criminal activity. PharmaGossip: Big Pharma settlements with the DOJ - let's look at the scorecard. The score stands with the DOJ collecting $5.3 B in fines for bad behavior.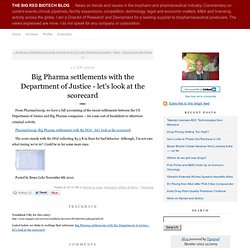 Big Pharma settlements with the Department of Justice - let's look at the scorecard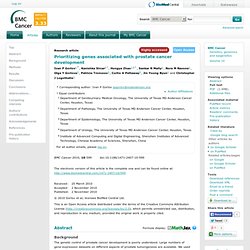 Our approach is based on the ideas that tumorigenesis is a continuous process and that the gene-expression signature underlying the development of bone metastases starts to form in the early stages of prostate tumorigenesis and becomes well developed in the later stages. We have assumed that combining meta-analyses of different steps of prostate carcinogenesis and assigning greater weight to more-specific data might improve identification of genes associated with prostate tumorigenesis, especially those involved in the development of bone metastases; therefore, we have up-weighted the third level of meta-analysis. First level of the meta-analysis The tendency of prostate tumor to metastasize to bone is a hallmark of prostate tumorigenesis. Breast and lung cancer also often metastasize to bone, although not as frequently as prostate cancer does. Bone-metastasizing cancers may share a gene-expression signature that predisposes them to form bone metastases.
Abstract | Prioritizing genes associated with prostate cancer development
How to Export Your Facebook Friends' E-mail Addresses | Social Hacking
MDACC Study Summary 2008-0805
ESPN NFL I have become that Fantasy Guy
Gmail Tests Call Recording
Andrew Banchich spotted a new Gmail feature that lets you record calls. I don't see the call record button in my account, so it's probably an experimental feature that's not yet widely available. It's similar to the call recording feature from Google Voice. "In order to record your call, simply press 4. You can do it when you first accept a call, or any time after it's started.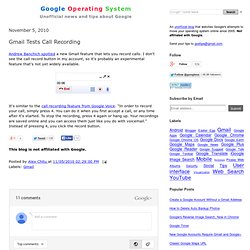 Discontinuation of imatinib in patients with chronic myeloid leukaemia who have maintained complete molecular remission for at least 2 years: the prospective, multicentre Stop Imatinib (STIM) trial : The Lancet Oncology
Companies that copy biotechnology drugs, led by Teva Pharmaceutical Industries Ltd., will be able to bypass a new process set up by the U.S. health overhaul to get their products approved, regulators said. The Food and Drug Administration will allow generic-drug makers to use either the new system, which requires them to give proprietary data to brand-name drugmakers at the point they seek approval, or an older system used to clear novel biologics, which keeps that information private, said spokeswoman Sandy Walsh. While the FDA wasn't expected to take an immediate stand on the process, Walsh said the new law accommodates both.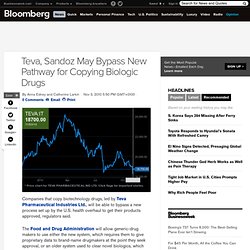 Teva, Sandoz May Bypass New Pathway for Copying Biologic Drugs
UK | Magazine | 50 office-speak phrases you love to hate
Management speak - don't you just hate it? Emphatically yes, judging by readers' responses to writer Lucy Kellaway's campaign against office jargon. Here, we list 50 of the best worst examples. 1. "When I worked for Verizon, I found the phrase going forward to be more sinister than annoying.
TGIF! It's Buzzword Bingo time - who wants to play? http://bbc.in/aoN7BE @christianetrue
PPC Text Ad Testing for Statistical Significance | PPC Prospector
The onco-social Daily
News: Cancer Stem Cells Can't Stand the Heat
Sometimes zapping a tumor with ionizing radiation doesn't work out as planned. The tumor shrinks at first, but stem cells within the tumor survive and eventually seed the growth of new, more aggressive tumors.
Tips for questioning costs in today's health care system http://is.gd/gIxbY
MannKind Accused of Data Fraud Coverup
Report for Task Completion Rate. - KISSinsights
My Passionate Encounter in Shanghai and a Few of my Other Experiences | Divabiotech's Blog
Where Drugs Come From: The Numbers
Brentuximab Vedotin (SGN-35) for Relapsed CD30-Positive Lymphomas
Brentuximab Vedotin (SGN-35) for Relapsed CD30-Positive Lymphomas
Money for Science May Be Scarce With New Congress - The New York Times
Making Sure the NIH (and Innovation) Didn't Lose in Tuesday's Election