Art / Design
This exhibition and related programs and publications were made possible by the support of Anthony and Beatrice Welters and Americhoice, a UnitedHealth Group Company, and the United States-Japan Foundation. Additional support was provided by George and Patricia Wellde, the College Women's Association of Japan, the Tokyo Club, and Toyota Motor North America. The Library of Congress is grateful to the artists and the dealers who donated prints from the fiftieth anniversary exhibition.
On the Cutting Edge Exhibition - Exhibits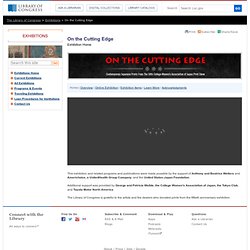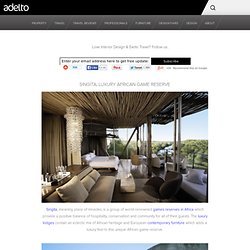 Singita, Luxury African Game Reserve Singita, meaning place of miracles, is a group of world-renowned games reserves in Africa which provide a positive balance of hospitality, conservation and community for all of their guests. The luxury lodges contain an eclectic mix of African heritage and European contemporary furniture which adds a luxury feel to this unique African game reserve. About Richard Barker Love Interior Design & Exotic Travel?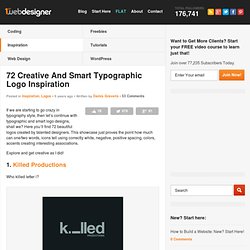 If we are starting to go crazy in typography style, then let's continue with typographic and smart logo designs, shall we? Here you'll find 72 beautiful logos created by talented designers. This showcase just proves the point how much can one/two words, icons tell using correctly white, negative, positive spacing, colors, accents creating interesting associations. Explore and get creative as I did!
There are some incredibly talented and creative minds in the field of graphic design. Combining 3D, photomanipulation, and digital painting can result in some pretty incredible effects. However, designers don't always create serious images for clients, sometimes, they just like to goof off. Today, we have 55 epic, weird, insane, crazy, neat, confusing and just all around freakin' awesome images that you have to see.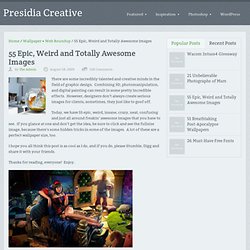 WTF? on the Behance Network
PSY/OPS: Specimens
Unusual Design of Ordinary Things (167 pics)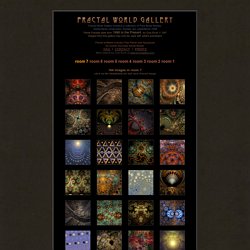 Fractal World Gallery contains a collection of Pure flame fractals, fractal flame composites, fractals, etc: established 1998 Flame Fractals date from 1998 to the Present. by Cory Ench © 2007 Images from this gallery may only be used with artist's permission Fractal software includes Frax Flame and Apophysis for cosmic recursive fractal flames. FAQ I CONTACT I PRINTS More artwork by Cory Ench at www.enchgallery.com 164 images in room 7 click on the thumbnails for full view fractal image