Tools PKM
Personal knowledge management (PKM) is a collection of processes that a person uses to gather, classify, store, search, retrieve, and share knowledge in his or her daily activities ( Grundspenkis 2007 ) and the way in which these processes support work activities ( Wright 2005 ).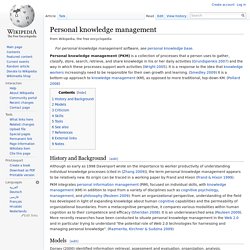 Find Page
Use the following for a title search. Enter a word (or fragment) and press return to start the search. Use the following for a full text search for a single word ( FullSearch ).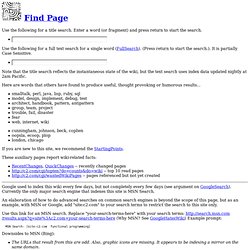 Personal Information Management
Archivio Personal Information Management System
Best Free Notes Organizer
Notes and To-Do list software
100 Apps for Taking Notes on Your iPhone
Note-taking applications are some of the hottest items on the App Store. More and more these utilities make it easy to record data in a fast and convenient way and the fact that this information lives on our phones means that we can access it anytime we need it. The 100 apps below will help you accomplish all your iPhone note-taking endeavors.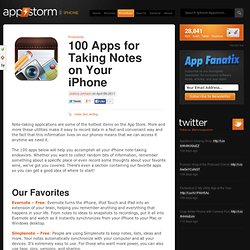 Are you sick of running around with too many things in your head? Do you want a way to automatically process information to find your next action? Cyborganize does all that, plus more. It makes thinking and writing automatic. It breaks down complex problems into easy steps.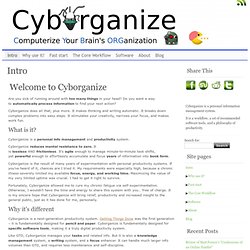 Intro | Cyborganize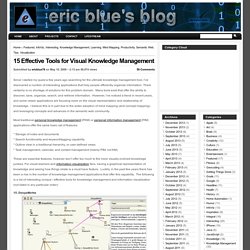 Since I started my quest a few years ago searching for the ultimate knowledge management tool, I've discovered a number of interesting applications that help people efficiently organize information.
Information Management System
Back in March, I began evaluating some open source Document Management Systems (DMS) to help compliment my wiki-based Personal Knowledge Manager (PKM). That's a little bit of acronym-overload. But, in simple terms I really am looking for a way to easily store, categorize, and retrieve a number of my documents related to research and learning (PDFs, Word Docs, etc).
Document Management Systems: SCAN (Smart Content Aggregation and Navigation)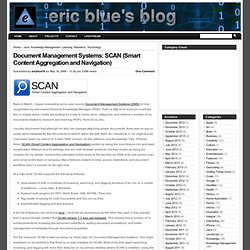 SCAN » Home
Ultra Recall is personal information , knowledge, and document organizer software for Microsoft Windows.
Ultra Recall - Personal information manager and knowledge organizer for Windows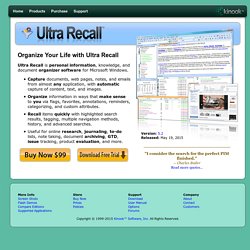 The Ultimate List of Writing Software and Tools
Diagrams, Concept Maps, Mind Maps and Models. | Benefits
Believe it or not, BrainStormWFO has been around since the early days of DOS. It was one of the first programs that let users build a simple outline. After almost 30 years of savage competition, it's still selling. That's about as likely as a Triceratops hanging out on the African savanna in 2011. BrainStormWFO has survived due to several key design elements that no competitors offer, even after all this time. On this page you'll see exactly what those elements are, and why they help you organize effectively.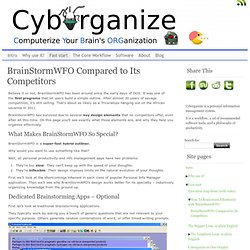 BrainStormWFO Compared to Its Competitors | Cyborganize
problem setting € decision making
Bookmark, organize and share your favorite images, With Zootool you can bookmark images from any website. To make bookmarking images even easier, we've got special support for plenty of image hosting sites like Flickr, Dribbble, Twitpic or img.ly videos, Zootool can detect and bookmark videos from more than 30 video sites, including Youtube, Vimeo, Flickr, Blip and TED. All your bookmarked videos are playable right inside your bookmark collection. documents Whether you want to bookmark a PDF, a text file or word document, Zootool is the right choice. It's even possible to bookmark Slideshare presentations, Javascript files, Scribd documents, Wikipedia articles or CSS files and you'll get a nice preview for all of them right in your Zoo. and links With Zootool you can bookmark all your favorite websites and RSS-Feeds and even import your existing bookmarks from Delicious, Pinboard or your browser.
Visual Bookmarking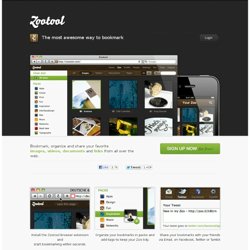 Mind iT - Intelligent Bookmarking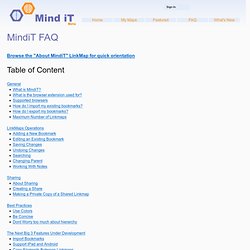 Browse the "About MindiT" LinkMap for quick orientation Table of Content General LinkMaps Operations Sharing Best Practices The Next Big 3 Features Under Development General
Hello all, It gives me great pleasure to introduce you to Literature & Latte's newest piece of software - Scapple. scapple /skapˈl/ ... vt to work or shape... roughly, without smoothing to a finish. - The Chambers Dictionary , 12th Edition Scapple is now ready for beta-testing, and I'd like to invite everyone who is interested to download it, give it a whirl, and report any bugs to us.
View topic - Scapple Beta - New Users Please Read