Fun in NYC
Bars/Clubs
Von - - East Village - New York Magazine Bar Guide. Official Site: ONO at Hotel Gansevoort. Pianos NYC: Media. "Frying Pan" Restaurants. Freemans - Lower East Side - New York Magazine Restaurant Guide. | Union Square Cafe | Website for Emporio | menuism. Oyster. Jean-Georges.com. Where I should go next. Sushi Yasuda. New York City Restaurants and Bars | The Peninsula New York. The Peninsula New York's dining venues combine the comfort of tradition with modern elegance for guests to experience sophisticated dining at any time of the day.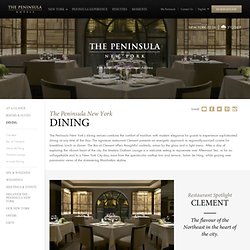 The signature restaurant Clement presents an energetic approach to regionally-sourced cuisine for breakfast, lunch or dinner. The Bar at Clement offers thoughtful cocktails, wines by the glass and a light menu. After a day of exploring the vibrant heart of the city, the timeless Gotham Lounge is a welcome setting to rejuvenate over Afternoon Tea, or for an unforgettable end to a New York City day, toast from the spectacular rooftop bar and terrace, Salon de Ning, while gazing over panoramic views of the shimmering Manhattan skyline. Pastis :: Home. DB Bistro Moderne. With the addition of a stately new bar looking out onto 44th St, the Bar at db bistro is Manhattan's newest Manhattan-drinking outpost.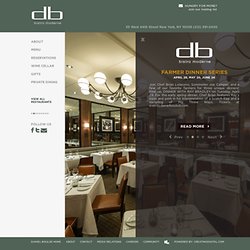 Whether preference lies with a seasonal cocktail, a classic on the rocks, or a fine French wine, the Bar at db is equipped to shake, stir and serve. The Wine Cellar is filled with value-driven French wines from favorite producers, while wine by the glass offerings include rare gems poured using the Coravin system. TRATTORIA DELL'ARTE.
---
transmediaready Nov 2 2009

suite : par ex cette Pearl je veux la mettre dans ma pearl KH NEW York et elle ne veut pas y aller, alors je la laisse dans drop zone car je ne veux pas m'encombrer... sorry... A+ KH
---