Game Design
Ordre du jour prévisionnel 1) 1er exposé Sébastien Iksal, LIUM (Laboratoire d'Informatique de l'Université du Maine), IUT de Laval - Département SRC Titre : Ingénierie pour l'adaptation des EIAH Résumé : L'équipe IEIAH (Ingénierie des Environnements Informatique pour l'Apprentissage Humain) du Laboratoire d'Informatique de l'Université du Maine travaille depuis plusieurs années sur le processus d'ingénierie/ré-ingénierie des EIAH basés sur un scénario pédagogique. Nous considérons l'ingénierie comme un processus continu basé sur différents modèles (scénario, observation, plateforme, ...).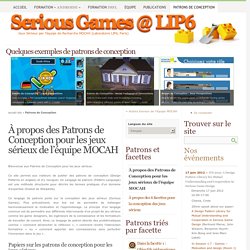 Patrons de Conception - [Serious Games @ Lip6]
Novelty is still in its beta stage of development. This means that it's still a work in progress and that you may encounter bugs or even crashes. So before downloading I would appreciate it if you took a minute to read the release notes. Disclaimer: This software come with no warranty. By downloading this software you accept that I cannot be held liable for issues that may arise from the download or use of this software.
Novelty - Visual novel maker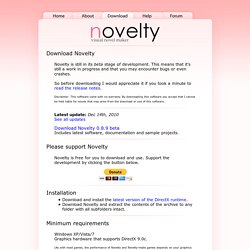 Jeu de Rôle Creator - Compil Games
Bring your ideas to life! Game Develop allows beginners as well as experienced game developers to create awesome games without programming The software is bundled with several examples and templates
Bring your ideas to life! Game Develop allows beginners as well as experienced game developers to create awesome games without programming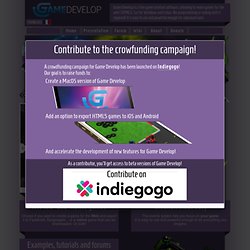 Game Develop - Compil Games
Construct 2 is a game maker for Windows that lets everyone create amazing games. BuyDownload Make games for... Web (HTML5) Wii U iOS * Android Windows 8 & RT Windows Phone 8 Windows Desktop Mac Desktop Linux Desktop Blackberry 10 Firefox Marketplace Tizen Facebook Chrome Web Store Amazon Appstore All platforms for one price — No subscription — Free updates