Craft
To make all of these Instructables, download this collection of How To's as an ebook. Download » Origami for Everyone gives you full step-by-step instructions for 30 awesome origami projects for everyone from beginners to experts. Learn how to make flowers, masks, and the ubiquitous paper crane! All projects come from Instructables.com, are written by paper folding experts, and contain pictures for each step so you can do it yourself. Happy folding!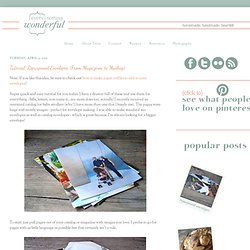 Note: If you like this idea, be sure to check out how to make paper ruffles to add to your envelopes! Super quick and easy tutorial for you today. I have a drawer full of these and use them for everything - bills, letters, you name it...my mom does too, actually! I recently received an oversized catalog for baby strollers (why? I have more than one that I barely use). The pages were huge and mostly images - perfect for envelope making.
UPDATE: The Return of Bent Objects Wires transform these objects from inanimate to hilarious works of art. Little polish girl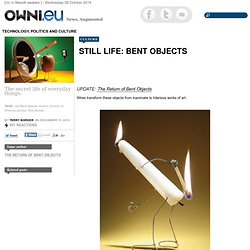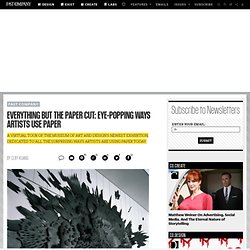 In the year since the Museum of Art and Design reopened in its new digs on Columbus Circle, they've been delivering consistently compelling shows--from punk-rock lace to radical knitting experiments. The newest, "Slash: Paper Under the Knife", opened last weekend and runs through April 4, 2010. The focus is paper--and the way contemporary artists have used paper itself as a medium, whether by cutting, tearing, burning, or shredding.
Demonstrating the pantorouter
Jessica of Wednesday Inc shows us how to make those gorgeous twine chandeliers from the inspiration shoot she shared with us this morning. Using balloons, glue and twine, you can also make these lanterns for your wedding – and then bring it home and use it as your very own mid century lampshade. What you will need are: balloons, glue, yarn, tray for glue, corn starch 1/2 cup of Corn starch, 1/4 cup of Warm water, clear fast drying spray paint, hanging lamp cord or fishing line (depending on your desired final product), and a lighting kit if you're looking for a fully functional lantern. Jessica recommends using a sharpie to mark on the inflated balloon how much room you need to leave for the lighting cord.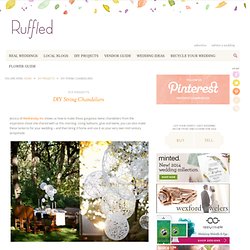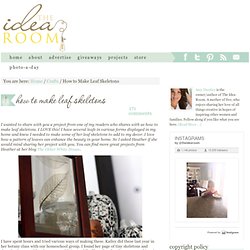 I wanted to share with you a project from one of my readers who shares with us how to make leaf skeletons. I LOVE this! I have several leafs in various forms displayed in my home and knew I needed to make some of her leaf skeletons to add to my decor. I love how a pattern of leaves can enhance the beauty in your home. So I asked Heather if she would mind sharing her project with you. You can find more great projects from Heather at her blog The Other White House.
Beachcombing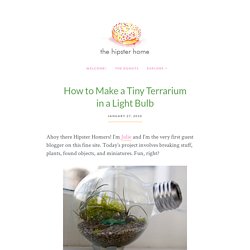 Ahoy there Hipster Homers! I'm Julie and I'm the very first guest blogger on this fine site. Today's project involves breaking stuff, plants, found objects, and miniatures. Fun, right?
When I bought something at a store recently, the clerk handed me my purchase in a bag made from a newspaper. I liked it very much and had to make some more—thus today's DIY recycled newspaper project: gift bags made from the Wall Street Journal. You can vary the dimensions, of course, but here's what I used to create a bag that's 5" tall, 4.5" wide, and 3" deep. Stack two sheets of newspaper on top of each other. This will be a two-ply bag for extra sturdiness.