Outils technologiques
The 10 Most Watched EmergingEdTech Videos of 2012. In 2012, EmergingEdTech videos (there are now over 8o videos) were watched more than 56,000 times, and viewers spent over 35,000 minutes (that's over 583 hours) watching them!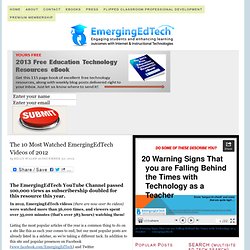 Listing the most popular articles of the year is a common thing to do on a site like this as each year comes to end, but our most popular posts are already listed in a sidebar, so we're taking a different tack. In addition to this site and popular presences on Facebook (www.facebook.com/EmergingEdTech) and Twitter (@EmergingEdTech), we also post video blog entries on YouTube and we recently surpassed 300 subscribers and over 100,000 views.
It seems clear that many who are interested in leveraging technology in the educational context are taking advantage of the informative content we're delivering through YouTube. Here are the top 10 most-watched videos on the EmergingEdTech YouTube Channel during 2012: 50 Ways Schools Can Use Google+ Hangouts. The 'F' Word - 10 Tips To Get More Out Of Facebook In Education. Even the mention of the word 'Facebook' is enough to send a shiver down the spine of many educators.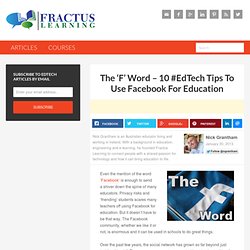 Privacy risks and 'friending' students scares many teachers off using Facebook for education. But it doesn't have to be that way. The Facebook community, whether we like it or not, is enormous and it can be used in schools to do great things. Over the past few years, the social network has grown so far beyond just "adding friends". There are many ways to connect without having to 'friend' students, not to mention the hundreds of ways Facebook can be used to connect the school community (parents, relations, friends, etc.) and build your PLN. Usages pédagogiques. Voici quelques usages recensés par les enseignants :Lecture de livres numériques [ex. iBooks, collection Chocolapps]Création de livres numériques [ex. iBooks Author, Book Creator, CBB, …]Lecture de la presse [La Presse+, ex. quotidiens et hebdomadaires belges, presse internationale]L'info en direct [ex. fil d'info des quotidiens et chaînes télévisées]Dissections virtuelles [ex.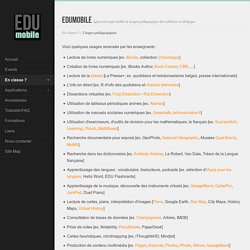 Frog Dissection - Rat Dissection]Utilisation de tableaux périodiques animés [ex. Atomes]Utilisation de manuels scolaires numériques [ex. Des outils pour évaluer son niveau de maîtrise des Tice | Formation et culture numérique – Thot Cursus | e-Club • Icademie. Autant on attend des enseignants qu'ils utilisent les technologies de l'information et de la communication dans leur classe, autant il est primordial qu'ils disposent eux-mêmes de compétences numériques et informationnelles.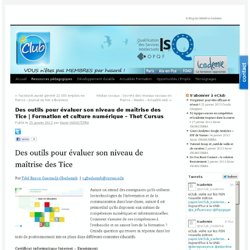 Comment s'assurer de ces compétences à l'embauche et en amont lors de la formation ? Grande question qui trouve sa réponse dans les tests de positionnement mis en place dans différents contextes éducatifs. Certificat informatique Internet – Enseignant Depuis l'an 2000, la France a mis en place un système d'attestation de compétences en informatique et en internet , le B2i (Brevet informatique et Internet) et le C2i (Certificat informatique et Internet). Outils numériques pour l'éducation. How to Create Interactive Images Using Thinglink.
---